Mortgage in Turkey for Foreigners
If you are in search of financing the purchase of your new property in Turkey, you can get a mortgage from a Turkish bank. In the Turkish mortgage system, the banks provide long-term loans to their customers for up to 75% of the property value. The banks' mortgage loan terms range from 12 months to 240 months. To add, foreign buyers and investors choose USD or Euro currencies that are more advantageous than TL since it contains inflation rates.
Getting a Mortgage in Turkey for a Foreigner
In general, getting a loan for a foreigner may be complicated in Turkey because of a lack of knowledge and communication gaps, and the process can fail. At this point, Istanbul Homes assist in your credit application process after you have chosen the property you want to buy.
Before applying for credit, you should prepare all required documents that are in the following;
• Passport and Notary Translation
• Tax ID number
• Proof of your address. Valid documents include a Residence permit, an ID card, or utility bill that shows your address and name. Electricity, water, internet, and gas utility bills are the most commonly used.
• Proof of your monthly income
• Bank statement showing your account activities in the last three months
• Title Deed of the aim property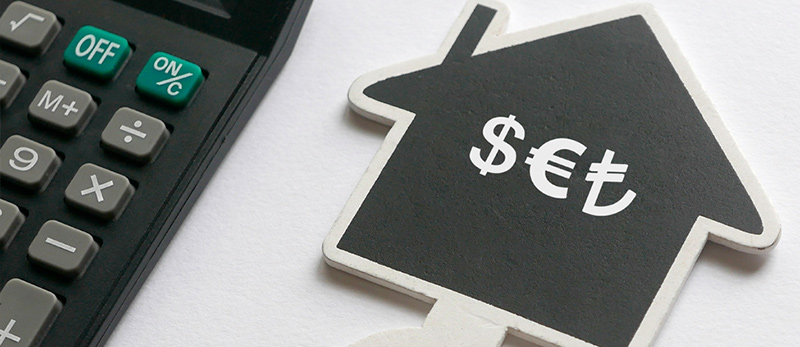 The process starts with opening a bank account, and then you are ready to apply for credit. After the application, the bank sends you a "preliminary approval" approximately three or four days later. In the following of this approval, a valuation appraiser will analyze your property value when you pay the appraisal report fee. According to the property's valuation report, you may get up to 50% credit as a foreign buyer. After the final approval, the title deed conveyance process can begin, and you can move in. On the other hand, you should note that the Turkish banks will only approve if the property has no existing debt attached.
As an alternative way, you can benefit from the construction companies' offers to buy an apartment in Turkey. Many construction companies in Turkey offer 0% interest in long-term payment plans on off-plan or newly-constructed properties. Repayment terms differ from 12 to 60 months. These are suitable for all types of buyers from the age of 25 to 70 years old since you do not need to buy appraisal costs, pay interest, or fill in lengthy amounts of paperwork. (Click here to buy property in Turkey with profitable installment options)
For more information on interest-free payment plans or mortgages in Turkey, you may contact us via telephone, email, or visit us at our local offices situated around the country.
FAQ
Q: May foreigners get a mortgage in Turkey to buy a property?
A: Yes, foreigners may benefit from mortgage loans of Turkish Banks to buy real estate.
Q: Who may get a mortgage from the banks in Turkey?
A: Anyone from any nationality may benefit from a bank loan in Turkey. The buyer must have a regular income that can be proved and be over the age of 18.
Q: Which banks may I get a mortgage loan from?
A: You can get a mortgage from almost all of the banks in Turkey, but you should consider interest rates before making your decision. Istanbul Homes assists you in the best options by checking the current interest rates.
Q: What are the steps of this process that I should follow to get a mortgage loan in Turkey?
A: Firstly, you choose your property according to your needs and expectations at Istanbul Homes, and then all required documents should be ready to apply for a mortgage at the bank. After the bank sends you a preliminary approval approximately three or four days later, a valuation appraiser will analyze your property value. According to the report, the title deed conveyance process begins, and then you can move into your dream property.
Q: Is it advantageous to get a mortgage in Turkey?
A: It depends on the interest rates of a mortgage in Turkey and your country. It would be more advantageous for you to get a mortgage loan if the interest rates in your country are in better condition. In Turkey, the interest rates are higher than most of the other countries since the inflation rate is relatively high.
Q: What are the interest rates for a mortgage loan in Turkey?
A: The banks prefer to provide mortgage loans in the same currency as your income. If you are a foreigner who earns in foreign currency, you can get a loan in USD and Euro currencies. The interest rates of foreign currencies are between 5% and 7%. The interest rate of the Turkish Lira is between 11% and 15% annually.
Q: What percentage of the sales amount may I get as a loan?
A: The Turkish banks provide mortgage loans up to 50% of the sales price of the properties for foreign buyers.
Q: What are the dates of redemption options?
A: Redemption dates differ between 60 and 120 months in general. However, you may choose 24 or 36 month periods if you want.
Q: May I get a mortgage loan for an under-construction property?
A: No. Some banks prefer to give mortgages after 90% of the construction is completed.
Q: May I get a residence permit if I buy a property with bank credit?
A: Bank credit is an option for you to finance the purchase of your property. You may get a residence permit even if you buy the property with bank credit.