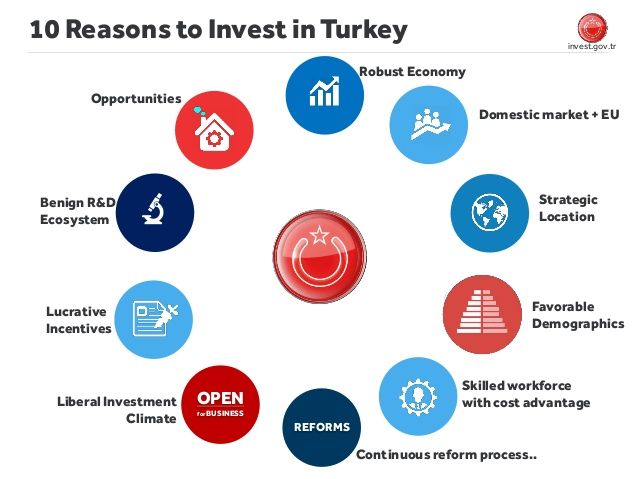 The country of Turkey has a vision, and it is a big one at that. By 2023, they want to be in the top ten economies of the world. This ambition is part of a larger strategic plan covering all areas include energy, tourism, transport, healthcare, and much more.
Called the 2023 vision, the economy plan breaks down into individual targets such as a 5% unemployment rate and a foreign trade volume of 1 trillion USD. The department in charge of this transformation is ISPAT, the Investment Support, and Promotion Agency of Turkey.
With staff speaking many languages and consultant offices in many countries, they provide market research and support to any investor or buyer looking at Turkey. First kicking into action in 2006, the challenging work of ISPAT and other departments has paid off.
The country has tripled its GDP compared to 2020 records and achieved an annual growth rate of 5.6%. They have also increased exports by 300% and during the last decade, attracted 145 billion USD of foreign direct investment.
Despite the massive amount of FDI already achieved, the Turkish government is not letting up and still offering various incentives to foreign nationalities looking to cash in on a growing market. These have varied from VIP citizenship to fast-tracking the setup of a company to 6.5 days. 13% reduced corporate income tax, and individual incentives are also key benefits of large-scale and regional investments.
Often citing the strategic position of Turkey between the east, west, north, and south, they welcome investors from all nationalities and now have strong ties with Europe, Qatar, and are actively building relationships with Africa, the Chinese, and India.
To these nations, Turkey eagerly points out the already existing market base in the population that nearly totals 80 million. Out of these states, approximately 78% are internet subscribers, 94% are mobile phone subscribers, 73% use credit cards. There is also an ever-growing market of 25 million tourists every year.
Real Estate Investment in Turkey
Companies and large corporations will find the above data useful, but Turkey wants to attract the average working man as well. One area they have done this with is the real estate market that before 2002 was stagnant, outdated, and in desperate need of modernization.
However, Turkey changed its laws to allow foreigners to buy and offered affordable mortgages to Turks and this, in turn, kicked the market into action. Constructor companies employing highly qualified architects built new homes and changed the country's real estate portfolio.
Foreigners attracted by low prices bought homes for a fraction of the cost in other countries like Spain. With the value of their homes increasing every year, plans to transform communities through cleaner streets, better roads, and round the clock electricity connection transformed by privatization attracted even more buyers.
The diversity of social communities has also enabled foreign buyers to keep their cultural heritage. For example, Didim on the Aegean coast attracts English buyers while Antalya has become a cosmopolitan hub attracting Europeans and Russians alike.
Working ex-pats gravitate towards the large city of Istanbul while middle eastern buyers find the north coast and places like bursa and Trabzon adhere to their social practices and strong family beliefs.
Anyone looking for a buy-to-let investment can tap into an already proven tourism market. The diversity of Turkish history and the landscapes from the east to the west, easily lure holidaymakers, either Turkish or foreign, and with roughly 7000 kilometers of coastline fronting the Aegean, Marmara, Black and Mediterranean seas, it is a hugely popular beach holiday destination.
Health tourism is also on the rise as foreigners flock for procedures like hair transplants and corrective eye surgery for half the price of their home countries. The list goes on and on to include specialist niches of tourism such as adventure sports in Antalya, hiking in the Kackar Mountains, or skiing in winter at places like Uludag.
For large corporations, small companies, and real estate buyers, Turkey is still proving to be a lucrative and wise investment. Many people are eagerly anticipating the next six years, and whether their 2023 vision for Turkey's economy will be achieved. In the meanwhile, they just enjoy the fruits of what Turkey has to offer.
For more information about investing and buying real estate in Turkey, contact one of our sales representatives. Otherwise, our extensive portfolio of property for sale in Trabzon, Istanbul, Bursa, and Antalya, highlights the best value per square meter of budget and luxury, apartments and villas.