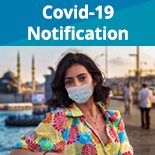 Istanbul Property for Sale by ISTANBUL HOMES ®
Istanbul Homes ® is a branch office of Tekçe Overseas Gayrimenkul AŞ which is the international leading real estate agency in Turkey. You may browse our user-friendly website to find the finest real estate options. Our website is updated daily to guarantee the exact prices and availability of each property. Istanbul Homes has 2 offices in Cevizlibağ (İstanbul Europe) and Göztepe (İstanbul Asia). Our Cevizlibağ office is at Avrupa Konutları Kale Office Building on E-5 highway in Zeytinburnu; and our Göztepe office is at Business Istanbul in Merdivenköy Mah, Kadıköy. If you are in Istanbul, call our mobile phone directly +90 535 480 80 80, we come and pick you up from your hotel in 30 minutes!
Read More...
Finding the Best Properties for Sale in Istanbul
Istanbul Homes Real Estate Agency offers all kinds of properties for sale in Turkey, from apartments to detached houses, from small scale commercial properties to 5-star hotels. Navigate easily at this user-friendly website to find apartments, houses, villa compounds, lands, construction plots, shops, hotels, business centers, offices, and retail outlets.
At Istanbul Homes, we're with you every step of the way: from dreaming of a house in Turkey to your house keys delivered in hand. You can expect 100% title deed delivery every time - that's the Istanbul Homes promise. Our zero- failure performance has earned us a reputation of 100% happy customers.
Thousands of investors, holidaymakers, and other foreign property buyers have bought their dream homes through our guidance since our company was founded in 2004. If you are looking to buy your dream property in Turkey, get in contact with us today.
TeleProperty | Buying a Property in Turkey Over the Phone
Tekçe Overseas Gayrimenkul AŞ has always been the leader in real estate marketing innovations. We have developed an online property purchasing system that we name TeleProperty. A considerable amount of overseas property buyers have preferred buying their dream homes through online viewings. Today, thanks to TeleProperty, foreign property buyers have a chance to buy their dream properties remotely, in a smooth and secure way. Learn more about TeleProperty.
Interested in Turkish Citizenship by Real Estate Investment?
Foreigners who buy properties valuing 250.000 USD in Turkey can get Turkish citizenship. This amount was 1.000.000 USD before the year 2018. As a matter of course, applicants of this program have many questions and doubts. As this is one of our expertise areas, we can easily say that procedures and the steps of this program are not complicated however it requires due care and experience of professionals. At this point, we advise you to let an expert do the job!
Istanbul Homes has helped many people from all over the world to get their Turkish passports. Since we know all steps very well, our clients have received their Turkish IDs and passports as promptly and easily as practicable. Some of the applicants haven't even visited Turkey for the procedures. We have completed all necessary workload for them with their power of attorney.
Bayram Tekçe, the chairman of the board of our company, has contributed to Turkish citizenship by real estate investment program by giving the right feedback to the government authorities. He has led to the citizenship offices to be founded, too. Besides, Beyram Tekçe plays an active role in the most important associations of the real estate sector in Turkey. He is the Chairman of the Real Estate Export Committee at GYODER - The Association of Real Estate and Real Estate Investment Companies. He also founded GIGDER - The Association of Real Estate International Promotion.
We will be glad to provide a service if you are interested in Turkish citizenship by investment program.
We Proudly Announce That We Are The Leading Real Estate Agency in Turkey
Istanbul Homes, since it was founded in 2004, has grown day by day with the precise and devoted service of its employees. Our company has been famous for its "Zero Failure" motto. Thousands of overseas property buyers bought their dream properties through our company smoothly and without any failure. We treat your savings as our own and we take our job seriously. This is the key point about our successful work.
As you can see in our customer reviews, our focus is always on customer happiness. We follow up the whole property purchasing process for our clients and we are not done till their first night sleep in their new homes. Even after that, we are still in contact with our clients to guide them whenever they need it.
Istanbul Homes, besides its success in foreign property sales, acts as the market leader which influences small and medium scaled real estate agencies. Other real estate agencies imitate our works and follow our work principles and our company values.
Today we are the trademark holder of the brands; Antalya Homes ®, Istanbul Homes ®, Trabzon Homes ®, and Bursa Homes ®. Also, we hold Spain Homes ® as a sub-brand of "Tekce Overseas SA".
Get All Services at One Point
One of the main reasons that make Istanbul Homes the best choice for foreign buyers is free before and after-sale services. Our agents help our clients with all the necessary works to be completed. Also, our agents can finalize all steps of property purchasing for you with a power of attorney if you prefer. Our before and after-sale services include:
• Property Appraisal Report: We help you obtain the compulsory real estate valuation report.
•Opening a Bank Account: We help you open a bank account in Turkey which will make the money transfer easier and more secure.
•Obtaining a Tax ID Number: We assist you to get a tax ID number in Turkey.
• Title Deed Coınveyance: We help you with the whole title deed conveyance process from preparing the documents to deed signing.
•Property Insurance: We find the best possible property insurance packages for you.
• Utility Abonnements: We provide assistance for utility abonnements.
• Furniture and Decoration Tours: We guide you to the best and most profitable furniture shops.
• Lawyer and Solicitor Supports: We arrange lawyer support when necessary.
• Resell Your Property: If you want, we help you resell your property even after years.
How to Find Your Dream Property in Istanbul?
If you want to buy a property in Istanbul, you should consider your needs and interests first. Decide what kind of property you wish to buy; a house, an apartment, or commercial properties in Istanbul? Then you should consider which locations would be better for you. To determine the correct location for your property purchase, considering your budget and your needs would be a good clue. For instance, if you need an international high school for your child nearby but you can not afford to buy a house in a particular area, you can consider having a look at the neighboring areas or you can check other international school areas in Istanbul. Once you know your needs and wishes before buying a property, the process will go on easily for you and your real estate agent.
Finding a reputable real estate company is also important before you begin your search for a property because your agent will be your guide through the process of filtering the correct options to the closing. If your agent is professional, experienced, and trustable, the property purchasing process and its results will be smooth and joyful. Otherwise, you might face unintended consequences. Contact us now if you are seeking a professional real estate agent.
Property for Sale in Istanbul
Turkey is one of the most profitable countries for real estate investors worldwide and Istanbul steps forward in this aspect among all cities of the country. There is an increasing demand from overseas buyers and this results in the value increase of the real estate in the megacity day by day.
Istanbul is such a unique city that has always been in the center of interest. In the past, many armies attempted to conquer the city because of its importance in trade routes. Today, it is one of the most famous tourist destinations and a charming location for investors.
Every year, millions of people visit Istanbul for touristic purposes. The city has wonderful historical heritages, museums, gorgeous scenic beauties, and other charming attractions besides cultural activities, art, and social organizations. Istanbul offers all kinds of attractions for tourists. Some of these tourists choose to buy their holiday home in Istanbul so that they can visit it every time they get a chance.
An important number of foreign people also prefer Istanbul for long-term living purposes. The megacity meets all needs of an individual and family in everyday life. International schools and job opportunities attract families for quality long-term living. In addition, easy transportation to and from Istanbul and the low cost of living in the country offers a highly comfortable environment for international retirees.
For some buyers, real estate purchase is an investment more than buying it for long-term living or a holiday home. Istanbul is one of the most profitable locations for real estate investors. Real estate in Istanbul gains %8 to %13 value annually. Istanbul has an ever-increasing real estate investment demand from domestic and foreign property buyers and investors since the city has a great population, several universities, a variety of job opportunities; attracts millions of tourists every year; hosts many sports, science, and cultural organizations. Istanbul is also one of the most important health tourism centers in the world that many people from different countries visit Istanbul for health services around the year. All these factors make Istanbul a very profitable location for real estate investment. Related page; Healthcare System in Turkey
You will find all kinds of properties on our website; apartments, villas, lands, commercials, etc. All properties in our portfolio and their formal documents have been checked carefully before they are listed on our website. Also, most of our properties are newly built. We don't resell properties unless one of our clients demands selling their property which they bought through our company. You can enjoy navigating on this website to find your dream home among hundreds of properties, each in good condition and with the best price guarantee.
Apartments for Sale in Istanbul
Istanbul offers buyers a variety of apartment options; smart flats, studios, duplexes, garden apartments, and loft designs with different facilities and a number of rooms. It is surely beyond doubt that any property buyer can find their future homes in Istanbul since there are several different options in different locations of the city, with divergent features and price range.
Over the years, our expectations from the apartments we purchase have changed, as is the case with many products we consume. Apartments built in the last decades are mostly situated in compounds with important features and facilities such as security, swimming pools, saunas, gyms, and indoor parking areas. Most of the flats for sale in Istanbul have these features today.
Apartments in Istanbul are mostly preferred by tourists who visit the city often and investors, among the foreign buyers. Investment properties are either sold after the purchase with good profits or rented by the people of the city such as a university student, an officer, or a teacher.
Villas for Sale in Istanbul
Villas in Istanbul are the dream properties of many people. We offer villas with sea view and forest view in the favorite locations of Istanbul. These luxurious houses in Istanbul have all the necessary features to experience comfort and privileges.
There are houses in villa complexes besides detached houses in Istanbul. These houses are constructed with luxury features and have stunning views, swimming pools, security guards, barbecue areas, parking areas, playgrounds, etc. All needs of a family have been taken into consideration while these villas were built.
Istanbul is famous for its historical mansions around the Bosphorus shore. Istanbul Homes presents some of these gorgeous historical mansions in Istanbul. It is rare to find one for sale since these mansions are built by wealthy people for the purpose of living there with their families. With great facilities and huge interior and exterior areas, these mansions offer everything to live a life of luxury, beyond your expectations.
Commercial Properties and Lands for Sale in Istanbul
Commercial properties and lands are the two famous tools for real estate investment. Some investors prefer commercial properties to residential real estate for higher rental income. Istanbul, the most important trade and business center of the country and one of the attraction points in Eurasia, has valuable lands and commercial properties. These highly valued properties draw the attention of investors worldwide. More business in the megacity means more need for lands to be constructed and commercial properties to be used as offices, shops, etc.
Lands in Istanbul are preferred by the constructors to build their own real estate or by the investors who want to make a profit by reselling them after some time. Also, some buyers prefer lands to start a farm business.
Istanbul Homes presents highly profitable commercial properties and lands in the valuable locations of Istanbul.
Close...
RECENTLY ADDED PROPERTIES
ALL PROPERTIES