Lawyers Speaking Your Language
If you buy a property in Turkey, Istanbul Homes has its own property sales agreement that is prepared by lawyers of the company. In any transaction, we serve as a referee between the seller and buyer, we just want to finish the deal professionally.
For each transaction, we prepare a personalized agreement that is determined by our lawyers on the terms. We check the reputation of the construction company when we add a new portfolio. We ensure that you will purchase the property directly from the owner himself. Since we make thousands of agreements annually with the performance of "Zero Failure", we are confident.
We have a list of independent lawyers speaking different languages in addition to English. If you prefer, we can introduce you to one of them.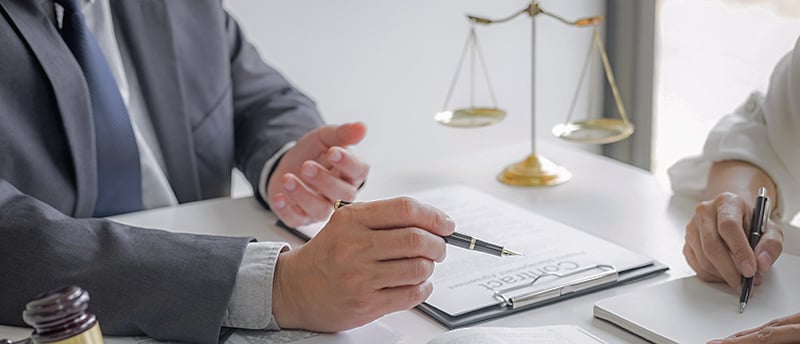 What Do The Solicitors Do for You?
1. Checking the Legal Documents of a Property
The property purchasing process can differ by country. There are different requirements and standards in every country. Since most of the foreign buyers do not have any experience in the property purchasing process in Turkey, we recommend you to deal with a trusted and professional real estate company, which has several branch offices and experience of years.
The most important aspect of purchasing a property is finding the right party and ensuring that the seller is selling the property that he is showing you. These issues and your money can be secured by lawyers with a Due Diligence Report.
a) When you decide to buy, the initial checks in the Title Deed registration office are carried out by an estate solicitor to cover if there is; basement, mortgage debt, lien, tax debt, other debts, and charges; if it is freehold or not; checking the own fact of the property as written on the title deed.
b) Solicitors also check the related licenses such as building licenses and planning permits.
2. Paying Deposit and Sales Agreement
The reservation contract secures the property in the name of the customer and guarantees the negotiated price and terms of sale. It also illustrates that the payment made as deposit payment secures the contract terms agreed upon.
3. Real Estate Purchase Contract in Turkey
A solicitor can make the buying process more secure and comfortable for his clients by assisting them in the cases below:
• The solicitor shall draft the purchase contract accordingly if there is a reservation contract that specifies the negotiated terms by the parties.
• If the parties have not signed a contract, the solicitor shall draft the purchase contract to the satisfaction of all parties with legitimizing their demands.
• Where a contract has already been drawn up, the solicitor shall review the contract in order to ensure that the interests of the customer are not damaged and that they are entirely legal.
4. Cost of Dealing with a Solicitor in Turkey
We recommend hiring a reliable lawyer for your Turkish Citizenship process. We provide you a list of names of English-speaking lawyers/solicitors if you demand. Nevertheless, you can complete the entire procedure safely without the charge of any solicitors if you buy your property from Istanbul Homes.
Our customers do not need a lawyer/solicitor. Istanbul Homes follows the whole process carefully on behalf of you. Our sales agreements are prepared and approved by our company lawyers following Turkish laws. Therefore, our expert team guarantees you not to deal with any unpleasant surprises in your real estate sales.
The legal service cost for lawyers is 2.500 USD + 18% VAT. The lawyers' fee may vary depending on the lawyer and purchasing process details for your case and the legal entities.
5. Get Better Results
When a buyer deals with an unreliable agent or someone whose profession is not real estate, this will cause problems to the buyer. You may lose money or the results may be unexpected.
If you have any doubts about the people you deal with, going through a solicitor will be a more logical option. A lawyer will ensure that things go on according to the book. Besides, you can find reliable real estate agents in Turkey. Dealing with these professionals will save you money and time. If you are looking for one of them, contact us today to get professional service with "Zero Failure Performance".
FAQ
Q:Is it compulsory to have a solicitor while buying a property in Turkey?
A: No. However, it is advised to have one if you are dealing with someone you do not know well or you have doubts about. It will be only an extra cost if you are dealing with the right people.
Q:How much does it cost to hire a lawyer for property buying in Turkey?
A: The legal service cost of a lawyer while buying real estate is 1% of the property sales price. This amount can be a minimum of USD 1,750 + 18% VAT.
Q:Can my lawyer buy the property in my name if I am not with him?
A: Yes. Not only your lawyer but also anyone you trust can finalize the buying process for you if they have a valid power of attorney. You don't have to be present at any step of property purchasing.
Q: What are the advantages of having a solicitor when buying a house?
A: A solicitor will check if all paper works are done appropriately and signed by authorities. Besides, they will check all legal papers of the property to ensure that there is nothing wrong with it. In addition, they will assist you to close the deal in a secure way to avoid potential future disputes.