If you own a property in Istanbul that you wish to sell, get in contact with us now. Istanbul Homes is the leading real estate company with a good reputation on the market and 16 years of experience in selling and buying a property since the foundation of our company in 2004.
Why You Should Choose Istanbul Homes for Selling Your Property?


Maximum Visibility
Your property will be listed on our company website and major real estate portals. Our websites are getting tens of thousands of visitors from different nationalities daily, thus your property will have maximum visibility. Making your property more seen by buyers is the fastest way to sell your property.
---
Overseas Buyers


Your property will be published in 10 different languages. We have a team of local expert agents that can speak over 20 languages. This means, not only Turkish buyers but also international investors can buy your property from all over the world. You must get yourself ready for foreign buyers as well.
---
Professional Advertising


Property selling requires a professional team with experience and training with the right tactics. The photos of your property will be taken by our professional photographer and descriptions that bring out the best qualities of your property will be written by our experienced Editor team.
---
One-Stop Agency


All the services you need to sell your property will be covered by us:
• Tailor-Made Marketing
• Key Holding
• Official Paperwork
• Organising Viewing Tours
• Filtrating the Real Buyers
---
Real Estate Valuation


It's important to find the real value of your property. Thus, our experienced team is working for it with the real market data. Also, it's mandatory to get a property appraisal report for property sales to foreigners in Turkey since 15/02/2019. We will guide you whole through the process.
---
100% Happiness & Zero Failure


We have Zero Failure in delivering the title deed since 2004. While selling your property, you will also use our company's experience to sell real estate without problems. Both buyer and seller get the best results because of our experience in the market.
---


Steps to Sell a Property in Turkey
1: We must check all the documents related to your property like a title deed and habitation certificate. Before starting the sales process, a property must be debt-free because Land Registry Office doesn't allow for sale otherwise. We need to make sure all taxes and bank mortgages paid fully.
2: In order to get you the best price, we will check and see the property. To make your home more appealing you should complete all the nursing that your property needs.
3: When we agreed to sell your property, our photographer take photos of your property and add them to our web page. You need to be ready for the viewing tours requests from our agents, maybe urgent ones as well. If you are not living in Turkey or in that region, you can leave your keys to someone you trust for us to be able to get from them or you can leave it with us for safekeeping in our office.
4: When we find a buyer, we will be conducting the whole process on your behalf and keep you informed about the deposit process and signing the title deed.


How Much Does It Cost to Sell My Property?
If you have the property for more than five years, you will be exempt from income. Other than that, you'll be charging for estate agency fees and costs like bills and taxes that are late to pay from your home.
If you want more information and learn more details about how to sell your real estate in Turkey, you can fill the form on the left side and our Portfolio Supervisor will contact you. Also, you can send your title deed copy, real estate photos, and your questions toinfo@istanbulhomes.com.
How Can I Sell My Property in Turkey?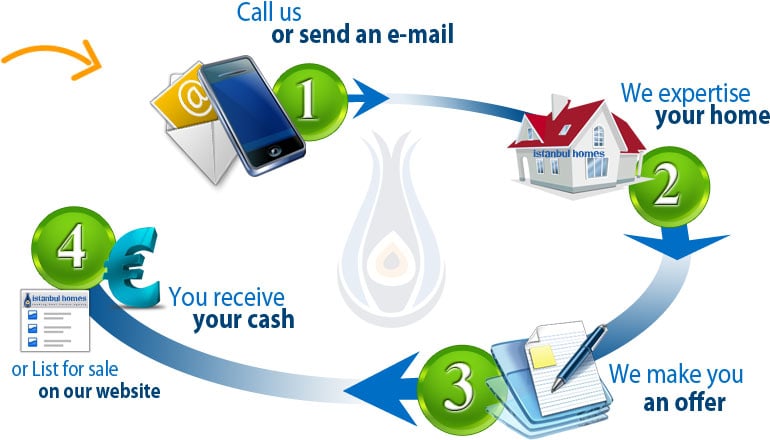 FAQ
Q: How long will it take to sell my property?
A: A property's sale is determined by the price before anything. The average time of sale is between 3-6 months if the property is priced in line with market prices. You have our guarantee that we will effectively work for marketing activities during our arrangement, but selling real estate isn't always determined by how well we do our marketing. We can't affect the real estate market's conjunctural nature. If what you want is a faster sale, the pricing of your real estate below market prices can help us achieve that.
Q: Do I have to be there for the viewing tours?
A: No. If you are not living in Turkey or currently don't have time for joining the viewing tours, you can leave your keys to our office. If that's the case, our agents will perform the viewing tour and answer buyers' questions as if you were there.
Q: How much is the real price for my property?
A: Our experts from your local area allows you to benefit from their experience and will offer you an ideal price for your property. Since they know the location and real estate values in your area, they combine this knowledge with their expertise on real values of similar properties, backgrounds of constructions, and serviceable areas and give you a reasonable price.
Q: Will there be too many viewing tours for my property?
A: There will be too many requests for your real estate but since we understand the buyers' expectations and needs as well as yours, if these expectations don't match or if they are not serious buyers, we won't bring them for a viewing tour at your property. Respecting your time is important for us.
Q: What is the process when someone wants to buy my property?
A: We invite both of you to our office to ascertain the conditions of the agreement. Sales agreement including all the terms of the agreement must be signed by both the buyer and seller. After a deposit is paid, we start for the conveyance of the title deed process.
Q: When can I receive the full payment?
A: Title deed conveyance day is the full payment day. Payment must be done before the signatures are made as it's the custom in Turkey.
Q: Can I sell my home with furniture?
A: Yes. In our portfolio, there are furnished villas and apartments as well.
Q: What kind of properties do Istanbul Homes sell?
A: We sell all types of real estate; apartments, commercial real estate, villas, hotels, and lands.
Q: I don't want to place a "For Sale Board". Does that important?
A: It's up to your decision but researches show that boards can increase viewing requests up to 20%.
Q: I can advertise my property online and I can hang a board by myself. What's the advantage of working with a real estate agent?
A: Individual advertisements are viewed 200% less than professional advertisements. Also, you can try to choose between too many unimportant calls and non-serious customers, but this will be a hard process. Buyers intend to work with professional agents to avoid any upcoming disagreement. There are so many other reasons, but these are the most important ones.