Buying in Turkey
Buying Property in Turkey
Now that you are checking the right website for real estate purchases in Turkey, it is time to learn the steps and terms you will meet while buying a property in Turkey. This article will guide you to perfect results when you purchase real estate in Turkey. For more detailed info, you will find links to related pages.
Buying a property in Turkey may seem a very complicated process, especially for foreign buyers who do not have experience in the process and customs in the country. However, you will see how easy it is when you deal with a professional real estate company whose target is always "zero failure". Istanbul Homes has delivered thousands of title deeds and keys with zero failure since it was established. The company has been operating in the Turkish real estate sector since 2004 and has always completed the buying process successfully for its customers. Now, it is time for you to learn the steps of the process and how easy it is contrary to popular belief.
Why Should I Deal with a Real Estate Agent?
First of all, a good real estate agent is a guide who ensures you get what you wish and you do not encounter any problems. Your agent will direct you to correct locations, developers, and properties. You will not have any unanswered questions when you work with the correct real estate agent. It may be a complicated process, especially if you try to proceed by yourself and finish everything alone, you may face problems that you have to overcome by yourself. The first thing will probably be the communication gap that occurs because of the foreign language. Also, formal procedures may differ from country to country. As a foreigner, you do not know where to start and finish, how to handle the process in a foreign country where the formal procedures are different than your home country. This is where you need a local expert.
Why Istanbul Homes While Buying a Property in Turkey?
As the leading real estate agency in Turkey, Istanbul Homes has delivered thousands of title deeds and keys to buyers from 84 different countries with "zero failure". Istanbul Homes serves its customers in more than 20 different languages. Our customers get service from someone who speaks their mother-tongue and knows their culture. Besides, our agents will assist you in all steps from getting utility subscriptions to buying your furniture as a part of our free after-sale services.
Buyers have to complete many steps when buying a property, each with its requirement and difficulty. Our job is to guide you during the process and overcome the difficulties and potential disputes. Buying a property will be a smooth process for you other than a difficult and complicated process when you buy a property in Turkey with Istanbul Homes.
How to Buy a Property in Turkey as a Foreigner
Buying a property in Turkey is a simple task for citizens of the country. However, with the additional required documents and steps to be followed for foreign buyers, the process seems a little more complicated.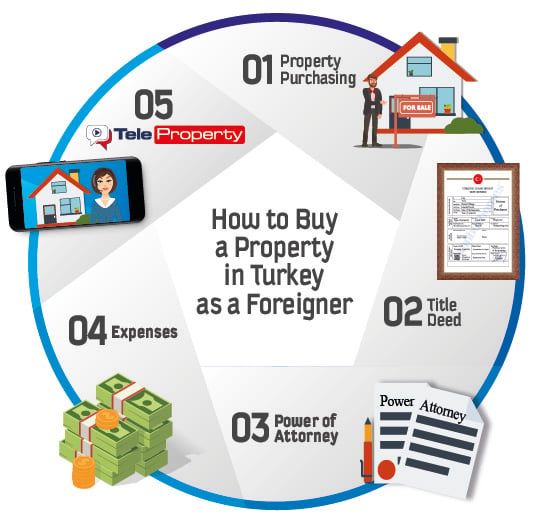 In this article, we will explain the basic terms and the steps regarding buying a property in Turkey.
Property Purchasing
After preparing your wishlist, you need to find a real estate agent who will guide you during the process. You should choose the viewing tour properties with your agent and visit them. The next step is to choose the property you want to buy and make an agreement. You should ensure that all terms of the agreement between you and the seller are stated in the sales contract. For detailed information; Property Purchasing
Title Deed
A title deed is a document that proves the ownership rights of a property. It registers the location, owner, type, size information of the property. When a property is sold in Turkey, title deed conveyance occurs at Land Registry and Cadastre offices. Related Pages; Title Deed (Tapu) Transfer
A title deed can be shared by an unlimited number of people in Turkey. All properties are freehold in Turkey. Hence, the family of a property owner inherits the property after the title holder's death. Also, a titleholder can write a will to leave the property to anyone he/she wishes.
Power of Attorney
The power of attorney is a legal document that gives the proxy the power to act legally on behalf of the attorney. A proxy who holds a valid power of attorney can make all legal transactions on behalf of the attorney such as; buying a property in the attorney's name, banking transactions, health issues, opening a case in the courts.
In Turkey, buying a property with a power of attorney is a commonly used way when the property buyer can not be present at the title deed offices for the title deed conveyance. Selling a property power is not as common as buying power and it is not recommended unless your proxy is someone you trust. Read more about Power of Attorney When Buying Property in Turkey
Expenses
There are some extra costs before, during, and after the property purchase. These are; appraisal report fee (real estate valuation), title deed conveyance costs, lawyer expenses, property tax, property and earthquake insurance (DASK), electricity and water connection fees, furnishing your property, and monthly maintenance fees. Related pages; Property Purchase Expenses, Real Estate Taxation in Turkey
It is recommended to consider the extra costs before you purchase a property. In this way, you will know how much you will spend at every step. Thankfully, these costs are relatively low in Turkey. Learn more about Expenses When Buying Property in Turkey
TeleProperty
TeleProperty is an Istanbul Homes service that streamlines buying over the phone for those who can not travel for a viewing tour or can not be present for legal procedures. Buyers can complete all steps of buying a property even without leaving their living rooms. Everything goes almost the same as a traditional buying process, except for the buyer's physical effort. Buyers join an online viewing tour with the help of video calls, can talk, and ask questions to the seller, and can see legal documents regarding the properties. After buyers choose the property they want to buy, all other steps from signing the papers to getting the utility connections are completed by our team of experts with a power of attorney. We can even help you choose your furniture online and arrange the delivery and installation until you come. In brief, the only thing you will do is picking your backpack and coming to your new home. Find detailed information here; TeleProperty | Buying a Property over the Phone
Financing Property Purchase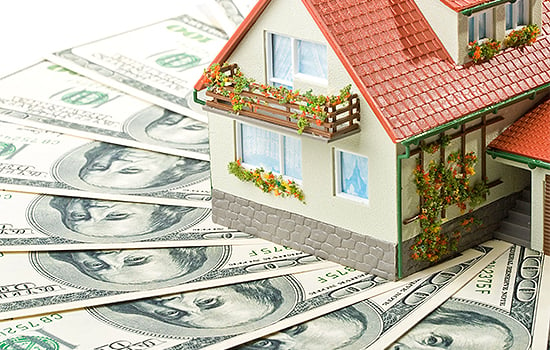 While some buyers start buying a property process with enough cash in their bank accounts, some buyers need a mortgage to complete a property purchase. In such cases, buyers choose their property first and then apply for a mortgage with the required documents at the bank. Since the bank will not provide a mortgage for the sales amount in full, it is advised to prepare some cash for the down payment. For detailed information; Mortgages in Turkey for Foreign Property Buyers
When foreign buyers want to complete a property purchase in Turkey, one of the main issues will be money transfer to Turkey from their countries. In today's world, there are many different channels to make money transfers from a country to a country such as banks and money transfer institutions. Each institution has a different commission rate. Buyers can choose the best and most profitable ways according to the conditions and commission rates. We advise you to ask for your agent's opinion before you make a money transfer to Turkey. Your agent will advise you on the best way thanks to his experience.
Technology has changed the way of trade as well as other areas of our lives in the last decades. Today, buyers may prefer cryptocurrency payment which takes only seconds to transfer. The leading real estate company, Istanbul Homes, offers Bitcoin payment to its customer as an alternative way of buying a property in Turkey.For more information, please read Pay with Bitcoin
Turkish Citizenship by Real Estate Investment
Turkey offers citizenship by real estate investment to buyers who purchase at least 250.000 USD worth of properties in Turkey. Real estate investors and their families can get Turkish citizenship with this program easily. After making the property purchase, applicants should apply to citizenship offices in Turkey in person or by their proxy who holds a valid power of attorney. For detailed information; How to Get Citizenship in Turkey | Turkish Citizenship Requirements
There are many advantages of getting Turkish citizenship through real estate investment. First of all, this program is fundamentally an investment program that brings a good profit with a high return on investment. Turkey is among the most investable countries with relatively low prices and a good return on investment. Besides, not only the investors themselves but also their families get Turkish citizenship, including the spouse and all children under the age of eighteen. Also, the Turkish government does not ask the applicants to stay in the country for a particular period.
Having a Turkish passport brings many benefits. Turkish passport is among the top 40 passports of the world and grants visa-free access to 116 countries.Please read our blog about the Benefits of a Turkish Passport.
When a foreigner buys a property in Turkey, the Turkish government provides a residence permit upon demand without considering the property sales price. For those who wish to live in Turkey but can not afford the citizenship program, a residence permit is a second-best option. In this case, buyers purchase a property and get the residence permit for two years, which will be easily renewed at the end of every two years. Besides, property owners can apply for Turkish citizenship after staying in the country with a residence permit for five years.

A real estate fund is a lesser-known kind of investment that brings the investors together who want to make real estate investments. Government guarantees, transparent transactions, advantageous taxation, and high return on investment are some of the great advantages of real estate funds. Obtaining Turkish citizenship by fund investment is another advantage of fund investment for foreign investors. According to the law, foreigners who purchase 500.000 USD worth of real estate funds and keep them for at least three years can acquire Turkish citizenship. Related pages; Real Estate Funds in Turkey.
Why Choose Turkey as a Destination?
Turkey has been one of the most popular countries for overseas property buyers and real estate investors in the world in the last two decades. Many reasons make Turkey one of the most famous countries in the global real estate market. First of all, Turkey is a meeting point for world cultures with its location between Europe, Asia, and Africa. This makes it very easy to reach buyers. Secondly, buying a property process is much easier than in most of the other countries. Another reason that attracts buyers is that the cost of living in Turkey is relatively low. Besides, the portfolio is very wide: You will find what you are looking for. Lastly, Turkish properties offer a great return on investment.
Turkey is one of the main destinations for health tourism. Turkey offers high-quality health services at affordable prices. Both public and private health services are accessible to anyone in the country and all kinds of specialties are practiced. Due to the general perception of the profession, the most successful students prefer to be doctors. So, health services are applied by the most qualified people in the country. The doctors in Turkey are very experienced and professional in their fields.Read more about the Healthcare System in Turkey
A New Concept: PropTech
PropTech is simply the combination of property and technology. It refers to everything about property that is in relation to technology from digital real estate marketing strategies to smart homes, construction technologies, future cities, etc. Istanbul Homes is a PropTech company that uses technology for every aspect of the real estate business. TeleProperty is one of the PropTech practices of Istanbul Homes which is an online property buying. Buyers can complete all steps of property purchasing just by using their smartphones or computers. Learn more about TeleProperty.
Another example of PropTech is cryptocurrencies for property payments. Making property purchase payments with cryptocurrencies is being more popular day by day. Istanbul Homes has been the leading company to use cryptocurrencies in real estate sales in the Turkish real estate market.
Taputakas (Title Deed Swap) is also a kind of PropTech. In this system, buyers and sellers do the title deed conveyance transactions online. The buyer pays to Takasbank which acts as an escrow agent and the seller gets paid from it after the deed transfer.
WikiProperty
Istanbul Homes, the market leader, answers the questions coming from real estate buyers. With years of experience, we are proud to announce that we know the correct answers to all your questions. To learn the answers to the most frequently asked questions visit our WikiProperty page.
Also, you can find questions and answers regarding buying a property in Turkey listed in the categories below.
Property Ownership
Q: Can a foreign company buy property in Turkey?
A: Foreign companies (legal entities) can not buy on their behalf directly. A foreign legal entity should first establish a company in Turkey. This Turkish company may acquire property ownership.
Q: Is property ownership in Turkey freehold or leasehold?
A: All properties in Turkey are "freehold".
Q: What is a title deed (Tapu) like?
A: A title deed (TAPU) is a document that proves and protects the ownership rights of real estate. It shows the location, size, type, and owner of a property. Learn more title deeds in Turkey.
Q: I lost my original title deed, can I have it reprinted?
A: No problem! Reprinting a title deed is a simple task. Your original registration is protected as hard and software copy with high security at The Directorate of Land Registry and Cadastre.
Q: How many people can share a title deed?
A: There is no limit to the number of people whose names can be written on the same title deed.
Q: What happens to my property when I die?
A: Since the properties you buy in Turkey are freehold, your family members inherit your properties after your death.
Q: Who pays the maintenance fee If I rent out my property, me or the tenant?
A: Tenant pays the maintenance fee as a customs in Turkey. However sometimes, depending on the rental agreement between the two parties, it can be included in the rental price.
Q: Do I have to pay the maintenance fee if I don't use the property?
A: It is a legal obligation to pay a maintenance fee if your property is in a compound. Also, it is morally a must-do because this collected money is used for enhancing the surroundings of the property.
Financial Issues
Q: Do banks charge me when I open a bank account in Turkey?
A: No, there is no cost of opening a bank account in Turkey.
Q: Is it time-consuming to open a bank account in Turkey?
A: Unlike most other countries, transactions are much easier and less time-consuming in Turkey. You can open a bank account within an hour when you get to the bank with ready documents. Learn more about opening a bank account in Turkey.
Q: Are state banks more secure than private banks in Turkey?
A: No. All banks in Turkey are subject to the state banking law. There is no difference between state banks and private banks in terms of security.
Q: Can someone withdraw money from my bank account with a power of attorney?
A: Yes. Banks accept POA for financial transactions in Turkey. So, your proxy can withdraw money from your bank account by showing a valid power of attorney.
Q: How is the general cost of living in Turkey compared to European countries?
A: You'll find most items up to 50% cheaper than the European countries and the USA. However, electrical items are the most expensive ones compared to these countries. Read more about the cost of living in Turkey.
Q: Can foreigners get mortgages from Turkish banks?
A: Yes, foreign property buyers can get mortgages in Turkey. We have completed this process with %100 success for foreigners since we established our company.
Q: Is it advantageous to get a mortgage in Turkey?
A: It depends on the interest rates of the buyer's home country. If your residential country provides mortgages with lower interest rates, you can prefer getting the mortgage in your country for an overseas property purchase. You can also consider buying properties with an installment from construction companies.
Q: What is the LTV (loan–to–value) ratio in Turkey for foreign property buyers?
A: In Turkey, the LTV ratio is 50% for foreign real estate buyers. This means you can get a mortgage up to 50% of the sales price of the real estate and you should already have the rest amount for advance payment.
Q: Can I get a mortgage in Turkey if I do not have a bank account in Turkey before?
A: Yes, foreigners can use housing loans in Turkey. There is no obligation to have an account in advance. Following the banking practice, the mortgage is offered with the main income currency of the loanee. For example, Europeans can get Euro credits. Before opening a bank account, they proceed by evaluating your credibility according to your declarations and opening an account immediately if positive. Learn more about mortgages in Turkey for foreign property buyers.
Q: Can I pay for the property by cheque?
A: In Turkey, cheques are not accepted as a way of payment for real estate purchases. We only accept cash, bank transfer, and bitcoins.
Before Purchase
Q: Can I get a tax number online in Turkey?
A: Yes, you can get a tax number online besides being able to get it from tax offices located in every city and its districts in Turkey. Read more about getting a tax ID number in Turkey.
Q: What happens if I lose my tax ID number?
A: A tax number can be easily reprinted in Turkey. However, we advise you to keep a copy of it safe to prevent unnecessary work.
Q: How long can I use a tax ID number in Turkey?
A: Tax numbers do not have a validation period in Turkey. You can use your tax ID number throughout your life.
Q: What are the taxes regarding real estate in Turkey?
A: State property tax, environmental tax, and wealth tax. However, these are relatively low.
Q: Is an appraisal report necessary? What does the appraisal process involve and how long does it take?
A: Appraisal report keeps from overpriced property sales. When one buys a house, Land Registry and Cadastre ask for SPK validated Valuation Report as a proof document that the purchase was made at the correct price. Your addressee is a direct Real Estate Appraisal Department of Land Registry and Cadastre. The process takes 3-6 days. Learn more about the appraisal report.
Q: How long is an appraisal report valid?
A: Title deed offices ask for appraisal reports prepared within the last three months. In case our client's "appraisal reports" validations end, Istanbul Homes helps its customers renew their reports free of charge.
During Purchase
Q: What is the general buying process in Turkey?
A: After paying the reservation fee, Istanbul Homes will carry out the title deed checks. A contract will be drawn up between the seller and the purchaser. This will give the details of the completion date, payment schedule, and terms & conditions. When all parties sign this, the deposit is paid, and the application is made to Tapu and Land Registry Office. After the application, you can get the title deed within 2-3 working days. You can sign a power of attorney to conclude all the necessary paperwork if your circumstances require it. Related pages: Buying Property in Turkey, Property Purchasing in Turkey
Q: On a new development, what is the average deposit required? Can I pay in installments?
A: You will normally pay a 10% reservation fee and then 30% as a deposit within four weeks. Most developers offer stage payments (lump sum to be paid after each building stage) often with a degree of flexibility towards your circumstances. This will be agreed upon at the time of purchase. See the list of properties with installments from the construction companies.
Q: Who sets the price of the property?
A: If you are purchasing a property on new development, the price will be set by the developer. Regardless of agent commissions, you should still pay the same price with whoever you purchase through, whether you go direct or through a third party.
Q: What documents are required for title deed conveyance?
A: Appraisal report, passport translation at the notary public, the power of attorney if needed, 2 photos, local tax number, and bank account. Read more about title deed conveyance.
Q: How long does the title deed conveyance process take?
A: Generally, it takes one day after the application to the General Directorate of Land Registry and Cadastre with all required documents. Sometimes, depending on the work volume at the title deed offices, it may be delayed one day or two.
Q: What is Title Deed Escrow (Tapu Takas)?
A: Title deed escrow is an alternative way of title deed conveyance in Turkey. Here, the buyer pays the money to the seller through Takasbank which is the central clearing and settlement institution in Turkey. Money is transferred to the seller after the confirmation report of the successful title deed conveyance to the buyer.
Q: What is hypothec?
A: A hypothec is a commitment, right, or security given by contract or by operation of law to a debtee over the property of the account holder without a move of ownership or title to the debtee. In Turkey, hypothec on title deed is utilized when purchasers owe a measure of cash to vendors. It is expelled from the title deed when the obligation is paid.
Q: Is it compulsory to have an interpreter to issue a power of attorney for buying a property in Turkey?
A: Since power of attorney is a serious decision that lets someone else act on your behalf and all documents are in the Turkish language, it is an obligation to have a sworn interpreter to translate the information on the papers for you before you sign.
Q: Can I give a power of attorney if I am not in Turkey?
A: Yes, you can give a power of attorney at Turkish embassies. Also, notary offices in your country can prepare a power of attorney if your country is a part of The Hague Apostille Convention. Read more about the power of attorney.
Q: Can I get a residence permit in Turkey (İkamet Tezkeresi) if I buy a property?
A: If a foreigner owns property in Turkey, he/she gets a residence permit which is renewed every two years if he/she keeps the ownership. Learn more about Residence Permit in Turkey.
Q: Do I need a residence permit to buy a property in Turkey?
A: NO! However, having a residence permit has some advantages and the Istanbul Homes expert team helps you get your residence permit if you demand.
Q: Are there English speaking lawyers in Turkey?
A: Yes, there are reputable English speaking lawyers/solicitors. We can introduce them to you during your viewing trip. Read more about lawyer and solicitor supports.
Q: What are the costs associated with buying a property in Turkey?
A: Title deed conveyance tax, Land Registry, and Cadastre circulating capital fee, notary, and translation costs. All expenses of property purchases are explained on our purchase expenses page.
After Purchase
Q: When can I move into my property?
A: Your keys will be delivered on the title deed conveyance day and you can move into your new home following the title deed conveyance.
Q: What is DASK?
A: DASK (Doğal Afet Sigortaları Kurumu) is compulsory earthquake insurance for utility subscriptions in Turkey. You can not register your property for utilities like water, electricity, and natural gas without a valid DASK in Turkey. A DASK also covers your losses after an earthquake.
Q: Is there a property management service in Turkey?
A: Yes, some companies provide property management services in every city.
Q: How much is the property maintenance fee in Turkey?
A: The maintenance fee varies depending on the complex features. When there are more facilities in the complex, maintenance fees can increase. We inform our clients about the maintenance fee during the viewing tours.
Q: How can I furnish my new home?
A: Many developers offer furnishing packs. If you wish, you can buy a furnished property or we can offer a place to buy. A furniture tour for your new home is one of our free aftersale services.
Q: Why would I need a Turkish residence permit?
A: A residence permit will make all your transactions easier when you are in Turkey. Besides, it prevents visa costs. Read more about residence permit in Turkey.
Q: How can I ensure my property in Turkey?
A: Property insurance is made regarding the features of the property. Insurance companies will present their offers when you give them the necessary information about your home. They will complete the insurance purchase after your confirmation of the price. Property insurance is one of our aftersales services. Learn detailed information about property insurance in Turkey.
Q: How will I pay my utility bills in Turkey?
A: There are bill payment centers almost in all neighborhoods in Turkey. You can pay your bills by going to one of these centers. Also, you can make automatic payment orders for your utility bills. Istanbul Homes will also assist you with this, as a free after-sales service. Take a look at our after-sales service page.
Q: What are the costs when I want to resell my property?
A: If you have owned the property for five years or more, you are exempt from property profit tax. You are supposed to ensure that all bills are paid up to date.
Q: Can I rent out my property?
A: Yes, Turkey offers good investment chances with a high return on investment. Istanbul Homes follows this process for its customers as a free after-sales service. Check rental income guaranteed properties here.
Turkish Citizenship
Q: Can I become a Turkish citizen if I buy property in Turkey?
A: Yes. Foreigners who buy properties worth 250.000 USD in Turkey can get Turkish citizenship. Related pages: Citizenship in Turkey, Turkish Citizenship By Fund Investment
Q: Do I have to buy one property worth 250.000 USD or can it be multiple properties to cover the price for Turkish citizenship by real estate investment?
A: There is not such restriction. You can buy more than one property to cover a total of 250.000 USD and the properties even can be in different cities.
Q: How long does it take to get Turkish passports after purchasing the properties?
A: It may take up to 2 - 6 months to finalize the citizenship process depending on the work volume at government agencies. The Turkish government has opened a special Citizenship office to reduce the time applicants spend. Learn more about a Turkish passport and its advantages.
Q: Can I get Turkish nationality without visiting Turkey?
A: Yes. If you send your power of attorney to a lawyer or someone you trust in Turkey, your proxy can follow the process on your behalf. In this way, you will complete the purchase and Turkish nationality process even without visiting Turkey. Also, the Istanbul Homes expert team follows the whole process for its customers. After finishing all the necessary work for you, we either post your Turkish passports to your address or keep them safe for you until you visit us.
Q: Is my current citizenship canceled when I become a Turkish citizen by real estate investment?
A: No, Turkish laws allow dual or multiple citizenships. It totally depends on your home country's laws.
Q: Can I buy an under-construction property to apply for Turkish citizenship by investment program?
A: Yes, the government accepts Notarized Property Purchase Commitment, too. If the payment is above 250.000 USD, you may apply with Notarized Property Purchase Commitment for citizenship.
Q: Can I get Turkish Citizenship if I buy commercial properties with rental income?
A: Yes, any kind of real estate is counted. Check rental income guaranteed properties here.
Q: Can my family get Turkish Citizenship with me?
A: Yes. You, your spouse, and your children under the age of 18 (on the application date) can get citizenship.
Q: Does my family have to come to Turkey at any stage of the process when getting Turkish citizenship?
A: No. Only the applicant may visit Turkey and apply for it on behalf of his/her family with the required documents.
Q: Can my parents get Turkish citizenship with me if I buy properties in Turkey?
A: No, parents are not covered when adult purchases; only spouses, and children under the age of eighteen can benefit from your purchase.
Sell Your Property
Q: How long will it take to sell my property?
A: Most fundamentally, a property's sales period is determined by the price. The average sale of a property priced in accordance with market conditions takes between 3-6 months. We guarantee that we will carry out effective marketing activities that we are responsible for during our agreement. However, selling a portfolio may not necessarily be the result of doing our job right. The general situation of the real estate market is not exactly within our sphere of influence. For a faster sale, pricing should be below market expectations.
Q: Do I have to accompany the viewing tours?
A: No. If you are too busy to join the viewing tours or you are not in the city, you can leave your keys with us. In this case, our agents will do the viewing tours and they will answer the questions on your behalf.
Q: What is the correct price for my property?
A: Our team of local experts will recommend the correct price for your property. We know the locations, real value of the properties, and the backgrounds of the constructions in our service areas. So, you will benefit from our experience and knowledge to set a fair and correct price.
Q: Will there be too many viewing tours for my real estate?
A: There will be a lot of requests. However, our job is to understand the potential buyers' expectations. If the customer's expectation does not match the features of your property or they are not serious buyers, we will not organize a viewing tour for your property. We respect everyone's time.
Q: How does the process work when someone wants to buy my property?
A: We invite you and the buyer to our office to determine the terms of the agreement. Both parties sign a sales agreement which includes all terms of the agreement with a deposit payment, and title deed applications begin.
Q: When will I receive the full payment?
A: Full payment for real estate sales is done on the title deed transfer day, just before the final signatures as customs in Turkey.
Q: Can I sell my home with furniture?
A: Yes. Some of our portfolios are furnished apartments and villas.
Q: What kind of properties do Istanbul Homes sell?
A: We sell all kinds of properties; apartments, villas, commercial properties, lands, and hotels.
Q: I don't want to hang a "For Sale Board". Does this cause a problem?
A: If you want, we will not hang a "For-Sale Board". However, researches show that these boards increase the viewing tour requests by up to 20%.
Q: I can advertise my property online and I can hang a board by myself. What's the advantage of working with a real estate agent?
A: Buyers view professional advertisements 200% more than individual advertisings. Besides, you have to welcome many unrelated calls and messages to filtrate the non-serious customers. Also, buyers aim to work with professional agents to avoid potential disputes. These reasons are some of the most important of many others.
Istanbul Homes
Q: Who prepares Istanbul Homes' sales contract?
A: Our sales agreements are prepared by our company lawyers.
Q: Can I rely on the sales contract in case of any unexpected situation?
A: The contract clarifies the terms of the agreement between the buyer and seller. In case of any dispute, the contracts can be put into the process.
Q: What does the sales contract include?
A: Anything and everything that both parties agree on during the negotiation is written into the sales agreement. Istanbul Homes' sales contract saves both parties' rights by acting as a referee.
Q: What is TeleProperty?
A: TeleProperty is an Istanbul Homes service where buyers can buy their dream home even without visiting it. If you can not travel due to some reasons but want to buy a property in Turkey, call now to arrange your online viewing tour. Learn detailed information about TeleProperty.
Q: Can everybody sell property in Turkey?
A: Yes. Waiters, jewelry, and leather dealers are the most well-known property sellers in touristic regions of Turkey. However, going through a professional company prevents undesired results. Istanbul Homes is a registered real estate company at the Chamber of Commerce of Istanbul.
Q: Why should I use a real estate agent?
A: Going through an established company like Istanbul Homes has several advantages: first, you will get to see a wide range of properties that match your criteria and not just one specific developer; second: you will have the benefit of our experience, as well as a fully staffed office to support you back home.
Q: What other services do Istanbul Homes offer?
A: Istanbul Homes provides service for all steps of property purchase from getting tax ID numbers to opening a bank account, property appraisal reports, title deed conveyance, utility connections, furniture tours, and more. Visit our services page.
Q: What is the Real Estate Agent Service fee?
A: In Turkey, the real estate agent fee is laid down by the laws. Whenever a property is sold, registered and licensed real estate agents are entitled to receive a 2% service fee over the actual sales price of the property from the purchaser and the property owner separately. Take a look at the purchase expenses page.
Q: Why is Istanbul Homes the leader in the Turkish Real Estate Market?
A: Istanbul Homes is a professional company working with a commitment to humanistic values and business world principles. Our clients show their favor to our company once they experience the professional service of Istanbul Homes. We have compiled the reasons that make us the most preferred and recommended real estate company in Turkey, you can read the article here.
Q: Why should I take a viewing tour with Istanbul Homes?
A: Istanbul Homes offers smooth experiences at every stage of property purchasing. You will receive service from professionals who speak your language and know your culture, visit the best price guaranteed properties, and will save time by using the experience of our company.
Q: How are the viewing tours with Istanbul Homes?
A: An important part of our service is the personalized viewing trip we arrange for every client who wishes to travel to view prospective properties. Each viewing trip is unique and designed to fit the requirements of our clients. The keyword is service – we talk to you before you make your trip, find out exactly the type of property and locations that are of interest to you, and tailor your trip accordingly.