Property Purchasing Process in Turkey
Istanbul Homes guides you through every step of your purchasing process and helps you carry out the legal procedures for purchasing property in Turkey. We also provide after-sales services with all the support and information you may need afterward.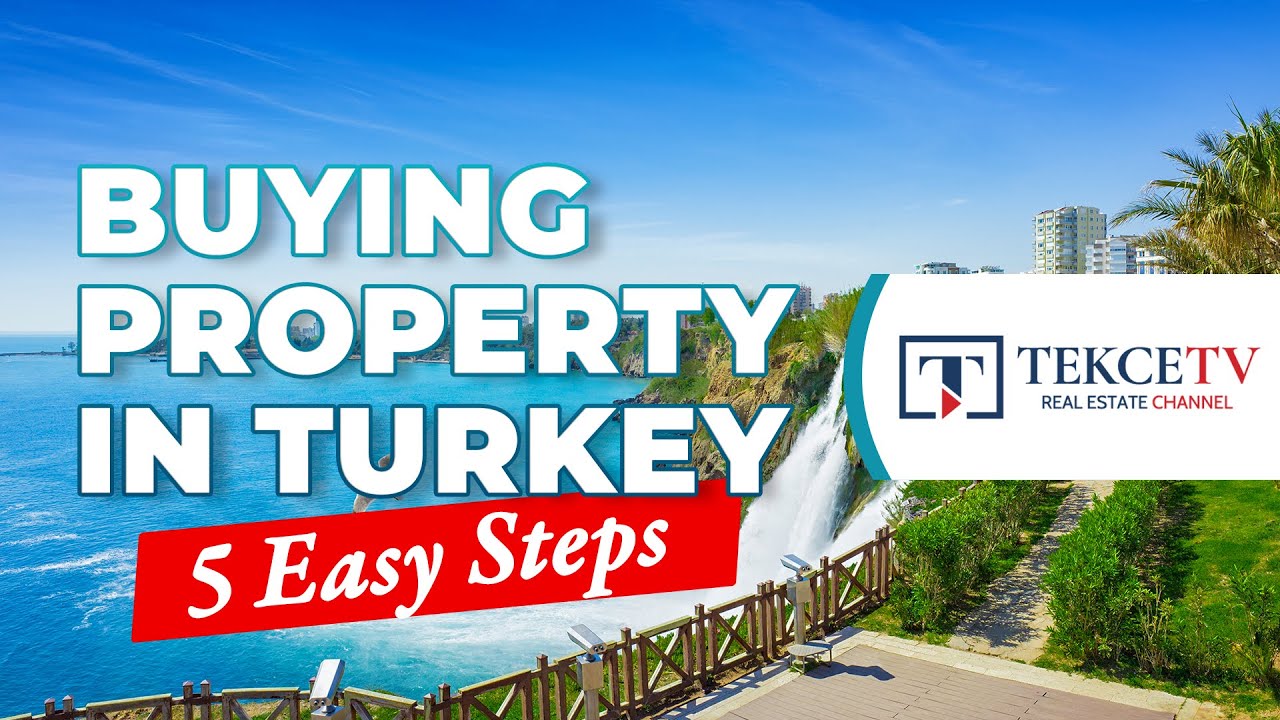 Main Steps of Purchasing Real Estate in Turkey
1. Preparing Your Wish List Before Buying House in Turkey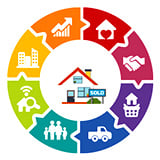 One of your first steps is to prepare your wish list. To provide better customer service, we ask some questions about your dream property:
What is your purpose for buying a house?
Which region do you prefer?
What are the main features of the property you want?
The list should be prepared as completely as possible to make the most suitable match for you. After your list is ready, we offer the best fit for your expectations. Our agent continues to send you the best offers until your arrival.
We have thousands of real estate listings with the best home features. So, it is not difficult for us to find the perfect home for you. The next step is to organize property virtual tours.
2. Property Viewing Tour in Turkey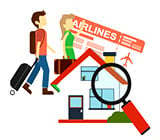 It is time to plan your trip to Turkey to see what it feels like to live here.
Our sales agent who speaks your language picks you up from your hotel and makes a short presentation of properties you are interested in our office. Then, your viewing tour begins. We show you 3 or 4 properties that best suit your wishes and desires.
But, if you do not have time to come to Turkey, you can arrange a virtual viewing tour with our TeleProperty service. You can visit the property online and ask questions directly to the owner without leaving your home. For more information, you can visit TeleProperty.
3. Paying a Deposit and Signing the Property Purchase Agreement in Turkey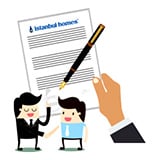 After choosing the real estate you want to buy, the final price is determined and the payment plan is arranged.
You pay a deposit when buying a home in Turkey to commit your property purchase and reserve the property. The deposit is 5,000 USD/EUR on average.
We work directly with buyers and sellers. We do not involve any intermediaries. We check that every detail is reviewed and mutually agreed upon before the contract is signed.
We make sure you get your property under the following conditions:
The exact real estate that is shown to you
From the original seller
Debt-free
Under mutually agreed conditions
We prepare the official sales contract with all the details in your preferred language. The down payment must be made within 1 to 4 weeks after signing the contract. The amount is between 30% and 50% of the selling price on average. The remaining amount is paid at the title deed conveyance stage.
4. Legal Procedures When Buying Property in Turkey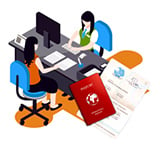 There are some legal procedures required to finalize the purchase. First, you need a Turkish tax number. Your passport is enough to get a tax number. We support you for the rest of the process.
Another thing you need is to open a bank account. We create this account for you where you will make all the payments related to the purchase. You can also use it to pay your utility subscriptions. The required documents are a copy of your passport and an invoice proving your address in your country.
In all real estate sales to foreign buyers in Turkey, an appraisal report is mandatory to confirm the real value of the real estate. We work with state-approved appraisers for an accurate and safe assessment.
If you do not have time to handle these legal transactions, you can give power of attorney to us, your lawyer, or a legal representative.
5. Signing the Title Deed and Moving to Your Home in Turkey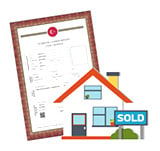 You are ready to get your property title deed and move to your dream home. Again, you do not need to be here to get your title. Just send us a power of attorney.
At this stage, all payments should be completed and all taxes should be paid.
Congratulations! Now you have a home in Turkey.
We will continue to be with you with our after-sales services unless you sell the property you bought from us.
Frequently Asked Questions About Buying Property in Turkey
Q: How can I find my dream home?
A: If you have a list of home features you are looking for, the next step is to find a real estate agent. Your agent should be professional and experienced. Most importantly, your agent should understand your expectations. Once you and your agent have clear communication, your agent will guide you to your dream property.
Q: How many properties should I see during a viewing tour?
A: Three or four properties are fine for a viewing day. Fewer choices may not help you find what you want, and more may confuse you as you examine your options.
Q: What are the qualities of a good real estate agent?
A: A good real estate agent should be professional and experienced. Also, your agent should be caring and understanding. You should have clear communication and understanding with each other. A real estate agent is supposed to assist and guide you through the purchasing process. They should not be "sales-oriented" but should care about you, your expectations, and your savings. Professionals know: Sales success comes automatically when the business is done properly.
Q: How can I be sure that the property I purchased does not have any problems?
A: Checking the appraisal report might be a good start. You purchased a property without any problems If:
The property is debt-free.
All construction and habitability certificates are available.
The physical condition of the property is good.
Q: Are the legal procedures long-lasting and complicated in Turkey?
A: No. The procedures in Turkey are easy compared to most countries. If you have already transferred your money to Turkey, you can get the title deed of property ownership within four working days after choosing real estate.
Q: Can everybody purchase a property in Turkey?
A: Yes. Anyone from any country can buy real estate in Turkey, except for politically unrecognized countries.
Q: Is it possible to own a house remotely in Turkey?
A: Yes. Our TeleProperty service helps you buy properties in Turkey online. You can contact us directly to book your online viewing trip.
Q: How much deposit is appropriate when signing the contract?
A: It is appropriate to pay 10% of the purchase price as a deposit. It shows that you are a serious buyer and you respect the terms agreed upon at the time of negotiation.
Q: Is it advantageous to hire a lawyer to buy a property in Turkey?
A: Yes and no. You can hire a lawyer to follow the legal process on your behalf. But, if you are working with a professional real estate company, your agent helps you protect your rights with company lawyers and find your dream home without wasting time.
Q: Why should I deal with Istanbul Homes while purchasing a property?
A: Istanbul Homes guarantees 100% customer happiness and Zero Failure in the process. We have the best price guarantee. It means you will not find a lower price for the same property anywhere else than at ours. For more information, you can visit Why is Istanbul Homes the Leader in Turkish Real Estate Market? and Testimonials of Istanbul Homes Customers.