TeleProperty ®
Istanbul Homes ® announces a new period of the real estate market with a brand-new commercial practice: TeleProperty. Thanks to this method, customers will be able to buy a property in Turkey without the necessity of coming to Turkey in person.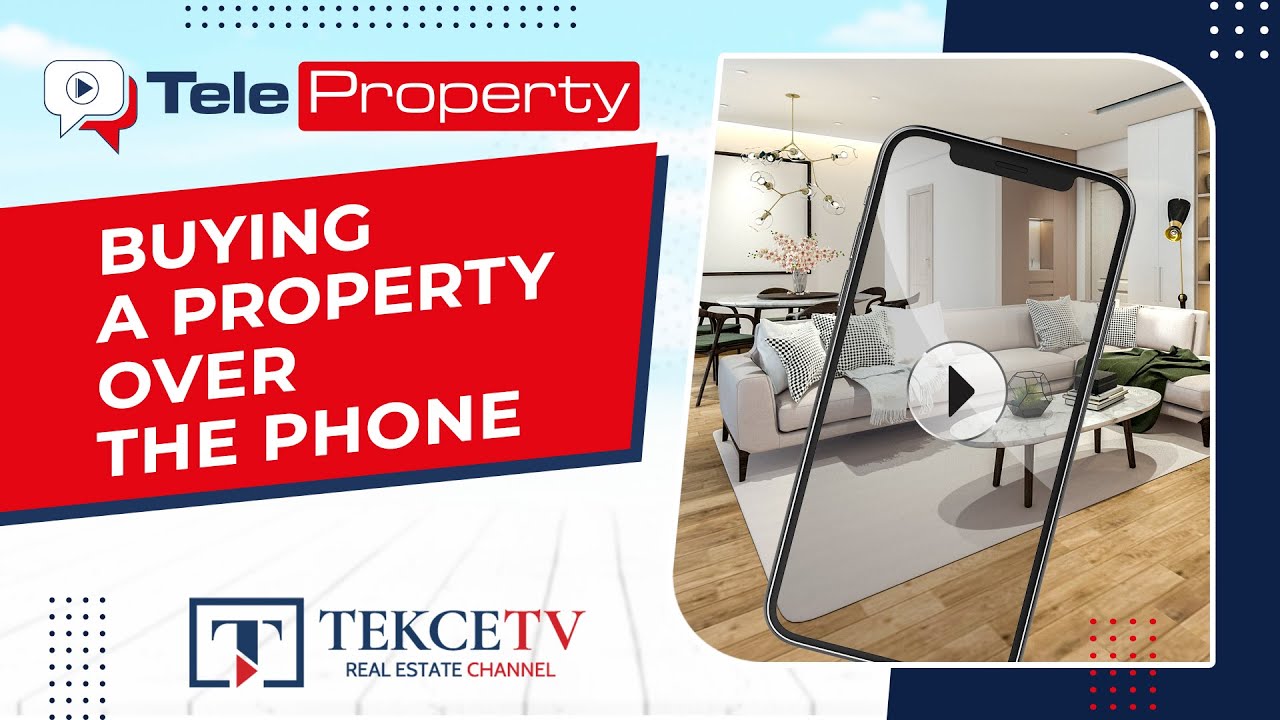 Buying a Property via Online Viewing Tour
Smartphones are a big part of our lives and can be found anywhere. Thus, we think that buying a property over the phone is well possible if some necessary precautions are taken to give a smooth and transparent service for customers.
On a standard selling process, customers come to Turkey and join viewing tours of properties they are interested in personally, however, now thanks to TeleProperty, you can join online viewing tours and examine properties in detail on your phone. TeleProperty can be used with visual communication channels such as Facetime, Skype, Whatsapp Video Call, etc.
TeleProperty makes the buying process easier for customers, but at the same time, it is also highly beneficial. Some of the profitable sides of it are listed below.
Why Would I Use TeleProperty?


Correct Property Match: There are a lot of property options on our website from humble to ultra-luxurious properties. There is no doubt that customers can easily find their dream homes on the website according to their budget and expectations. At this point, when the dream home is found, nobody wants to miss the opportunity because of the long distance between them. In this case, customers can reserve the property by sending a deposit or buying it through our professional guidance over the phone.


Best Price: The properties can be offered for sale below the market price in discount times called "Grab it now!". In such profitable times, customers would not miss the discount because of traveling hardships, and they could reserve the property over the phone thanks to TeleProperty.


Securing the Price: There is an unwritten rule in the real estate market: the properties are offered as low priced at the beginning of the construction, and in the process, the prices start to rise. In the end, customers face the highest prices when it is compared to the first one. When customers are aware of an upcoming rise in price, they may buy the property over the phone without wasting time traveling or visiting the project in person.

Limited In Stock: The other negative aspect of the necessity of traveling arises when the property is limited in stock. Especially in major projects, there are many luxurious and high-quality properties offered at affordable prices, and they are usually limited in stock. Since they are sold fast, customers are required to act quickly. Even over the phone, being quick is advantageous.


Unnecessity of Traveling: As the reasons stated above prove, disrupting the customers' busy schedules and spending money on plane tickets is not needed to buy a property. TeleProperty allows you to buy property wherever you are.


How Does TeleProperty Work?
Property Info: All necessary property information like title deed, floor plans, price and availability lists, property location, legal permissions of the property, etc. are sent to customers.
Online Viewing Tour: An online viewing tour is organized via visual communication channels such as Facetime, Skype, Whatsapp Video Call, etc. To avoid leaving question marks in mind, every detail of the property is shown closely under the guidance of our agents, and customers may chat and ask questions to the seller and the agent while touring.
Negotiation: After all features and the property are confirmed, the negotiation is started with the seller for the final price and other terms of delivery on behalf of the buyer. Then the payment plan is prepared.
Sales Contract: The contract consisting of all agreed terms and payments is prepared for the seller to sign first. There are two ways of delivering the contractto customers:
1. The contract is scanned and then sent to customers by e-mail. The original documents are carefully kept at our offices, and when customers visit the office, it is given.
2. Both copies of the contract are posted to the customers' address. After signing both copies, customers send the seller's copy back by post.
Payment: After the sales contract is signed by the seller, customers may send the payment to the stated bank account.
Title Deed Conveyance: Customers may come to get the title deed in person or send us a power of attorney to get the title deed on their behalf.
Want to buy your dream home in Turkey? Call now for TeleProperty!
FAQ
Q: What is TeleProperty?
A: Teleproperty is an Istanbul Homes service that enables property buyers around the world to buy properties in Turkey remotely and safely.
Q: How does it work?
A: To put it in a nutshell, our agents follow the whole process of property purchasing for you and everything goes transparently. Viewing tours are made online, through visual chats such as WhatsApp or skype video call. We finish the formal transactions on your behalf with your power of attorney.
Q: What am I supposed to do to benefit from TeleProperty?
A: The only thing you should do is to send your power of attorney to us. You do not even need to leave your couch for the rest. You can accompany the other processes by using your phone.
Q: Why do people prefer TeleProperty?
A: Property buyers prefer TeleProperty under some circumstances. When buyers don't want to miss the opportunity to buy their dream home, or they want to catch the good offers, when there is limited availability in a project or the buyer can't travel soon due to some reasons, buyers prefer TeleProperty so that they can buy the property sooner, with good deals and by making more profit.
Q: Is it a secure way to buy a property with TeleProperty?
A: When you work with a professional real estate company, buying a property over the phone has no risks. Everything is the same as the traditional property purchasing process, except for your comfort and less effort.
Q: Can I talk to the seller during the online viewing tours?
A: Of course! You can talk to the sellers, ask them questions, and demand more information.
Q: Can I get Turkish citizenship if I buy properties in Turkey with TeleProperty?
A: Yes. The process is the same. In this case, after the title deed conveyance, we will do the citizenship applications and finalize it without your presence, with your power of attorney. Related pages; Turkish Citizenship by Investment
Q: Does TeleProperty include services like utility connections?
A: Yes. Getting utility connections is a part of Istanbul Homes' free after-sale services. We can even help you decorate your home remotely.