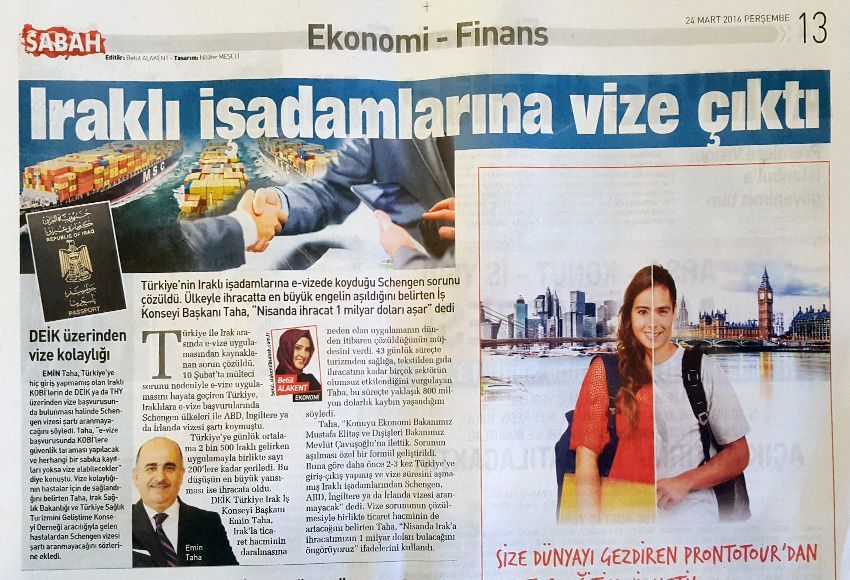 Iraqi Businessmen Will Get a Visa Easily for Turkey
According to Sabah newspaper news dated 24.03.2016; there was a nice improvement in Turkey for Iraqi citizens. Iraqi businessmen will be issued visa for Turkey easily. Iraqi businessmen can apply for e-visa online as the Schengen problem was solved. The biggest obstacle was overcome with this country in exporting. Business Council president Taha said; "In April exports exceeds $ 1 billion."
The problem resulting from e-visa procedures between Turkey and Iraq solved. Turkey launched the e-visa application on February 10 because of the problem of refugees. Turkey in this application had put a visa condition to Schengen countries with the US, Britain or Iceland. In Turkey when coming to the citizens of Iraq in 2500 daily average, the number decreased up to 200 with this application. This decline affected most exports. Vice Manager of DEIK (Turkish-Iraqi Business Council) Emin Taha said; "The problem that causes narrowing of the trade volume with Iraq has been resolved." Many sectors like tourism, real estate, health, and food were negatively affected in 43 days period. Mr. Taha added that; "In this process, there was a loss of approximately $800 million."
How to Obtain Visa in Turkey for Iraq Businessmen
Economy Minister Mustafa Elitaş and Turkish Foreign Affairs Minister Mevlüt Çavuşoğlu developed a special arrangement to overcome this problem. Iraqi businessmen, who have not been to Turkey before, can apply to visa directly through Turkish-Iraqi Business Council Office (DEIK) or Turkish Airlines (THY) in Baghdad. In this case, they do not need to meet the Schengen visa requirement.
Invitation Letter of Istanbul Homes Real Estate
Istanbul Homes is sending "Invitation Letter" for serious customers who want to buy real estate in Istanbul, Yalova, Sapanca, or Bursa. This invitation letter means as Istanbul Homes Real Estate is taking all your responsibilities against Turkish Law during your stay. That makes us your trustee in Turkey. We post about the invitation letter to the address by a notary. You should go to the Turkish Embassy with our invitation letter. For serious customers, a down payment must be made for the apartment you wish to purchase. This down payment will be counted as payment for that apartment at the sales contract stage. We invite all our customers to get a residence permit from Turkey and buying a real estate with Istanbul Homes. When buying an apartment through Istanbul Homes, we help you get a residence permit within 15 days after the title deed has been delivered.