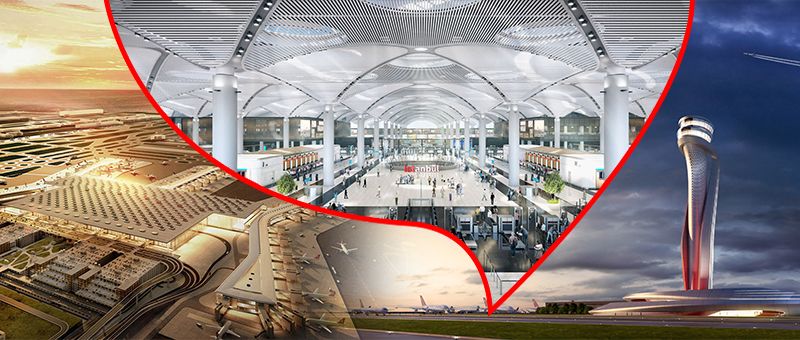 The first phase of the World's biggest airport opened today that celebrated as the Republic Day of Turkey. The opening took place with the participation of President of the Republic of Turkey, Recep Tayyip Erdoğan. The new airport is among the mega-investments of Istanbul or even Europe.
Third International Istanbul Airport was built as a solution for Istanbul Atatürk Airport's density and lack of capacity. The new airport is consists of 4 phases. When all the sections are completed, it will serve over 200 million passengers per year. The 3rd Airport, which is the largest airport project in the world, serves with 3 thousand 500 aircraft a day. Istanbul New Airport consisting of 6 separate runways have 454 aircraft parking capacity at the same time. About 300 passenger and service elevators installed at Istanbul's third airport.
Airport City which includes a network of shops, logistics, and exhibition centers, is also built at the airport. Many pioneer cargo companies as UPS, DHL, and FedEx appealed to the management of the third airport with a request to open their representative offices at the airport. Also, this airport has many auxiliary facilities like a hotel and parking lot for 70.000 cars, 165 passenger bridges, 4 different terminal buildings where the transportation between the terminals is made by the rail system, 3 technical blocks and air traffic control tower, 8 control tower, 6 airport runways suitable for operation of all types of aircraft, 16 taxiways, 6.5 million m² aprons, VIP lounge, cargo, and general aviation terminal, aviation medical center, fire station, and garage center, prayer room, convention center, power plants, treatment, and garbage disposal plants. The international airport will make a 4.9 percent contribution to the country's economy.
There are 5 mind-blowing technologies used at the airport;
• Technology-oriented baggage delivery system: This system will enable passengers to check-in their luggage quickly and easily.
• Checked-in at online or at the airport kiosks: Passengers will be able to produce labels on their luggage by using their boarding cards and weighing their luggage in the new airport terminal.
• Retail: 3-D hologram systems, smart shopping carts with a charging function, mobile cash-registers, and electronics customer profiling will be in use.
• "Magic Mirror" application: This app will allow customers to virtually see how the watch, clothing or makeup products stand on them without physically trying.
• "Intelligent" lighting: With more than 40.000 LED, this feature will make the visual guiding process easier and improve situational awareness by switching lights on and off according to information shared by airfield surveillance and aircraft tracking systems.
Where is Istanbul's Third International Airport?
The international airport located on the Black Sea coast in the European side is built on 76.5 million m², near Lake Terkos in northern Istanbul on Çatalca-Göktürk Arnavutköy intersection. The air distance between the 3rd airport and Atatürk Airport is 35 km.
How to get to the airport?
Third International Istanbul Airport is 15 minutes away from Taksim connected to the North Marmara Motorway and Yavuz Sultan Selim Bridge. As the rail system, it ends with the High-Speed Train at the transfer station at the airport. The terminal is connected to Taksim by the rail system. This rail system will pass through the route of the old railway line. Thus, public transport will provide transportation from all parts of Istanbul.