Political and business stability across Turkey enabled the country's various industrial sectors to help the economy grow at a greater-than-expected 5% in the first quarter of 2017. High export and consumption figures, combined with the government's fiscal strategy to boost economic activity were the leading factors.
Year on year growth rates of 5.1% for private consumption, 9.4% of public expenditure, and 10.6% of exports have also proven the economy to be more resilient than first thought. Exports had recovered sharply in the last quarter of 2016 and the first quarter of 2017 after four quarters of moderate contraction, culminating in a 1.8 percent contraction in the third quarter of 2016.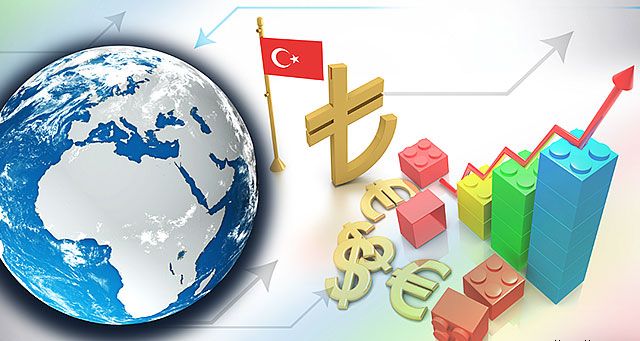 In June, Turkey's industrial production, one of the important indicators for the economy, also increased by 3.4% year-on-year. From January to June 2017, industrial production rose 2.6 percent (Jan), 1 percent (Feb), 2.8 percent (March), 6.7 percent (April), 3.5 percent (May), and 3.4 percent in June.
The manufacturing sector saw the biggest rise in June, up 3.8 percent. In the same period, the electricity, gas, steam, and air-conditioning supply sectors increased by 2.5 percent. From January to June 2017, Turkey's critical export market grew by 8.2 percent to $ 77.5 billion, while imports advanced 8.7 percent to $ 108.3 billion.
Turkish Lira
Turkey's Lira was the overwhelming choice in the same period, increasing by 102 percent from around $ 3.69 billion to around $ 7.46 billion. Dollars used in exports rose 0.1 percent, while euros increased by 5.3 percent from to around $ 36.27 billion.
President Recep Tayyip Erdoğan initiated the increase in usage of the Turkish Lira for foreign trade, prompting it to rise 9.7 percent from January to June 2017, compared to 5.1 percent in 2016.
Other indicators include lowered single-digit inflation, tighter monetary policies, and lower unemployment. Foreign investment into Turkey exceeded $ 4.7 billion from January-to-May, an increase of 11% on the same period in 2016.
Gross Domestic Product (GDP) grew 14.3% to reach 641.58 billion Turkish lira current, according to TÜKK. Total added value increased by 3.2% in agriculture, 3.7% in construction, and 5.2% in service sectors such as retail, transport, storage, accommodation, and catering.
Future Predictions for Turkey's Economy
Bülent Gedikli, the chief adviser to President Recep Tayyip Erdoğan, envisaged the economy and industrial input becoming even stronger while foreign investment increases. There is now anticipation building that the second quarter could be even greater - jumping as much as 5 to 6 percent, giving greater confidence to decision-makers, foreign investors, and Turkey's business sector.
Tarkan Kadooğlu, chair of the Turkish Enterprise and Business Confederation (TÜRKONFED), said evidence from his members supported the notion that growth could advance further over the summer period. Based on information gathered from their work, members and economists, they expect economic growth to be around 6 percent by year's end.
All this is good news because the data also suggested Turkey had outperformed major emerging market peers, prompting the World Bank to increase its 2017 projected growth rate by 0.5 percent to 3.5 percent.
Notably, Fitch Ratings raised the growth forecast for 2017 from 2.3% to 4.7%. They also revised 2018 expectations to 4.1% from 1.3%, well above Fitch's own Global Economic Outlook report putting global growth at about 2.9 percent in 2017.
The International Monetary Fund (IMF) also hailed Turkey's 2017 economic growth, pinpointing a strong recovery in exports as key. The IMF predicts the Turkish economy will grow 2.5 percent in 2017 and 3.3 percent in 2018.