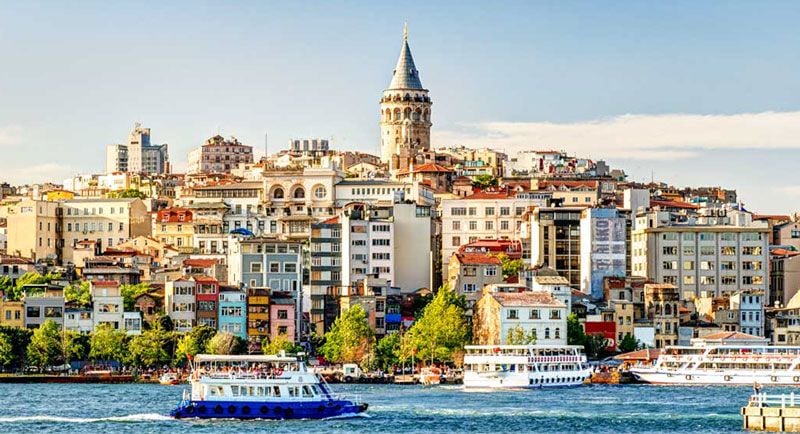 Buyers looking to invest in Istanbul property are doing a lot more than that. They are tapping into Turkey's prime real estate market, an ever-evolving hub of homes to buy and money to be made. Whether you are a first-time overseas buyer thinking of a holiday home, a savvy investor, or someone looking to live and work here all year round, the property market doesn't disappoint.
A wealth of budget and luxury apartments and villas are for sale, and whether you want a new build, off-plan or resale home, opportunities to find what you want for the price you want to pay are in abundance from residential suburban homes to skyscraper penthouses and waterfront mansions.
Such is the popularity among Turkish and foreign buyers; it is the top destination in Turkey for house sales. But why does this housing market stand out and what other benefits can buyers expect?
Why Invest in Istanbul Property?
1: Affordability of Property Prices: Did you know that in 2018, overseas buyers in Turkey accounted for 40.000 house sales? A significant reason they choose Turkey was the lucrative exchange rate giving foreigners much more for their money than ever before. Combine this with a market whose prices per square meter are already low, when compared with countries like Spain, and France, and affordability is the number one factor driving foreign house sales.
2: Citizenship by Real Estate Investment: In 2018, Turkey dropped the minimum amount for the citizenship investment scheme from 1 million USD to just 250.000 USD. This bought in a flurry of investors, many of whom bought the property in Istanbul, and as long as they keep the property for three years, they gain residency and working rights.
3: Capital Growth and Liquidity: Istanbul is reinventing its housing market with new developments; hence an abundant supply is keeping prices down, but investors looking at long-term capital growth potential, especially on the European side, are getting in now. Istanbul is also the top destination for both Turkish and overseas buyers, so high liquidity and a global audience are reassuring them that should they need to sell; they have a global audience.
4: Low Costs and Easy Buying Process: The purchasing costs for buying a property in Turkey are lower than in other countries. Title deeds tax is just 3% of the property value, and even services like a translator, lawyer, and agent fees, are affordable. Couple this with a straightforward buying process that if all finances are in place takes as little as a week to complete and it's easy to understand why Turkey does a roaring trade in house sales.


Where to Buy Property in Istanbul?
Luxury Homes: Certain districts like Tarabya, Taksim, Beyoglu, Sisli, Nisantasi, Cihangir, and Besiktas have a worldwide reputation for their luxury homes emphasizing the best of an upmarket Turkish lifestyle. Villas on the shores of the Bosphorus, also known as yali mansions are Turkey's most expensive market, and one glimpse at their nostalgic architecture and luxury design explains why.
Istanbul also does a new luxury property in style though, with spacious penthouses, and stunning six-bedroom villas drawing in people from all around the world. Reasons buyers like luxury properties is that you are not just buying bricks and mortar, but also a new lifestyle among the elite social scenes of Turkey's most prominent city.
European Istanbul: Other destinations receiving much attention include Esenyurt, Beylikduzu, Basaksehir, Avcilar, Bagcilar, and Kucukcekmece on the European side. These areas appeal to long-term investors because it is near the planned route for the Canal project, and the new third airport that when complete in 2023, will be the world's biggest air travel hub. Some new developments in the area are also offering between 12 to 48-month interest-free payment terms, so investors buying off-plan homes are winning on all sides.
More About Investing in Istanbul
To invest in Istanbul property, call, email, or drop into our Zeytinburnu office to speak with an experienced, local sales representative. As a leading estate agent, we can answer your questions, show example payment plans, select properties for you to view, and highlight areas that suit your lifestyle and what you want to achieve from this real estate investment. Alternatively, see our portfolio of properties for sale in Istanbul, and use the chat messaging feature to discuss any home that catches your attention.