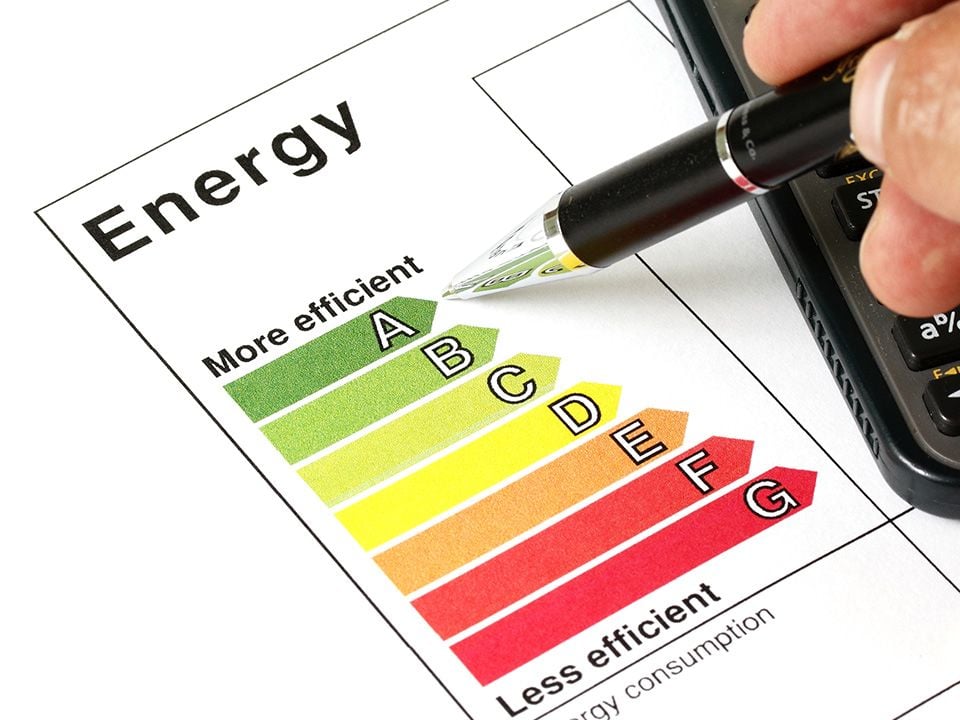 On 1st January 2020, the Land Registry and Cadastre Directorate announced new regulation about Energy Efficiency Law. According to this new law, it is compulsory to have Energy Performance Certificate to buy and sell buildings and property. Energy Performance Certificate (EPC) is a document that gives information about the energy classification of the building/property and how to improve it. The main objective of this regulation is to save money and energy.
What is Energy Performance Certificate? (EPC)
An Energy Performance Certificate is required for properties when constructed, sold or let. The Energy Performance Certificate provides details on the energy performance of the property and what you can do to improve it. In Turkish, it is called Enerji Kimlik Belgesi (EKB) and with new regulation, it has been made compulsory to have this certificate to buy and sell buildings and property.
EPC is a document that includes information on the minimum energy requirement and energy consumption classification, insulation properties and efficiency of heating and/or cooling systems of a building. The EPC aims to use energy and energy resources effectively and efficiently, prevent waste of energy and protect the environment.
According to the Energy Efficiency Law No: 5627 and the Energy Identity Regulation in Buildings issued under this Law, buildings that have received building permits before 1st January 2011 are considered "existing buildings"; after this date, those who received building permits are considered as "new buildings".
While new buildings are requested to present the EPC during the construction occupancy certificate; in existing buildings and buildings that did not obtain an occupancy permit before 1st January 2011, 10 years has been granted to obtain the EPC. A new regulation was announced to the public by the Land Registry and Cadastre Directorate to prevent the build-up in the land registry offices in these days when the period given to the buildings came to an end as of 1st January 2020. According to the regulation, in the purchase, sale, and annotation of lease agreement transaction related to immovables and independent sections where the buildings and structures are located should be stated as follow: If the building or the independent part of the building has EPC at the time of application; "The property/building has Energy Performance Certificate. I have obtained it." should be stated in the relevant place of the document to be accepted. In case of the absence of EPC "I/We accept the sale/lease annotation process without Energy Performance Certificate." should be stated in the relevant place of the document to be accepted.
Who Has the Authority to Issue EPC?
For new buildings; Real or legal persons who have completed the training of issuing the certificate of independent consultancy and engineering (SMM) services and energy performance certificate by Union of Chambers of Turkish Engineers and Architects UCTEA related professional chamber are deemed qualified to issue EPC.
For existing buildings; energy efficiency consulting institutions with EPC Specialist staff which are authorized in building category by Law No: 5627 are deemed qualified to issue EPC.
Which Documents Are Needed For EPC?
• Architectural project
• Heat Insulation Project
• Electric project
• Mechanical Installation Project (Heating, cooling, ventilation)
Buildings Which Do Not Have to Obtain EPC
• Buildings outside the adjacent area with a total construction area of less than 1000 m²,
• Buildings with total usage area below 50 m²,
• Greenhouses and workshops,
• Buildings carrying out production activities in industrial areas,
• Buildings whose planned use period is less than 2 years,
• Buildings such as cores, stables, warehouses, ammunition, and depots, which are individually constructed and do not need to be heated or cooled,
• Turkish Armed Forces, Ministry of National Defense and its affiliated organizations, Undersecretariat of National Intelligence Organization,
are excluded from the scope of buildings and properties that have to obtain EPC.
Validity Period and Classification of EPC
The EPC has a validity period of 10 years from the date of issue.
The EPC consists of 7 categories. In the document classified from A to G, A class indicates the most efficient level; G class indicates the lowest efficient level. New buildings must have at least C class EPC.
More Information About Buying Property in Turkey
Property Purchasing in Turkey: The process of purchasing a property in Turkey is extremely easy. The Turkish government has streamlined the method and got rid of unnecessary red tape, so property sales are generally completed within 3 days to a week.
Expenses of Property Purchase in Turkey: Buyers will be delighted to know that expenses when buying a property in Turkey are low compared to other countries.
Buying a property in Turkey: When you say Turkey comes to mind peaceful and secure living space. Who would not want to live here in a Turkish property? It is a privilege to live in the cradle of civilizations Turkey.