Are you an expat working and living in Turkey? Or did you decide to move soon to İstanbul, Bursa, Trabzon, Antalya, or any other city of Turkey?
The HSBC Group published the results of the "Expat Explorer" survey, which was conducted with the opinion of over 18.000 expats from 163 countries. The 12th annual edition of the survey is the world's most comprehensive and long-term research of expats. According to the 2019 HSBC Expat Explorer Survey, Turkey ranks 7th for economics, experience, and family life. Read more about the 2019 HSBC Expat Explorer Survey.
According to the survey;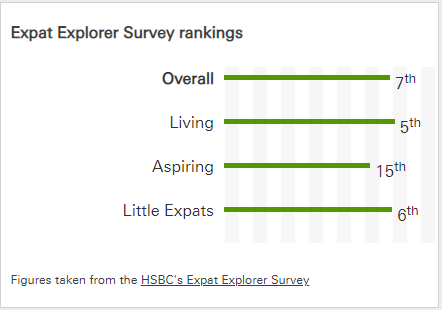 • 62 percent of the expats in Turkey say that their quality of life increased compared to their own countries.
• 50 percent of the expats say that they had more time for hobbies and family while in Turkey.
• 55 percent of the expats say that they can meet their requests like a better home or car.
• 60 percent of the expats says that Turkey has a better work-life balance compared to their countries.
• 59 percent of the expats travel more than locals.
• 57 percent of the expats say that they have learned new skills such as diving, foreign language or cooking.
• 72 percent of the expats say that the city they live in is rich in architectural structures, monuments and parks, historical and cultural texture.
• 63 percent of the expats say that the city they live in is central to travel.
• 59 percent of the expats say that there is a vibrant cultural life in the city.
• 58 percent of the expats say that there are good restaurants and quality food.
* You may see the Turkey's ranking and scores by clicking on the image.
The Advantages of Living in Turkey as an Expat
Turkey which official name is the "Republic of Turkey" is a favorite destination for expats with its long shores parallel to the Mediterranean and the Aegean Sea. The country which has different geographical and climatic characteristics has numerous natural beauties. It is also one of the most developed countries in terms of tourism in Europe.
Turkey is an ideal retirement place with a low cost of living. The cost of living in Turkey is an important factor that helps expats to decide whether they should move here permanently. Today, many expats who receive a pension from their own country live a luxurious life thanks to the exchange rate difference between the Turkish Lira and their own currency.
This privileged country has also a comprehensive public transport network that makes both local and long-distance travel easy including ferry, suburban trains, local buses, subway, trams, minibusses, and taxis. The country hosts to mega projects like the high-speed trains from Ankara to İstanbul, Yavuz Sultan Selim Bridge (the widest bridge in the world), İstanbul Canal, İstanbul Airport, Marmaray Project, and Eurasia Tunnel.
As an expat in Turkey, you may have questions about healthcare and education. The country has a vast range of schools varies like public schools, vocational schools, science schools, and private schools. Children can start school from the age of 6 years old in Turkey. After secondary school, most children move on to university or begin to work in the occupation they have been prepared for.
The quality of healthcare in Turkey varies from region to region and it is generally cheaper than in European countries. Except for rural areas in Turkey, you can find high-quality private hospitals with experienced doctors and medical staff speaking a foreign language in big cities such as Istanbul, Antalya, and Bursa.
Many expats prefer Turkey for working because of the quality of life and low costs. But, expats can't do certain jobs in Turkey such as medical professions, qualified trades, and legal offices. They are allowed to work in education, finance, tourism, or the real estate sector. However, you must have a work permit before you can start work. This process is now easier and more streamlined. Once you have found a job, you and your employer can apply for a work permit.
* If you want to live or work in Turkey, contact our professional team. We are always ready to provide more information about the questions you may have.