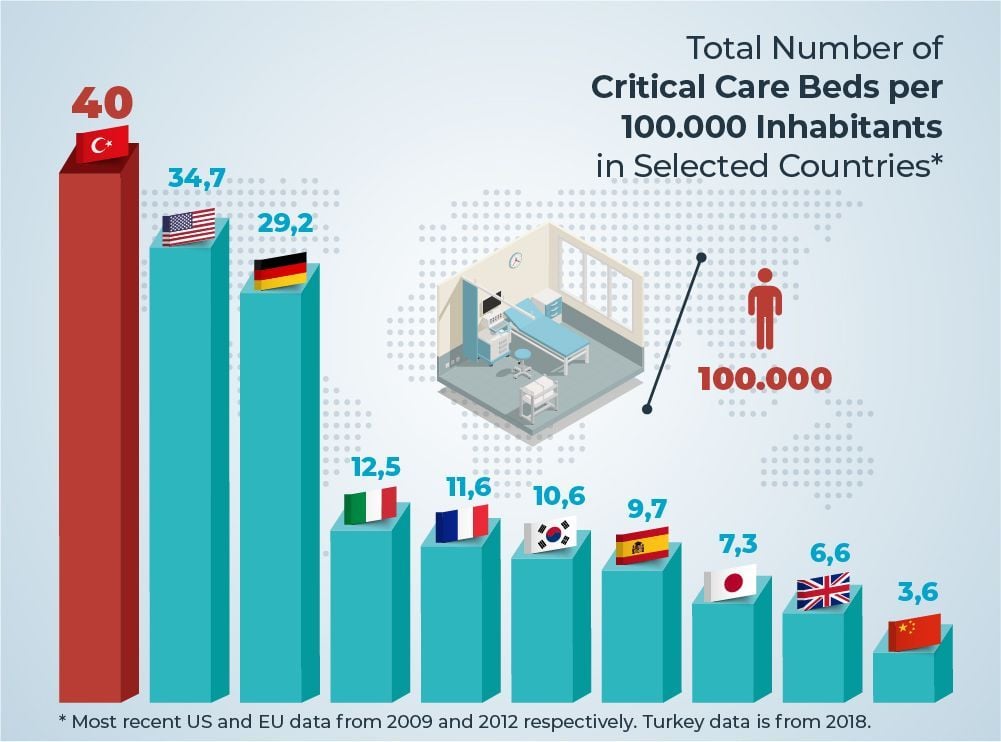 The world's sixth most attractive country in terms of tourism, Turkey, was able to slow down the epidemic thanks to several measures taken at the right time. These measures included the cancellation of flights to risky areas when the epidemic first appeared in other countries, stocking the medicines with a curative effect against Covid-19, and the production of protective materials.
Everyone is guaranteed the accessibility of health services by the constitution in Turkey where effective policies have been applied in the health sector.
As a result of the successful implementation of health policies, the number of intensive care units per capita has increased, and now, the rates are better than in many European countries, China, and the USA. All these developments brought advantages to Turkey in the fight against the epidemic, when compared to other countries.
Being a Foreigner in Turkey During the Pandemic
Granted access rights to health services during the Covid-19 period have included foreigners in Turkey in the same way as Turkish citizens. Many foreigners could not return to their home countries due to the closure of flights by their own countries when the outbreak started. Thus, foreigners were hosted in various dormitories in Turkey by the Ministry of Health.
Airline companies in Turkey had reported both domestic and external flights to be suspended until further notification. With the refreshed data, Turkish Airlines reported that all domestic and external flights were halted until May 28, 2020, and the general view is that the flights will be revived as of these dates.
Turkey Provides Free Covid-19 Treatment
As announced in the Official Gazette published on 14.04.2020, anyone infected with Covid-19 will be treated free of charge regardless of their social security status in Turkey.
As included in the decisions published in the official Gazette, during this process, everyone will be able to benefit from protective, diagnostic and curative equipment such as kits, tests and medicine to be provided by the Ministry of Health. The decision has been applied since the beginning of March.
Healthcare workers in Turkey also continue to work with great devotion and intensity in hospitals and clinics as in most countries. Turkey has taken an important step in the decision-making of the treatment free of charge to anyone in the country. Even foreigners living in Turkey can benefit from the treatment without any application.
Turkey's protective material support and medical assistance to 34 countries such as Spain, Italy and the USA where COVID-19 cases are the most densely seen reveal its universal power, besides its success against the epidemic within the country's borders.
Curfew in Turkey
One of the issues that people ask about Turkey in this process is the curfew. Recently, curfew has been declared only for people under 20 and over 65 in Turkey. In the current situation, people of these specific ages do not leave their homes unless they have to. In addition, in this process, the obligation to complete the maximum half of their whole capacity was brought to public transport vehicles. Intercity travel can only be made in emergency situations with permission. Public social areas such as restaurants, cafes, and pubs are temporarily closed. The public and private sectors provide flexible working hours with a minimum of workers.
Private and public schools have been on holiday since March 16, and schools are expected to be reopened by June 1 at the earliest. For this reason, students receive distance education through a private channel. The education was continued uninterruptedly in this process with private live lessons held in private schools daily.
With the latest news, Turkey continues to impose weekend curfews in 30 metropolitan provinces and the northern province of Zonguldak. In this process, which will continue in April and May, basic production activities as well as agriculture, health, and food services will not be hindered. Health Minister Fahrettin Koca told that Turkey will be able to sigh of relief after Ramadan and they plan to start the normalization process on 28 May.
Foreign Media Are Talking About Turkey's Succes Story Against Covid-19
According to news sources, the universal objective, Turkey wrote a success story with measures during the pandemic period. We can see that "Turkey emerges as a key player in global COVID-19 fight".
German television, Die Welt, suggested "go to Turkey for holiday" to their citizens. It stressed that Turkey's much preferable for German citizens for this summer season. Taking into consideration the positive steps in the fight against the disease, they can go to Turkey without a doubt.
You can also watch CNN and BBC news about the process "Inside one of Turkey's busiest intensive care units".