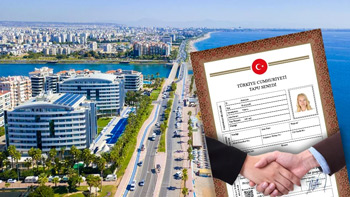 Real Estate International Promotion Association (GİGDER) has published the research "Competition and Inspiration: Rethinking the future of real estate investments in Turkey" with the support of AGS Global Company. The research consists of a detailed analysis of the motivations and expectations of foreign property buyers and investors in Turkey. It
was carried out in 8 languages with a total of 410 international investors from 48 different countries.
According to the research, 92,7% of the participants prefer not to sell their properties in Turkey. Furthermore, the average property ownership duration is 5.7 years, and only 1 out of 4 foreign citizens, who invest in Turkey, want to become a Turkish citizen. It means that citizenship is not the only factor that determines foreigners' investment decisions in Turkey. The average value of all types of real estate bought by participants is 161.500 USD, and the average value of flat/apartment is 150.750 USD.

GİGDER President Ömer Faruk Akbal: "Foreigners rely on the Turkish real estate market"
GİGDER President Ömer Faruk Akbal commented on the results: "Foreign buyers spend an average of 2,8 months/years in Turkey, and the average number of properties purchased is 1,66. In other words, despite all the adverse developments in the global market, foreigners rely on the Turkish real estate market."
"Apart from the monthly and annual data of property sales made to foreigners by TUIK and the experience of professionals in the sector, the absence of a field survey motivates GIGDER into carrying out research that analyzes the tendencies, preferences, and decision-making mechanisms of foreign investors in Turkey on a scientific basis. We have analyzed every aspect of the market in detail and made important strategies based on comparative analysis. As GİGDER, we will continue to share with the public the future parts of this research, which we reached very striking results in line with our goal of drawing the road map for the next ten years in the international real estate market."
Bayram Tekce, Chairman of Tekçe Overseas and Vice President of GİGDER, stated that this research, which they managed to provide reliable data to the real estate sector, attracted attention as the first and most comprehensive research of the sector. Bayram Tekce stated as follows: "Turkey is one of the 5 most important tourism destinations in the world. With people living the atmosphere of our country during their touristic visit here, Turkey is becoming a destination country also for real estate purchases. With this study, we took a valuable contribution of our customers to strengthen Turkey's brand image. We thank our thousands of customers who trusted us for their contribution to this work."
The Most Preferred Property Type for Investors is Flats!
The other important outcomes of the research are as follows:
• The share of foreign property investments in the worldwide market is around 2,6-3%, which is worth approximately 400 billion dollars in value. Turkey has a share of international investment within the real estate market is 10,6% that is worth 6.85 billion dollars. In 2015, the rate of property sales made to foreigners was 1,7% in quantity. By the end of 2020, this rate reached 2,7%.
• The Turkish Government's incentives related to citizenship were one of the main motives for the increase in property sales in Turkey. However, the research reveals that only 1 out of 4 foreign citizens, who invest in Turkey, aims to obtain citizenship. So, Turkish citizenship is not the only factor that determines their investment decision.
• In the research, 75,4% of the participants expressed that they did not apply for or get citizenship during their purchasing process while the others stated that they are about to apply for Turkish citizenship. 1 out of every 10 participants indicated that they completed their citizenship process after investing.
• In the first purchases, the most preferred type of real estate was apartments /flats (90,4%). The following ones are houses/villas, lands, buildings, student dormitory, and commercial properties in Turkey. The average amount paid for all real estate types was recorded as 161.500 USD. Flats/apartments had an average value of 150.750 USD.
• 57.2% of the purchased properties are new developments, 31.8% are under construction, and 11% are resale properties.


• When analyzed as a percentage of their purposes of buying a property in Turkey by allowing the participants to submit multiple options, investment purposes are on top with 45.40% of the answers. The others are as follows: 30.50% with a short-term holiday, 27.80% with permanent life, 27.60% with the acquisition of Turkish citizenship, 23.70% with retirement, 13.90% with the residence permit, and 9.5% with education.
• When country-based investment purposes are examined, the rates of the countries' motivations to purchase a property in Turkey as follows;
• Jordan - %89,5 of investment purposes, %84.2 of Turkish citizenship.
• Russia - 76.5% of short-term vacation, 35.3% of retirement.
• The United Kingdom - 50% of permanent life and 25% of education.
• Iran - 46.2% of a residence permit and 23.1% of business/commercial reasons.
• Germany - 64% short-term vacation.
For detailed information about the report, please contact us.