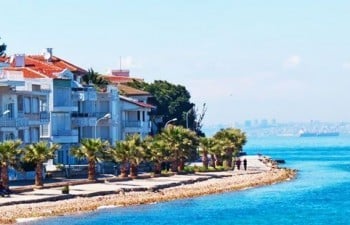 Real Estate in Adalar Istanbul
Escape from Big City Pollutions – Living in Adalar Istanbul
Adalar is one of the best options to move away from Istanbul where the most crowded city in Turkey. If you are considering buying a property for sale in Adalar, you can get rid of the fatigue of the city and refresh yourself in here. You can also reach here from Istanbul by ferry. Motor vehicles are prohibited in Adalar. People ride bicycles or environmentally-friendly electric vehicles for transportation here. Purchasing a property for sale in Adalar would be a great opportunity to escape from Istanbul. There are not many properties in Adalar, so it would be profitable to buy houses for sale in Adalar or Adalar apartments for sale in Istanbul.


Property in Adalar for sale can be considered as a future investment by virtue of its touristic location. You can rent the house you bought to make a profit.
One of the most important features that make Adalar attractive is the prohibition of motor vehicles. There is only transportation by bicycle and environmentally-friendly electric vehicles. So it is a golden opportunity to escape from heavy traffic.
Scenic Beauties of Istanbul: Adalar
Adalar is geological formations that diversify the scenic beauties of Istanbul. Nature has completed its gorgeous picture of Istanbul finally painting Adalar. It is possible to collect Adalar in two groups regarding geographically central and peripheral. The central group includes Buyukada, Heybeliada, Burgazadası, and Kaşıkadası. The peripheral group, which includes Kinaliada, Sedefadası, Tavsanadasi, Yassiada, and Sivriada, encircle the central group islands. Adalar as a whole has 16 km² acres with approximately 542 hectares covered with buildings.


Büyükada, also known as Princes' Islands by foreigners, is the largest island around Istanbul. It was called Prinkipo once. 'Prinkipo' means 'Prince' in Greek. It is one of the most visited points by native and foreign tourists. Transportation on the island where motor vehicles are prohibited (except official vehicles) is provided by bicycles and environmentally-friendly electric vehicles. It is the largest island among others and in the central location of the district. It has an interesting history full of tragedies. Buyukada is also famous for being the place of exile of the Byzantine princes and royals. Buyukada has too many buildings more than other islands. That's why it is much easier to find Adalar property for sale.
Heybeliada is the second largest island in Istanbul. It is one of the most-preferred summer resorts in Istanbul. It is famous for not only its nature and beauties; but also its Naval Cadet School, Kamariotissa, (the only remaining Byzantine Church and the last church to be built before the conquest of Constantinople), andan eleventh-century Greek-Orthodox Monastery which houses the Halki Seminary and Theological Seminary of the Ecumenical Patriarchate. The monastery attracts tourists from all over the world. Heybeliada is calmer than Buyukada.
Burgazadası is the third-largest island between the Istanbul Islands. Burgazadasi is one of the most appealed places in Istanbul with its climate, coasts, pines, and restored elegant mansions.
Kınalıada is a small island in comparison to the other islands in Istanbul. Kinaliada was named because of the red display of marquis. There is no wood in here because it is a rocky place. It is known that the stone from here was used for the construction of the city wall in the Byzantine era. It is the nearest island to Istanbul. It is also the most crowded island.
The smallest island is Sedefadası. When viewed from a distance, it looks like a pearl. So it was named "Mother-of-Pearl Island". It is also known as Tavsanadasi because once there are many rabbits on this island. There are two beaches on the island. Sedefadası, just like the other Istanbul islands, was used as a place of exile in the Byzantine era.
Yassıada is a small island. There is a small harbor on the north side. Yassiada was bought by Navy Forces in 1947, and the modern marine educational facility for the Turkish Navy was established here. The Byzantines used the island for political prisoners. The remains of the 4 underground prison cells from this period can still be seen. The Byzantines also built a monastery and church on the island.
Sivriada is one of the smallest islands in Istanbul. It is known that was used as the place of exile in the Byzantine era. The island was also often used by the Byzantine clerics as a distant place for peaceful worship where they secluded themselves away from everything. The ruins of a Roman settlement and a ninth-century Byzantine monastery can still be seen on the shore, including a church, a chapel dedicated to religious martyrs, a monastery on the eastern end (with its walls still seen today), and a cistern in the center of the island (a part of which can still be seen.).
Kaşıkadası is a small island located on the east of Burgazadasi. There are only a simple pier and two little houses on the island.
Tavsanadasi is the island where is the southernmost of the Istanbul Islands and farthest from Istanbul. It is a piece of rocky land without trees. It was named as Tavsanadasi because there are many rabbits here.
Property in Adalar Istanbul
For those who want to buy a property inAdalar, the only place where you can relax and escape from the crowd, there are a limited amount of properties for sale in Adalar. The most popular islands in Istanbul are Buyukada, Heybeliada, Kinaliada, and Burgazadasi. Each island has its beauties.
Buying from Adalar would be a great living space and a getaway place for you. If you wish to buy a property in Adalar such as land for sale in Adalar or commercial properties in Adalar, you can contact Istanbul Homes or visit our office.
Adalar apartments for sale are only a click away.
Sorry, we couldn't find a property for sale matching your search.
We recommend the following:
• Check your search filters are correct.
• Modify your search parameters and try again.
• Save search so we can let you know as soon as a matching property becomes available.
Couldn't find the page you are looking for? It might have been moved. Please Contact our Experts for the Info!