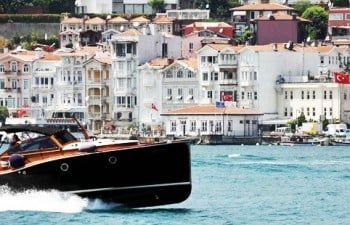 Real Estate in Arnavutkoy Istanbul
New Favorite District of Investors in Istanbul: Arnavutkoy
Arnavutkoy is a district of Istanbul located on the European side, coast to the Black Sea. It is located next to Basaksehir, Esenyurt, Buyukcekmece, and Catalca. It is part of the Besiktas district of Istanbul and is located between Ortaköy and Bebek on the European shoreline of the Bosphorusstrait.
It has developed so much with the new Istanbul International Airport project and the change is expected. This project enables Istanbul to be a central transfer point and offers shopping opportunities for passengers on international flights. Real estate around these projects started to draw interest. Arnavutkoy property for sale bought will be profitable.


A New Living Area in Istanbul: Arnavutkoy
Arnavutköy (meaning "Albanian village" in Turkish) is a historic neighbourhood renowned for its wooden Ottoman mansions and seafood restaurants, as well as the campus of the prestigious Robert College with its historic buildings.
Arnavutkoy is the fourth largest district of Istanbul. Located in the metropolitan area of Istanbul, it is relatively away from the center. Ataşehir, hosting headquarters and offices of companies, is also a business and trading center.
Considering general features, Arnavutkoy is an exclusive living area with natural beauties. You can buy property for sale in Arnavutkoy and enjoy all these attractions. Besides, it has many historical artefacts and the ancient city waiting to be explored and that is increasing the attractiveness of tourism in Arnavutkoy because of its protected area. Buying a property in Arnavutkoy located in the middle of these natural beauties will be the right choice for your family life. Also, if you have a property in Arnavutkoy for sale, you rent it and earn rental income. The district has a significant potential for eco-tourism, health tourism, trekking, and water sports. When you consider these factors, it can be said that Arnavutkoy is a suitable place for tourism.
Arnavutköy harmoniously represents the coexistence of citizens from different ethnic and religious backgrounds, as it is one of many historic neighbourhoods of Istanbul where one can find a mosque, a church and a synagogue within close proximity. The sidewalk by the sea is always full of individuals fishing, while small fishing boats frequently pass by Arnavutköy's coastline on the Bosphorus. The fresh fish that is caught is sometimes sold to the seafood restaurants in the area.
The prices of apartments for sale in Istanbul Arnavutköy and houses for sale in Arnavutköy increase day by day with the development of the district. There are too many Arnavutkoy apartments for sale and houses for sale in Arnavutkoy.


History of Arnavutkoy, Istanbul
Arnavutkoy, namely, has a place in Ottoman archives first half of the 19th century. It is thought that Arnavutkoy has gained its name because of an Albanian peasant lived there. This area is located in the passageway to Edirne, Europe. That's why it has been named as "Arnavut'un Koyu" (means Albanian's village) by passengers. That turned into 'Arnavutkoyu', and then 'Arnavutkoy'. Arnavutköy was also historically famous for its Ottoman strawberry, a less juicy and smaller kind than the usual strawberries found throughout Turkey. To date, some strawberry fields survive in the inland of the district and every spring local groceries are pillaged by strawberry lovers.
The oldest settlement known in Arnavutkoy is today's Durusu district. Trikos Fortress was built in the Byzantine era next to Durusu Lake and was one of the front-defences of Istanbul. It was in Genoese hands before Fatih Sultan Mehmet occupied it in 1452. Evliya Celebi also mentions Terkos Fortress in detail in his Seyehatname.
Arnavutkoy's population has undergone three significant changes in the last century. Firstly, during the first world war, Arnavutkoy has let in immigrants from Bulgaria, Kosovo, and Macedonia and immigrants came from Demirhisar, Toyran, Thessaloniki, Tikves, and Pristina have been settled Terkos, Tayakadin, and Imrahor.
The second changing of the population has emerged as the result of the Population Exchange Agreement between Turkey and Greece. With this population exchange, Turkish people who came from Drama, Greece have been settled in Arnavutkoy and around. After the Exchange, the number of houses in Arnavutkoy has risen to 350.
The third change has taken place after Arnavutkoy became a town. Over the years, Arnavutkoy has been affected integral migration in Turkey and has become a significant center of population.
The sales team of Istanbul Homes are all local experts. We publish the adverts of the newest and luxury flats in Arnavutkoy on our website. If you would like to buy a property in Arnavutkoy you can find the most updated options of properties for sale in Arnavutkoy here. Call us today, to find out more about the region and to receive a portfolio of properties in Arnavutkoy such as commercial properties in Arnavutkoy and land for sale in Arnavutkoy.