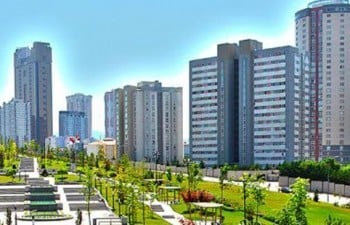 Real Estate in Atasehir Istanbul
One of the Most Developed Areas of Istanbul in the Real Estate Sector: Ataşehir
The sale of foreign property in Ataşehir for sale, which is one of the developed districts of Istanbul, is quite high. Ataşehir apartments for sale which has become a popular destination for foreigners are gaining value every day. Foreigners prefer the property for sale in Ataşehir to live and invest in the future. The number of properties for sale in Ataşehir is also quite high. You can find lots of houses for sale in Atasehir with the intensive works started by the increasing demand of the construction companies. Ataşehir, which is the financial center of the Anatolian Side, has more job opportunities than other districts. The location is close to all possibilities, increasing the number of Ataşehir property for sale. You can buy a property in Ataşehir, rent it easily, and earn an income as the area is preferred by many employees and students. Because it is a highly sought-after region for investment, the house you buy will make you money every day.


Buying a Property in Atasehir, Istanbul
Atasehir is a district located on the Anatolian side of Istanbul. Atasehir has a central location to the main highways. So there are many opportunities for transportation here. It is next to Kadıkoy, Umraniye, and Uskudar. Transportation to other districts of Istanbul is by buses, metro, municipal buses, and minibusses.
There are many social facilities in Atasehir. Bulent Ecevit Park is one of these. There are basketball courts, mini football fields, lagoons, waterfalls, playgrounds for children, sports areas, resting areas, and squares inside the park. Also, accepted as the best basketball stadium, Ulker Sports Arena welcomes basketball fans. Atakoy houses many touristic places like the Nezahat Gokyigit Botanic Park, Classic Automobil Museum, and Kizil Begonia Park.
Atasehir: Rising Star of Istanbul
There is a new financial project (Istanbul Financial Center) ongoing in Atasaehir. When this project completed, Atasehir will be the region with the highest potential of commercial in Istanbul. Housing many skyscrapers, socially designed residential complexes, and social facilities, Atasehir draws the people's attention.
Atasehir has been rewarded a title known as 'city inside the city' in the competition 'Best Corporate Applications and Projects' organized by the City Summit. With its places of business and offices, Atasehir is on its way to becoming a commercial center.

History of Atasehir
The first settlement in the district is dated back to the 14th century. The district's first name was Tekkebag and was administrated by Baba and Ali Gazi. It was known as Erenkoy after 1465. Then, people began to move to the district in 1639.
The connection roads of Fatih Sultan Mehmet Bridge, which opened in 1988, pass through the Atasehir-Kozyatagi region. That makes the district a very prestigious and preferable residential and business area of the Anatolian side. The collective settlement has been maintained since 1993 and Ataşehir has become a district in 2008 when surrounding neighbors were united with it. It's surrounded by Kadıköy districts in the west, Maltepe district in the south, Sancaktepe district in the east, Ümraniye district in the North.
There are many reasons for buying a property in Atasehir. Atasehir was awarded the Habitat Prize and it stands out with its peaceful areas, clean nature, well-designed living spaces, luxurious and modern buildings.
Buying a property for sale in Ataşehir would be very profitable in the future as there are many fields of investment in Atasehir. The most important field for investment in real estate. Considering that properties in Atasehir prices increase each day, we can say that there is no other region like Atasehir in terms of profitable investment. As of 2020, the tallest skyscraper in Ataşehir, Istanbul, and Turkey is Metropol Istanbul Tower 1 (70 floors, 301 meters tall including its twin spires).
If you would like to know more about real estate in Ataşehir, you can contact us. We offer viewing trips and tours of the areas. We can help you find your dream property whether it be a land for sale in Atasehir or commercial properties in Atasehir.