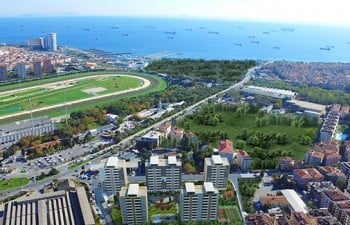 Real Estate in Bakirkoy Istanbul
Sitting on the European side of Istanbul, Bakirköy's prime location puts it close enough to the heart of Istanbul for convenience and ease (30 minutes to the touristic center of Sultanahmet), yet far enough away from the center so that residents can escape the trappings of city life.
Initially named Makriköy, Bakirköy took its current name in 1925, and it translates as "copper village" yet this isn't an apt reflection of the potential it offers to property buyers in Istanbul.
Real Estate for Sale in Bakirköy
Properties for sale in Bakirkoy, one of the most popular districts of the city, are getting more and more valuable every day. Anyone looking at property in Bakirkoy for sale gravitates towards this region because the residential areas don't have a city feel filled with the commotion of a fast-paced lifestyle.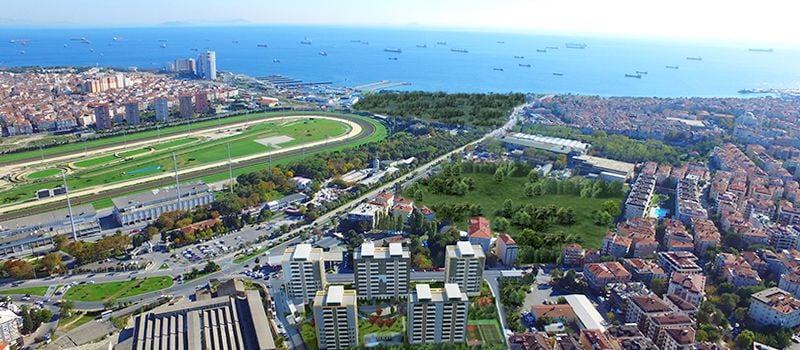 Instead, residents tend to be retirees, or professional business people, and couples with children who adore the family-friendly environment. The name Bakirkoy refers to the large district that has several other smaller and prominent localities;
Yeşilköy: Originally called San Stefano, the most notable moments in the history of Yesilkoy were the location of the first Ottoman Aviation School and a devastating tsunami caused by the earthquake in 1894 destroyed most houses and businesses.
Its worthy reputation stems from a place where all nationalities and religions lived side by side including Greeks, Armenians, and Turks. The village stopped using the name San Stefano in 1926, and it was renamed Yesilkoy meaning "green village".
These days, it still keeps a reputation as a middle and upper-class society destination, and notable landmarks include Ataturk Airport and Istanbul World Trade Centre.
Yeşilyurt: As another prominent neighborhood of Bakirkoy, Yesilyurt has a gorgeous seaside position which also attracts affluent circles of society. Many seaside restaurants and tea houses make a roaring trade in Yesilyurt especially during the height of summer.
Its name meaning "green homeland" reflects the vast amount of green areas within the district but its chief fame to claim is the 19th-century Yesikoy Lighthouse and as the location of the Turkish Air Force Academy and Istanbul Aviation Museum.
Ataköy: As the third prominent neighborhood of Bakirkoy, Atakoy is an extremely prestigious area, separating down into four small districts. It was a planned district, and its perfect appearance shows the best in suburban planning and development.
Its property portfolio includes a range of new, and modern Bakirkoy property for sale incorporating the latest trends in architectural styles. In line with its standard of living, Atakoy has a beautiful marina for yacht owners. Istanbul Homes offers you to purchase a Bakirkoy villa for sale within these beautiful regions.
Shopping in The Region
Anyone who wants to buy a property in Bakirkoycan tap into a massive range of shopping venues. Bakirkoy is every shopper's heaven with a large shopping district in the center. Residents have more than 150 shops willing to take their cash in the Capacity Mall, the biggest in the area. It is not just a shopping choice but also a lifestyle brand with nine-screen cinemas as well as uniquely designed restaurants with individual menus highlighting their professionalism towards international and Turkish cuisine.
Otherwise, Galleria in the Atakoy district has a host of international branded shops in among one of the most stylish and sophisticated shopping malls of Turkey. Families also love the diversity of the kids' play center. Lastly, Carousel, which opened in 1995 is the third major shopping mall of Bakirkoy with more than 100 shops and an on-site cinema complex.
Transport to and From Bakirkoy
There are many advantages to buying a property in Bakirkoy, but one of the most important ones is the area being the epicenter of transportation. Bakirkoy apartments for sale are attracted by buyers and investors because of the easy access to all points of the city. Regular buses travel to the Beyoglu district of Istanbul giving residents quick and easy access to new Istanbul including areas like Galata, Taksim, and the famous Istiklal Avenue. Ferry services go to the Asian side of Istanbul via the main port of Kadikoy and day-trippers enjoy ferry rides to the Adalar Islands. Alternatively, a railway line stretching from Sirkeci runs through Bakirköy.
For More Information
The sale representatives of Istanbul Homes are all local experts with in-depth knowledge of the city and surrounding districts. We publish the adverts of the newest and luxury houses for sale in Bakirkoy on our website. You can find the most updated adverts of the properties in Bakirkoy such as land for sale in Bakirkoy and commercial properties in Bakirkoy here. Call us today, to find out more about the region and to receive a portfolio of property for sale in Bakirkoy.