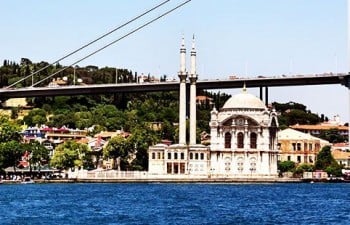 Real Estate in Besiktas Istanbul
Real Estate for Sale in Besiktas, Istanbul
Property for sale in Besiktas is very popular because Besiktas is one of the oldest districts in Istanbul. Besiktas apartments for sale, which is one of the most beautiful points of Istanbul are very attractive. Located on the European shore of the Bosphorus Strait. It is bordered on the north by Sarıyer and Şişli, on the west by Kağıthane and Şişli, on the south by Beyoğlu, and on the east by the Bosphorus. Directly across the Bosphorus is the district of Üsküdar.
Besiktas has an important location in Istanbul so it is visited by people frequently. It is a preferred region with its developed infrastructure and lively surrounding. Life is so dynamic and energetic here. Besiktas consists of 23 neighborhoods; Abbasağa, Akatlar, Arnavutköy, Balmumcu, Bebek, Cihannüma, Dikilitaş, Etiler, Gayrettepe, Konaklar, Kuruçeşme, Kültür, Levazım, Levent, Mecidiye, Muradiye, Nisbetiye, Ortaköy, Sinanpaşa, Türkali, Ulus, Vişnezade, and Yıldız. Famous neighborhoods like Arnavutköy, Bebek, Etiler, Levent, and Ortaköy are known as one of the most valuable properties for sale in Besiktas. Besiktas is one of the most developed districts in Turkey regarding prosperity, livability, and cultural level. There are many universities and cultural centers in Besiktas. You can buy a property in Besiktas with the aim of investment, and you can easily rent them.


Besiktas has a significant advantage in transportation because of its central location in the city. Also, feet on the European side of the Bosphorus and Fatih Sultan Mehmet Bridges are situated in Besiktas. There is a high demand for Beşiktaş property for sale on the European side. Houses for sale in Beşiktaş are away from all the commotion of the city.
History of Beşiktaş
The Bosphorus has had settlers for a long time. Constantine the Great is believed to have settled here during his reign. The Ottoman rulers also built their palaces and hunting lodges here.
This stretch of the Bosphorus shore is safe from the strong winds that bring storms to Istanbul so it was a perfect place to moor ships. That is possibly the reason the legendary sailor, corsair and later admiral of the Ottoman Navy, Barbaros Hayreddin Pasa, known internationally as Barbarossa Hayreddin, built his palace and mosque here in Besiktas and made it his home.
In the Ottoman period, once the emperors had established control of the Black Sea coasts, which were vulnerable to raiders from the Black Sea coasts by being outside the city walls, and little of this architecture or the statuary that would have decorated it so gloriously has survived, the Ottoman navy was docked in the Bosphorus and the Bosphorus villages became safe and attractive again. The Besiktas district contains come of the most important Ottoman buildings and places of historical interest today such as Yildiz Palace, Sinan Pasha Mosque, Ortakoy Mosque, Ciragan Palace Kempinski, Ihlamur Pavilion, Dolmabahce Clock Tower and the Maritime Museum.
The district takes its name from the Beşiktaş quarter located in the modern-day Sinanpaşa neighborhood. The word beşik means "cradle" in Turkish, while taş means "stone". According to one story, there was a Byzantine church in modern-day Beşiktaş with the name Kounopetra, Greek for "stone cradle". The church was built to honor a relic, a stone reportedly taken from the stable in Bethlehem where Jesus was born. This stone was later relocated to Hagia Sophia and disappeared later in history. Another story states that a cleric from a Saint Menas (Aya Menas) Church where Beşiktaş now is returned from a pilgrimage to Jerusalem with a cradle-shaped stone used in the Baptism of Jesus and placed it in the church. One other explanation is that the name is a corruption of beş taş, Turkish for "five stones", referring to the five stone pillars built to moor ships by Barbarossa Hayreddin Pasha.
The history is unknown, but everyone can agree that property in Besiktas for sale are in one of the most lively squares in Istanbul.
Thanks to its vibrant life and central position, customer requests grow day by day in the district. Many business centers are located in Besiktas, and this opportunity attracts costumers' attention to commercial properties in Besiktas . Today, it can't be underestimated the number of people who look for buying a property in Besiktas or land for sale in Besiktas are looking at one of the most special properties in Istanbul.