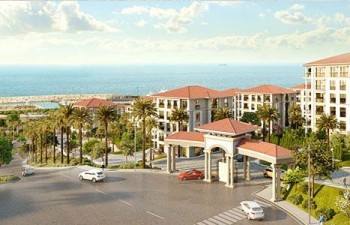 Real Estate in Beylikdüzü Istanbul
The Rapidly Developing District of Istanbul: Beylikdüzü
Beylikdüzü, on the European side of Istanbul, is experiencing a revival every passing day in the real estate sector. Properties for sale in Beylikduzu are preferred by almost everyone. At the same time, the region is highly praised for promoting a family-friendly community ambiance. With its renewed face, the number of in Beylikdüzü apartments for sale is also quite high. Сareful planning of its urban structure and preservation of green areas has resulted in a well laid out neighborhood that coupled with the 12-kilometer shoreline. Neighboring the districts of Büyükçekmece, Esenyurt and Avcılar offer an excellent location for potential property buyers.
It is no wonder that Beylikdüzü is gaining such an esteemed reputation. Throughout history, it was a favored destination for royalty from both the Byzantine and Ottoman Empires. Building hunting lodges in the area while only being slightly distanced from their ruling center of the Sultanahmet district. Their inhabitants enjoy the benefits of quiet coastal living.
Up until 2003, it was called Kavaklı, which referenced the species of trees dominating the area. Its current name refers to its historical royal status. "Beylik" means an area under the control of a lord and "düzü" means straight to. This district's name is written as Beylikdüzü and Beylikduzu.
The Real Estate Market in The Region
The district offers many opportunities for those who want to buy a property in Beylikduzu Istanbul. Properties in Beylikduzu ranges from 1-bedroom budget apartments for first-time buyers to 5-bedroom luxury apartments. There are many options in Beylikdüzü from the small family-friendly complexes to impressive skyscrapers and seaside villas. All options offer a wealth of communal facilities and amenities. Potential buyers will be impressed with what is on offer.
The revival in the real estate market has prompted a range of off-plan and new build houses for sale in Beylikduzu. Most of the offers have affordable 12, 24, and 36-month payment plans. Leisure and relaxation are the key focal points of these complexes with facilities such as swimming pools and fitness centers. Property for sale in Beylikduzu includes land for sale in Beylikduzu and commercial properties in Beylikduzu besides apartments, villas and houses in residential complexes that all have facilities attracting great interest from buyers and investors. You can buy a property in Beylikduzu for sale to get a good income.
Community of Beylikdüzü
A study by the local council of Beylikduzu revealed a large proportion of its population had a university degree. This isn't a surprise. The area is well respected for its standard of universities and educational standards.
At the turn of the century, Beylikduzu entered a period of revival. It also attracted many real estate investors eager to cash in on the changing face of the real estate market. Families were drawn to the area because of the affordable cost of buying a property in Beylukduzu, coastal location, and general lifestyle. Beylikdüzü is also known for its wide range of nationalities leading it to have a middle-class multicultural feel.
Transport
One of the most significant advantages of Beylikduzu is the transport links. For car drivers, Beylikdüzü is near the E5 highway. This highway likewise stretches into the heart of the European side of Istanbul.
Istanbul International Airport is just an hour's drive away. Ataköy Marina, one of the most prestigious mega yacht hubs in Turkey, is also within 30 minutes' drive.
The 24-hour Metro service connects Beylikdüzü with many other districts including Taksim, the heart of Istanbul, which is renowned for its shopping and nightlife scenes.
Shopping and Nightlife
The nightlife of Beylikduzu is distinctly low key and during summer the coastline is more alive. Another thing that Beylikdüzü does well is shopping amenities, where everything and anything is for sale. As well as the center, many supermarkets, local fruit, and vegetable markets, many shopping malls draw in the crowds.
Places like Paradise sell well-known Turkish and international brand names in a variety of niches including home, clothing, baby, and relaxation. The modern shopping mall of Perla Vista sells the same but also offers cinema entertainment to break up a shopping spree. One of the most widely used though is Migros Shopping Mall. Migros provides all shopping needs under one roof and is open from 10 a.m. to 10 p.m.
Browse through our portfolio of Beylikduzu property for sale and use the online chat feature. You can also contact form to receive further information about the flats in Beylikdüzü or the region in general.