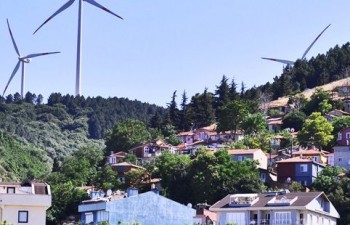 Real Estate in Çatalca Istanbul
Due to substantial amounts of undeveloped space, and its distant location from Istanbul city center, property for sale in Çatalca is sparse but customers who buy real estate in Çatalca are tapping into an idyllic area preferred by many because of its laid-back lifestyle. Sitting in European Istanbul, the population of 69.000 also enjoy a greener landscape compared to central Istanbul's urban dwellings.
It earned its fame by being the last line of defense during the Balkan Wars and has a few historical buildings including the Ferhatpasa Mosque and Fountain, and the Byzantine Inceğiz Monastery, and people admire it for its beautiful flora.
During April and May, when purple and pink blossoms signal the first sign of spring, Çatalca is exceptionally stunning. The flowers are also the city's logo and official sign and are celebrated during the yearly Ergüvan Festival. Oak and pine trees dotted over the hillsides also add to the region's picturesque appearance.

Where is Çatalca?
The Istanbul International Airport and Fatih district, i.e. the historical old city are just one-hour drive away. Bordered by the Tekirdağ, Avcılar, Küçükçekmece, and Arnavutköy districts, it is just a two-hour drive to the Bulgarian border.
Sitting in the East Thrace region, it covers 1715 kilometers and the 135 kilometers of coastline. Owners of the property in Çatalca for sale have the benefit of being close to many highlights, attractions, and amenities yet are far enough to indulge in a peaceful lifestyle devoid of city commotion.
Property Market in Catalca
Attracted by the seaside location, and carefree lifestyle, many Turks from big cities own holiday houses for sale in Catalca and the local council has ongoing culture, health, social, and neighborhood projects to keep up with its growing popularity. Mass construction as seen in other areas of Istanbul doesn't happen in Çatalca, so off-plan and new properties are hard to come by.
However, buyers of Çatalca property for sale can tap into a delightful range of basic 2-bedroom houses that make wonderful renovation projects or large mansions complete with a private swimming pool and tennis court. Due to the undeveloped status, land often comes up for sale, and the large plots are ideal for anyone who wants to design and build their own properties in Catalca.

Yalıköy: The Seaside Gem
39 smaller neighborhoods make up Çatalca, and real estate buyers and locals are interested in buying a property in Catalca. Tourists are wanting to buy Çatalca apartments for sale and particularly adore Yalıköy. Formerly called by its Greek name of Potima, the 1923 Treaty of Lausanne altered the face of Yalıköy.
These days, life is calmer, and the small population of 2500 people living in this typical Black Sea coastal resort also have access to many forests. Hence the principal trades are fishing and forestry. To tap into city life benefits, locals use the 404 bus to and from Yalıköy into the center.
Çilingoz Tabiat Park, also in the same district is a wildlife protection area. Covering 43 acres, the beautiful combination of forests, a long beach, and a lake is a favorite weekend getaway for city workers. Anyone looking to get in touch with mother nature can do so through fishing and hiking facilities. Overnighters often rent tents in designated campsites while day-trippers use the picnic or on-site restaurant facilities.
For More Information
Here, at Istanbul Homes, we pride ourselves on an excellent record of finding properties for sale in Catalca for buyers all over Turkey. If you wish to buy a property in Catalca and want more information about commercial properties in Catalca, land for sale in Catalca or other areas of Istanbul, just contact us today via email or telephone. Alternatively, visit one of our regional offices to speak one-to-one with an experienced member of staff.