Real Estate in Esenler Istanbul
Property in Esenler is mentioned on the list of most popular places yet buyers on a budget will be impressed with what is on offer.
Neighboring the other districts of Güngören, Gaziosmanpaşa and the more famous Bağcılar, one distinct advantage Esenler has to offer is the efficient transport network linking it to other areas in Istanbul.
History of Esenler
During Ottoman rule, Esenler consisted of smaller Litros and Avas villages located outside of the city wall boundaries. Residents were mainly Greek farmers who were later deported during the 1923 population exchange between Greece and Turkey.
Returning Turks from Macedonia settled in the area instead and up until 1992, it was under Bakirkoy district, then the Güngören district for another two years before becoming a local municipality in its own right.
Population of Esenler
Population counts tell us that at the end of 2016, 457,000 people lived and/or owned properties in Esenler. This is a huge jump from its population count in 1935 of just 604 people. The primary wave of immigration into Esenler occurred during the 1970s and 80s, eventually rising to 388,000 people by 1990.

Neighborhoods of The District
16 localities covering 5,227 hectares present a wide choice of locations when looking at property for sale in Esenler. Some are more prominent than others like Birlik neighborhood, particularly appealing to families because of the schools in the neighborhood and Davutpaşa, known for its old army barracks that are now the base for the Yıldız Technical University Campus.
Mimar Sinan neighborhood is also famous. Named after the Ottoman architect of the same name, he created more than 300 structural masterpieces and became the most respected architect to have ever lived in Turkey history.
Other districts include Kemer, Namık Kemal, Çiftehavuzlar, Fatih, Yavuzselim, Fevzi Çakmak, Nenehatun, Turgutreis, Kazım Karabekir, Havaalanı, Oruçreis, Menderes and Danube.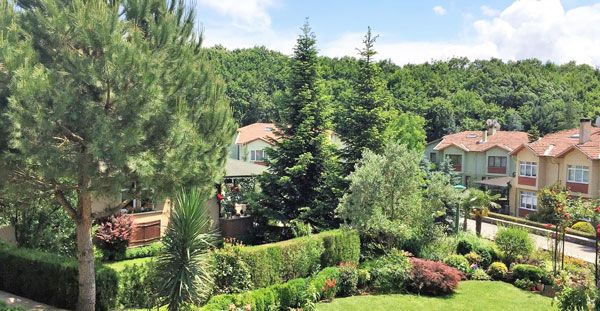 Transport of Esenler
Properties for sale in Esenler are attracted by buyers and investors thanks to easy access. Esenler's main claim to fame is the bus station (Esenler Otogarı). Even though it is in the Bayrampaşa district, it is closer to Esenler and since opening in 1994, serves 600.000 passengers and 15.000 buses a day.
Built to the tune of 140 million USD, buses run to destinations all around Turkey making it the favored choice of transport. Covering 242.000 square meters, it is the largest bus station in Turkey with 324 platforms.
From the bus station, passengers connect to the Istanbul Metro line (M1) running from Yenikapı to Kirazlı. Taxis and smaller intercity buses also complete the extensive transport network and Esenler also connects to the Fatih Sultan Mehmet Bridge and the E5 Highway making it a strategic location of Istanbul.
Shopping in The Region
Including local shopping choices, two malls stand out for property buyers in Esenler. Güngören Shopping Mall, sitting close to Yıldız Technical University opened in 2016 and calls itself a life and shopping hub because it also offers cinema and entertainment and the Mall of Istanbul is in nearby Başakşehir and just a ten-minute drive away. Open since 2014, it hosts more than 300 shops selling everything and anything you could want.
Property for Sale in Esenler
Houses for sale in Esenler, one of the most popular districts of the city, are getting more and more valuable every day. Buyers of Esenler property for sale enjoy a lower price per square meter in Esenler, and many Esenler apartments for sale are brand new and modern residences featuring the latest in Turkish architecture design. Istanbul Homes offers you to buy a property in Esenler.
The sales team of Istanbul Homes are all local experts. We publish the adverts of the newest and luxury flats in Esenler on our website. You can find the most updated options of buying a property in Esenler here. Call us today, to find out more about the region and to receive a portfolio of apartments and villas in Esenler or commercial properties in Esenler and land for sale in Esenler.
Sorry, we couldn't find a property for sale matching your search.
We recommend the following:
• Check your search filters are correct.
• Modify your search parameters and try again.
• Save search so we can let you know as soon as a matching property becomes available.
FILTER RESULTS 2 Tag