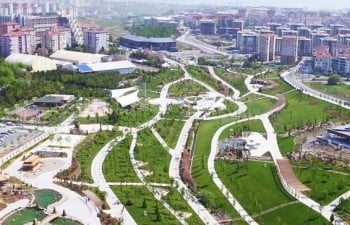 Real Estate in Esenyurt Istanbul
Esenyurt is another district of Istanbul experiencing a revival through the modernization of its real estate market and urban infrastructure. With an extensive choice of shopping facilities and transport links to the main city center, Esenyurt has much potential for people who buy properties for sale in Esenyurt.
Esenyurt Real Estate
Part of the reasons why property buyers are taking notice of Esenyurt is that despite being close to Istanbul city center which is the hub of business, finance, and tourism in Turkey, prices of property in Esenyurt for sale are excellent value per square meterage.
This has particularly appealed to single working professionals looking to commute as well as families who want to get their foot on the Turkish property ladder. Many of the new build projects also offer long-term repayment plans, ranging from 1 to 5 years, as well as a wide choice of onsite communal facilities including landscaped gardens, fitness centers, Turkish baths, and saunas.
Instead of apartments, people also choose to invest in houses. Houses for sale in Esenyurt offer a great amount of profit in this central district.
History of the District
Esenyurt was initially built on land belonging to Ekrem Omer Pasa, a prominent Ottoman military officer during the 19th century. During the early 20th century, it received many immigrants and named after one of the shareholders Eskinoz, and became a multi-cultural hub. Many Esenyurt apartments for sale keep this culture and history within its architecture.
It took its current name in 1967. Formerly belonging to the Buyukcekmece district of Istanbul, it became an independent area with its own governing body in 1989, and in 2008, merged with Kıraç. Esenyurt has 20 neighborhoods (Mahalle) within its boundaries and a population of 450,000.
Geography of Esenyurt
Esenyurt, covering 2770 hectares sits on the Thrace region of Istanbul. Located west of Küçükçekmece, east of Büyükçekmece and north of the E5 highway, the whole peninsula is transforming with improved transport links, better shopping facilities, and a modernized real estate market. Many Esenyurt property for sale has a central location.
Esenyurt is a 60-minute drive away from the Istanbul International Airport, which has frequent all-year-round flights to areas within Turkey and other countries. It is also close to the Istanbul Canal Project that modernizes the region even further. There are also plans to include Esenyurt on the Metro transport network. Property for sale in Esenyurt will always be profitable due to its great location and transportation opportunities.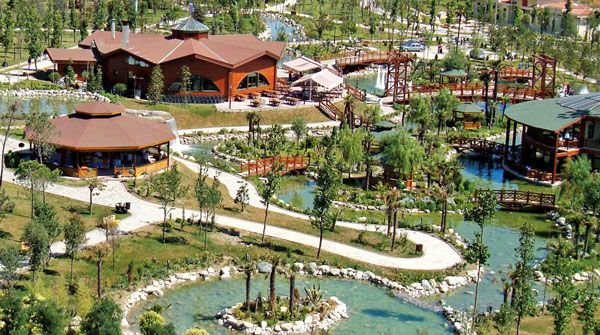 Region's Shopping and Entertainment
There are many great amenities to serve the owners of property for sale in Esenyurt Istanbul.
A favorite place for families, especially on the weekends and during summer is the Recep Tayyip Erdogan Park, named after Turkey's current president. The park is home to sports clubs, restaurants, a Turkish bath, and a swimming pool. Other parks within residential projects include Sehitler, Gaziler, and Kadir Topbas.
Otherwise, Esenyurt Culture and Arts Center attracts attention with its modern architecture. As home to two cinema halls, a conference hall, a cafeteria, and a library, it is a significant landmark for the community. Other culture centers include Saadetdere, Yenikent, and Yunus Balta.
One of its most significant claims to fame though is the Pelit Chocolate Museum and Factory where sculptors replicate landmarks and famous people from the edible confectionary. Operating since 1957 but opening their museum in 2013, they say chocolate is art, and this is clear in the enormous structures and gallery displays open to the public.
Rather than have hundreds of single shops scattered in every direction, one of Esenyurt's strong points is its shopping malls. Eskule is a small mall used by locals, and it includes a few fast food shops. Other choices include Akbati, Bauhaus, Media market, Carrefour, and Migros Shopping Malls. There are many great properties in Esenyurt within a walking distance to these shopping malls. By far though, the Torium mall is the hub of shopping and entertainment in Esenyurt.
Torium Shopping and Entertainment Mall
Torium Shopping Mall opened in 2010 with a much broader range of shops covering six floors. Hence it also appeals to people living in the neighboring areas of Buyukcekmece and Buyukcekmece. It is the fifth largest shopping mall in Turkey.
Sitting on the outskirts near the E-5 highway and neighboring region of Avcilar, it annually receives millions of visitors who flock for food, entertainment or to spend money. The 180 shops include budget and elite brands, both Turkish and international while 30% of the mall is dedicated to entertainment facilities such as the indoor ski facility, snow-themed children's park, 11 screen cinema, an eight-lane bowling alley. The open-air courtyard also hosts concerts, theatre shows, and exhibitions.
If you are looking to buy a property in Esenyurt you would do well to look at its affordable prices and wealth of shopping and entertainment facilities. Its future potential also makes the property an ideal long-term investment. So, buying a property in Esenyurtis always very advantageous. For more information about the district or land for sale in Esenyurt and commercial properties in Esenyurt contact us here.