Real Estate in Fatih Istanbul
Fatih, the heart of old Istanbul is also known as the historical peninsula because of its illustrious history as former ruling capital centers for both the Ottoman and Byzantine eras. Owners of properties in Fatih and Fatih apartments for sale have some huge advantages because despite belonging to Turkey's largest city, it covers a pinnacle point of the south-east European part of Istanbul. Fatih is surrounded by Zeytinburnu from the southeast, Eyüp districts from the northwest, Haliç from the north, Bosphorus from the east, and Marmara from the south.
Knowing this makes it easy to understand why in history, it was a crucial and strategic place for rulers of old Constantinople. These days, life is less about conquering and more about the vast tourism industry that dominates it, although there are many residential districts.
The population has soared over the decades from just over 250.000 people in 1935 to 433.873 in 2017. This includes neighboring Eminonu that joined the district ten years ago. Fatih (named after Fatih Sultan Mehmed, the Ottoman ruler who conquered Constantinople in 1453) has a reputation as gastronomy heaven with its variety of cuisines for sale in local restaurants.


Real Estate in Fatih İstanbul
Fatih property for sale are hard to come by because the district's popularity ensures it is always in high demand but when it comes on the market, buyers of properties for sale in Fatih are tapping into a prime location with mass potential for buy-to-let income should they want a return on their investment.
Due to dense urban planning, most properties are 1, 2, 3 or 4-bedroom houses for sale in Fatih and depending on their position, may also have a sea view.
Property for sale in Fatih buyers can choose from 57 neighborhoods, each has their own characteristics and claim to fame and taking into account the large size of the districts, locals have access to everything and anything including a wide range of shopping and transport options, as well as nightlife and leisure attractions.
Other notable facilities include;
• Six universities including Istanbul University that opened in 1453
• 20 historical and modern libraries
• 29 official museums
• 40 authentic Turkish baths
• 9 traditional markets including Sahaflar, the second-hand book market
Notable Districts and Landmarks in Fatih
One of the advantages of buying a property in Fatih is the notable districts and landmarks. Let's take a look at them now;
Fatih Mosque: Built by the Ottoman Sultan Mehmed after he invaded Constantinople, most of the structure didn't survive the earthquake that happened in the 18th century. So, the version we see today is not the original 15th-century Mosque. It is equally as stunning though and a brilliant example of Turkish Islamic architecture. It also holds the tomb of Mehmed the Conqueror.
Grand Bazaar: One of Turkey's most famous tourist attractions, the Grand Bazaar, which first opened during Ottoman times is the region's shopping hub. Open every day except Sunday, it hosts thousands of shoppers who come to buy everything from souvenirs to household goods, jewelry and clothing.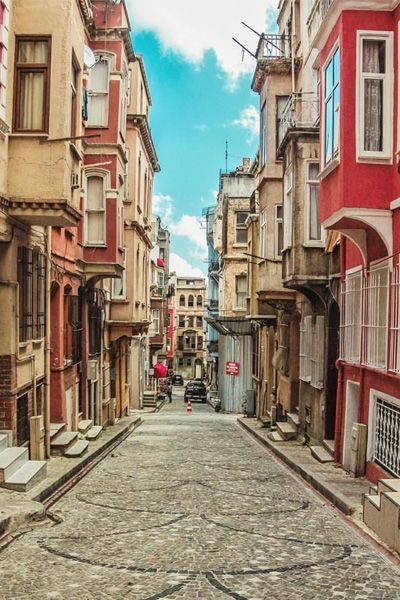 Eminönü: This waterside hub often appears in travel photographs of Istanbul, more so because of the floating fish boats and ferry hubs. It also houses the Spice Bazaar, otherwise known as the Egyptian Bazaar, but this popular tourist attraction is more of a souvenir hub these days, as tourists buy everything from Iranian saffron to touristic tea granules.
Fener: As travel trends progressed from guided tours of touristic attractions to tours in which you learn more about neighborhoods and culture, the Fener district grew in popularity. Sitting aside the Balat neighborhood, the strong Greek heritage makes it a unique community of Istanbul. The Constantinople Orthodox Christian Patriarchate also holds their seat in Fener.
Sultanahmet: Without a doubt, everyone can associate with Sultanahmet because it holds many landmark buildings from the former Byzantine and Ottoman Empires including the Blue Mosque, Hagia Sophia, Turkish and Islamic Arts Museum, Hippodrome and Topkapi Palace.
Suleymaniye Mosque: This 16th-century architectural masterpiece by Mimar Sinan, the Ottoman Empire's most famous architect is the second largest mosque in Istanbul and a UNESCO World Heritage site.
Balat: Sitting on the Golden Horn shores, Balat's history is as a Jewish neighborhood although these days most have moved to the Galata or Sisli districts. Walking around the neighborhood streets, visitors see another glimpse of Istanbul away from the touristic side as children play in the road and women hang their washing. The architecture is especially stunning, and much money has gone into its restoration and preservation.
For more information about how to buy a property in Fatih and property in Fatih for sale, contact us today via email, phone, or by dropping into one of our regional offices. You might also like to read our questions and answers about buying land for sale in Fatih or commercial properties in Fatih and how we can help you.