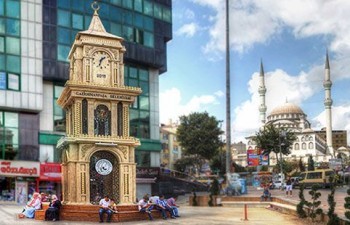 Real Estate in Gaziosmanpasa Istanbul
Anyone looking to buy a property in Gaziosmanpaşa Istanbul is tapping into a developing area with many completed urban projects and plans to further reinvent the city. Sitting in European Istanbul, the working-class district named after Gazi Osman Pasha, a distinguished general of the Ottoman army who lived during the 19th century, is an up-and-coming area attracting the attention of many Istanbul Home Buyers.
Even though it is one of the most populated districts of Istanbul, migration to the area didn't happen until the 1950s, when Istanbul experienced a population boom. By 2017, the registered population was 497,000.
Real Estate in Gaziosmanpaşa
By the time the 1960s came about, the town was mostly home to illegal builds, but this all changed over the last 20 years as it sought to reinvent its image and promote itself as a modern district of Istanbul.
These days many houses for sale in Gaziosmanpasa and Gaziosmanpaşa apartments for sale belong to new build housing complexes with on-site social facilities like landscaped gardens, children's parks, and gyms. They have changed the definition of "community vibes", and their exceptional prices per square meter particularly appeal to first-time buyers.
Local Council Projects
To reinvent the district, the council looked at improving the community and social features. Sports facilities accommodate the young and physically active while theatres and cultural centers promoted creativity.
They also improved access to shopping and health facilities while new street and car parking aimed to ease the hustle and bustle usually experienced by a busy city center district. The council who has a set project in place for completion by 2023, also aimed to improve transport links to and from other regions.


Neighborhoods in Gaziosmanpasa
Buyers of a property for sale in Gaziosmanpasa can choose from 16 neighbourhoods all with their own characteristics. They include Yeni, Merkez, Pazariçi, Barbaros Hayrettin Paşa, Bağlarbaşı, Karayolları, Yıldıztabya, Kazımkarabekir, Yenidoğan, Karadeniz, Fevzi Çakmak, Karlıtepe, Şemsipaşa, Sarıgöl, Hürriyet, and Mevlana.
If you plan to look at a property in Gaziosmanpaşa for sale but have limited knowledge of the area, our neighborhood viewing trips introduce you to local shopping, transport, and entertainment facilities.
Social Facilities
Owners of Gaziosmanpasa property for sale enjoy a central district with quick and easy transport links to many highlights of the city. The new airport is just 44 kilometers away while the central area of Fatih is 20 minutes by car.
For fun and entertainment, Vialand, 2 kilometers away in the Eyüp district is a theme park that kids love. While the Forum Istanbul Shopping Center in Bayrampaşa, just 10 minutes away is all-encompassing shopping, food, and entertainment center all under one roof. It also happens to be the largest shopping mall in Europe.
For Further Information
If you are thinking about buying a property in Gaziosmanpasa and you want to receive via email a portfolio of properties in Gaziosmanpaşa, contact us today. We can also arrange viewing trips, so you can see neighborhoods and homes for yourself and meet our experienced sales staff at the same time. Alternatively, our website has an extensive list of properties for sale in Gaziosmanpasa, land for sale in Gaziosmanpasa, and commercial properties in Gaziosmanpasa.