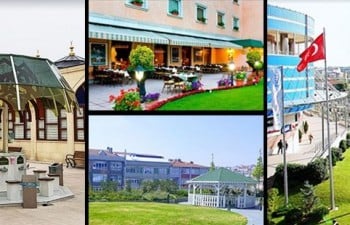 Real Estate in Gungoren Istanbul
Buyers looking at property for sale in Güngören Istanbul will be pleased to know the local council has a definite vision for the future. They want to evolve and provide sustainable services with a people-oriented approach to increase the quality of life for its citizens. Güngören is turning into a desirable residency location with Gungoren property for sale.
Population and Geography
Sitting in European Istanbul, compared to other districts Güngören is small and breaks down into just 11 smaller neighborhoods, of which Merter, a textile hub is the most famous. Neighboring regions include Bahçelievler, Bakırköy, Zeytinburnu, Bağcılar, and Esenler.
Previously called Vitos in history, humans have been living in the area since Byzantine times. Looking around today, it is hard to believe in 1955, just 45 houses with 237 people lived in Gündoğan. These days, the population is just over 315.000 of which local records say most are conservative families.
While the population of other areas in Istanbul is growing, Gungoren isn't, mainly because it reached its peak and neighboring districts like Bakirkoy often overshadow it. As it is challenging to buy a property in Gungoren, a seasoned real estate agent will help you immensely thanks to Istanbul Homes ®.
The three most populated neighborhoods are Marshall Çakmak, Akıncılar, Güneştepe, and the central district. The least populated neighborhood is Tozkoparan.


Property Market in Güngören
Due to its small size and inner land status, the real estate market is slower than the rest of Istanbul and mainly features Gungoren apartments for sale because Gungoren is a typical example of urban living.
Its central location and lack of availability mean prices of property in Gungoren for sale are the middle range rather than budget, but buyers are tapping into the latest architectural trends. Much of the real estate market focuses on all-inclusive complexes, so buyers of properties in Gungoren have on-your-doorstep access to social amenities like swimming pools, shops, Turkish baths, landscaped gardens, 24-hour security, and much more.
Community Faculties and Shopping Outlets
Owners of houses for sale in Güngören enjoy the immense benefits of having everything within a short walk. Community facilities include 208 coffee shops, 4 hotels, 61 internet cafes, 11 wedding salons, 1 Turkish bath and sauna, 21 restaurants, 41 banks, and 47 jewelry shops. Because Istanbul is the hub of everything, shopping also features on people's lists of favorite things to do.
Including local weekly markets and supermarkets, residents favor Marmara Forum Shopping Center and Kale Outlet Center that offer shops, fast-food restaurants, cinema entertainment, and children's activities all under one roof. Otherwise, within an hour's drive is Beyoğlu. Often called the new city center, its reputation as the number one place to shop brings thousands of visitors to it every day.
Getting There and Around
With international flights to over 350 destinations including domestic connections, getting there from other countries is easy thanks to the Istanbul International Airport just an hour's drive away. Residents also have round-the-clock access to local buses, metro, IETT buses, and trams to go further. Thanks to their location and easy transportation, properties for sale in Gungoren are a perfect choice for property buyers and investors.
For More Information
To learn more about buying a property in Gungoren including land for sale in Gungoren, commercial properties in Gungoren, apartments, and districts of Istanbul, contact us today and speak to a local sales representative. We also organize viewing trips, so you can not only see potential houses for sale in Güngören but get to know the neighborhoods and more about Turkey's most vibrant real estate market.