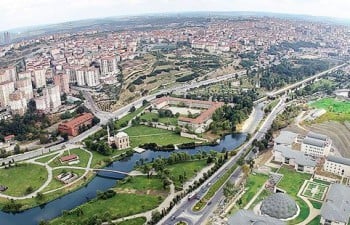 Real Estate in Kağıthane Istanbul
Anyone looking to buy a property in Kağıthane Istanbul will be pleasantly surprised by a vibrant real estate market, strong community vibes, and an immense range of lifestyle choices for people of all ages.
Properties for sale in Kağıthane are attracting many foreign and domestic buyers including families, couples, and working professionals with its competitive prices per square meter, modern architecture, and urban transformation projects.
Sitting on the European side of Istanbul, it covers a total area of 14.52 square meters and has a population of roughly 500,000. As a prominent area of Turkey's largest city Istanbul, it is located on the west of the Bosphorus, which is one of the world's most important straits of water, and neighboring districts include Eyüp, Beşiktaş, Şişli, and Beyoğlu.
Real Estate for sale in Kağıthane
There are many qualified properties in Kağıthane. Istanbul property buyers can choose from 19 neighborhoods that make up Kagithane. Some of the more prominent include Hamidye, Nurtepe, Çağlayan, Çeliktepe, Telsizler, Ortabayır, Mehmet Akif, Yahya Kemal Yeşilce, Seyrantepe, Gültepe and the main center.
As Kagithane is transforming through its urban regeneration, so is its real estate market. Many off-plan houses for sale in Kağıthane offer attractive discounted prices as well as payment terms up to 48 months.
New build Kagithane apartments for sale provide property buyers with an impressive range of onsite community features such as fitness centers, indoor swimming pools, Turkish baths, landscaped gardens, and children's playgrounds. Kagithane property for sale are spacious, making them perfect for families.
At the same time, there are many villa options in the region. Some of the property in Kagithane for sale are located in luxurious complexes. Other options are also commercial properties in Kagithane. If you are looking for land for sale in Kağıthane, hurry up and contact Istanbul Homes team.


Kagithane's Rise to Fame
During Ottoman regime, the Sultans and their entourage used the forest land of Kağıthane for hunting. In later years, its reputation transformed into an industrial hub as many factories opened in the area including paper mills, hence its current name that when translated into Turkish means "paper house."
However, during the 1950s, mass migration soon made it a slum town. Local officials embarked on an extensive project to legalize them and implement a residential atmosphere. Their success turned Kagithane into a desirable location for Istanbul residents, and in 1987, it got separated from the Şişli district to become a municipality on its own.
Transport Network and Getting There
Kagithane is just a 30-minute drive from Istanbul International Airport that connects it with many other countries through regular flight schedules, while drivers have easy access to other parts of Istanbul via the TEM highway 17.5 kilometers away.
Another bonus is the Fatih Sultan Mehmet Bridge, 20 minutes away from the Asian side of Istanbul. Including up-and-coming neighborhoods like Kadiköy and Üsküdar. Otherwise, anyone relying on public transport can get around Kagithane and other districts of Istanbul using a well organized and cheap bus network.
Shopping, Leisure, and Entertainment in Kagithane
Offering the benefits of city living but without a fast-paced lifestyle, Kagithane property owners enjoy a wide range of leisure facilities including cinemas, culture centers, and entertainment malls.
Owners of property for sale in Kagithane have access to a shopping scene that easily beats other significant cities of the world. Trump Mall with its cinema, art gallery, kid's clubs, theatre, and numerous shops is a family-friendly environment catering for everyone regardless of their lifestyle preferences.
However, those looking for luxurious shopping and eating choices can easily reach Nişantaşı, a neighboring area full of upmarket and exclusive vibes. Abdi Ipekçi Street within Nişantaşı is lined with high-end local boutiques as well as international brand names. Also, Taksim, a shopping and nightlife mecca of Istanbul is ten kilometers away.
At weekends, families particularly like the Belgrade Forest, a truly scenic area. Covering 5,000 acres, it is under protection because of a large variety of flora and fauna living inside of it. The Ataturk Abortorium is a beautiful place to see 2000 plant species. Otherwise, walkers, joggers, and picnic lovers are frequent visitors.
Within Kagithane are numerous small historical landmarks that long-time residents are fiercely proud of, such as the Blue Mosque, Hagia Sophia, Topkapi Palace, and the Grand Bazaar, so people who enjoy history don't have to go far to other more historically famous areas like Sultanahmet, one hour away, or the Dolmabahçe Palace, 20 minutes' drive away.
Further Information
To know more about buying a property in Kağıthane or to receive a portfolio of property for sale in Kagithane Istanbul, contact us today and speak with a local representative who will gladly answer all your questions. Otherwise, our office in the Zeytinburnu district of Istanbul is open every day.