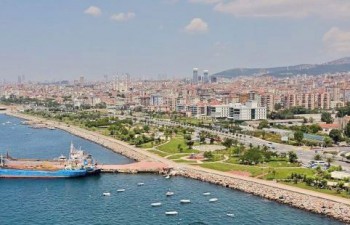 Real Estate in Kartal Istanbul
Buyers of properties for sale in Kartal find it hard to believe they live in Istanbul; Turkey's busiest and most significant city. Sitting on the Asian side, far away from the Fatih and Beyoglu central districts, its seaside ambiance and and extensive choice of leisure pursuits portray little of an urban lifestyle.
With a population of 600,000 residents and covering 147,000 square meters, the area breaks down into 20 smaller neighborhoods giving property buyers lots of options of where to live. Surrounded by the neighboring districts of Pendik, Sancaktepe, Maltepe, and Sultanbeyli, houses for sale in Kartal are far from the hustle and bustle of the city center, but close to tapping into city living benefits where everything is within easy reach.
Real Estate Market in Kartal
Istanbul real estate investors with a middle range budget would do well to look at Kartal. With much potential for the future, a coastal position, good transportation links, many shopping outlets and facilities, the price of buying a property in Kartal is higher than other places in the city, yet the lifestyle is unrivaled.
Although commercial properties in Kartal sometimes come on the market, trends focus on apartment living from ground floor studios to six-bedroom penthouses. Kartal apartments for sale provide you with all the facilities you want. Due to its popularity with families, spacious apartments in Kartal sell, and many sit within community projects and include facilities like gardens, walking paths, Turkish baths, tennis courts, swimming pools, and much more.


Kartal's Transformation Over the Decades
Like most coastal towns, its history started as a small fishing village, although its name translated into Turkish means "eagle". Its strategic location made it an important district for the Byzantine and the Ottoman Empires. It's transformation into the region we see today started in the late 20th century when officials constructed the first ferry port and the first Haydarpaşa to Pendik railway line.
These days, the local council is still forging ahead and making life better for residents. They've implemented many projects within communities to help women with skills. Arts and culture often feature on the social agenda. The Urban Regeneration project also aims to make it an environmentally friendly, green city for people interested ina property for sale in Kartal.
Getting There and Around
To get to the European side of Istanbul, the D100 highway takes car drivers into the Eurasia Tunnel and further on, the 15th July Bridge within half an hour. Owners of property in Kartal for sale can also choose from frequent and cheap transport methods like the sea bus, minibusses, and the Kartal Kadıköy M4 metro line. Many international and domestic flights fly into Sabiha Gökçen Airport, just a 15-minute drive away, and the Haydarpaşa-Gebze railway line also passes through.
Leisure Activities and a Family Friendly Atmosphere
Its long coastline and the front-row seat to the Marmara Sea make Kartal a popular touristic destination at weekends and during summer. Visitors have much to enjoy because the region also offers over 100 public family parks and gardens. Some visitors turn into people who buy Kartal property for sale.
However, residents especially love the beautiful Aydos Forest where they enjoy outdoor sports including jogging, walking and cycling paths, fishing, having a picnic, hiking and lake activities, quad biking, and paintball.
A 15-minute ferry ride takes passengers to the famous Büyükada Island, with its impressive Ottoman architecture, vehicle-free streets and delectable seaside restaurants. A longer ferry ride heads to Yalova, an up-and-coming district known for its green beauty.
Other prominent places for fun and relaxation include Dragos Hill with its beautiful shoreline view, ancient Roman baths, Soğanlık, Yakacık Square and the Balıklı Lake.
Every summer, the local council organizes a cultural art festival and prominent events within it include concerts, theatre performances, and art displays. The immense amount of leisure interests makes this region one of the most family-friendly destinations in Istanbul.
Places of Worship
Kartal has an Alevi Cemevi, an Armenian Orthodox Church but because the population is mainly Sunni Muslims, residents have quick and easy access to 70 mosques. With its historical status stretching back to the 19th century, the Kartal Merkez Mosque is the most prominent.
Shopping in Kartal
The huge choice of shopping venues satisfies anyone who wants to empty their wallets. Local markets sell organic fruits and vegetables every week. Otherwise, supermarkets like Migros and BIM sell daily essentials.
For More Information
If you wish to buy a property in Kartal, or to receive more details about properties in Kartal, call us today and speak to one of our local sales representatives. Alternatively, to visit the district and see potential land for sale in Kartal that will compliment your real estate investment portfolio, opt for our viewing trip experience.