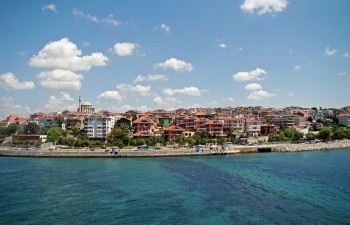 Real Estate in Kucukcekmece Istanbul
Property buyers are taking notice of the real estate market in Küçükçekmece, Istanbul that is transforming itself with the construction of new, modern, and trendy buildings.
The district sits on the European side of Istanbul, and its lakeside position gives it an unusual landscape. Küçükçekmece is also close enough to the heart of Istanbul for residents to tap into the highlights of Turkey's biggest city. It's surrounded by Avcılar district and Küçükçekmece lake in the west, Bakırköy district, and the Marmara Sea in the south, Bahçelievler and Bağcılar districts in the east, and Başakşehir district in the North.
Kucukcekmece has everything including shops, restaurants, social centers, banks, schools, transport links, and much more, making it an ideal place for families, single buyers, or couples. There are many properties for sale in Küçükçekmecewhich are also close to the planned Kanal Istanbul Project that will change the urban landscape and because of its importance, will see real estate prices increase in value. Within the area, there is most certainly much potential for houses for sale in Küçükçekmece in the near future.
Real Estate in Küçükçekmece
Potential customers who buy a property in Küçükçekmece are always pleasantly surprised by the vast range of budget and luxury apartments within its portfolio. Twenty-six small districts sit within the boundary lines and out of all of them the Halkali Neighborhood is the one making a name for itself as the center of business, pleasure, shopping, and finance.
Well-known Turkish architects have designed many of the up and coming apartment complexes in Küçükçekmece. Property for sale in Kucukcekmece has excellent communal facilities like children's playgrounds, indoor and outdoor swimming pools, fitness tracks, and gyms. This makes them ideal for all year round living or to rent out for a buy to let income.
Starting at a price of roughly 80.000 Euros for a studio apartment, potential buyers can choose from 1, 2, 3 and 4-bedroom Kucukcekmece apartments for sale located in residential areas, business districts, or by the lakeside with a full sea view.
The lake or the seaside area also houses many great properties in Küçükçekmece. These houses and villas are built sturdily and uniquely in a great position and with stunning lake and sea views. Many of these properties have indoor or outdoor swimming pools, private car parking areas, security services, and many other great inner qualities.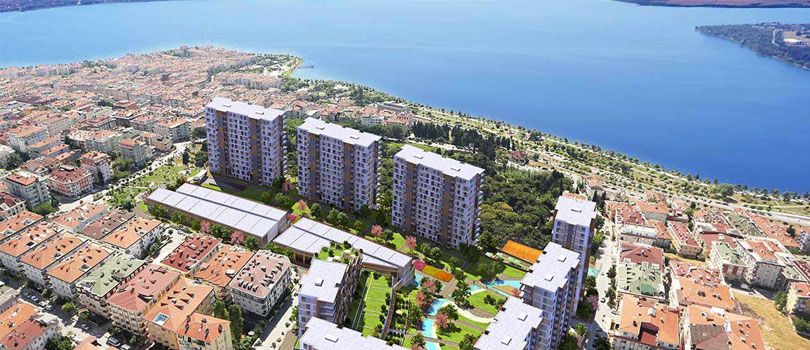 History of The District
Kucukcekmece was a prime position on the Via Egnatia, an 1120-kilometer 2nd century BC Roman road connecting the east and west of the Empire. Hence throughout history, citizens suffered many attacks from bandits and invading armies.
Fortunately, by the time the Turkish Republic was formed, Kucukcekmece gained a reputation as an ideal city get-away. Families from around Istanbul spent weekends in the area to escape the crowds and the hustle and bustle of city life. The flat landscape also meant that it was prime real estate land and slowly the area grew to become a verified city. These days the population of Kucukcekmece is roughly 770,000 people. This makes buying a property in Küçükçekmece very profitable and ideal.
Excavations have uncovered the Hellenistic City of Bathonian in Lake Kucukcekmece. Experts also strongly suspect that many more ruins lay in the lake and are hopeful for future discoveries. Other discoveries were found in the Yarımburgaz Caves, which revealed the people living there at the time were fishermen and hunters.
Archaeological digs in and around the lake uncovered many precious artifacts including stone tools dating from the Iron Age and Neolithic periods, fragments from Hellenistic storage pots, and many objects from the Roman period. Archaeologists also discovered underground water tunnels and the remains of a lighthouse suggest Kucukcekmece was a port town in early history.
Küçükçekmece Lake
6 kilometers wide and 10 kilometers long, and with a depth of 22 meters, it is a sizeable lake classed as a lagoon and is the principal landmark of the region. Separated from the sea by a small sandbank, and fed by three different streams of water, locals enjoy evening walks by the lake, and many traditional tea shops make a roaring trade during this time. That's why Antalya Homes offers you to purchase a property in Kucukcekmece for sale within this unparalleled natural and social area.
Across the mouth of the lake Mimar Sinan, the favored architect of the Ottoman Sultans built the historic bridge that is another notable landmark and often a meeting place for locals.
Getting About and Distances
There are many advantages to acquiring Küçükçekmece property for sale, but one of the most important ones is the area being the epicenter of transportation.
Kucukcekmece is just 20 kilometers from the main city center of Istanbul and a 40-minute drive from the Istanbul International Airport. Getting about by car is also easy because the main E5 highway and the European E80 route are close by. Otherwise, Kucukcekmece has many transport links to surrounding areas.
Further Information
We invite you to look at our portfolios of land for sale in Kucukcekmece or commercial properties in Kucukcekmece and for more information, about the homes or region, just use our online chat feature or inquiry forms to speak to a representative.