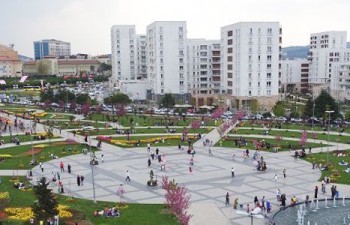 Real Estate in Sancaktepe Istanbul
About Sancaktepe
The district has much to offer anyone looking to buy a property in Sancaktepe Istanbul. Sitting in the Anatolian side of Istanbul, it is one of the lesser talked about neighborhoods of the great metropolis. However affordable prices, stunning architecture as well as a close location to green forests and the blue coastline are luring in property buyers who want the benefits of city living without hustle and bustle.
Buyers of property in Sancaktepe for sale have 19 neighborhoods within Sancaktepe to choose from, of which Samandıra and Sarıgazi form the central hub. Covering 62.000 kilometers and with a population of 402.000 residents, Sancaktepe is more about getting in touch with nature, but it does have one historical landmark. The options of Sancaktepe property for sale reflect this history.


The Byzantine Damatris Palace was known as the "Great door to Anatolia." Royalty and dignitaries from that era in Istanbul's history rested there after long journeys and before they continued to the ruling center of Sultanahmet. Ruined in the 13th century, the current structure shows a little resemblance to its former glory, but plans are in place for future restorations.
Another memorable moment in its history was in the 1970s when locals moved from agriculture to industrial production and growing neighborhoods prompted a more urban feel, away from traditional rural villages.
Sancaktepe has much potential for the future. Formed in 2008, as a breakaway district from surrounding districts, several houses for sale in Sancaktepe aim to boost the quality of life for property owners and buyers.
Property for Sale in Sancaktepe
The district like other areas of Istanbul is currently undergoing a change in aesthetic appearances with new, modern Sancaktepe apartments for sale dominating the real estate market. One plus point easily attracting people to buy properties in Sancaktepe is the affordable prices starting from roughly $100,000 with payment terms between 24 to 48 months.
All new developments have one common feature in that; they aim to preserve a natural ambiance reflecting Sancaktepe's green status. Landscaped gardens and natural greenery are key features of communal areas, while many apartments and commercial properties in Sancaktepe have forest views and spacious balconies to enjoy them.
Additional key features of these residential complexes include large swimming pools, caretakers, and spacious interior of flats in Sancaktepe making them ideal for families.
Shopping and Leisure
The Sancaktepe Lake project aims to create family recreation parks and has become the "brand of the area" when promoting the region to foreign and Turkish tourists. The local council has also spent much time and effort to convert 155 acres between Fatih and Eyüp Sultan Mahallesi to sports fields, BBQ pitches, children's playground, and walking paths.
Rings Shopping Mall that opened in 2014 offers everything under one roof including international cuisine restaurants, 9 cinema screens, child care, beauty centers, and of course, plenty of brand name shops. Other choices of shopping malls include Kardiyum, Krem, and Meydan parks.
During summer, coastal life on the Anatolian side of Istanbul is a favorite activity, especially on weekends. Residents of Sancaktepe can quickly get there within a 30-minute drive. Properties for sale in Sancaktepe would also be an ideal option to explore the rest of Anatolian Istanbul including Kadiköy and Üsküdar, two touristic hubs featured in most guidebooks of Istanbul.


Getting There
National and international buyers who are buying a property in Sancaktepe are increasing every day thanks to its easy access. Getting to Sancaktepe from other countries is incredibly easy now with the increased flight routes and schedules to Sabiha Gokcen Airport which is just a 15-minute drive by car. Residents have easy access to the European side of Istanbul through frequent ferry services departing from the Kadikoy and Uskudar ports, while car drivers can also quickly get to Şile and TEM highways, 3 and 5 kilometers away.
More Information about Property in Sancaktepe
If you want to look at property for sale in Sancaktepe,land for sale in Sancaktepe, or other neighborhoods of Istanbul, contact us today via email or telephone and speak to a local representative. Alternatively, we have an office in the Zeytinburnu district and other places in Turkey such as Antalya, Bursa and Trabzon. We look forward to seeing you.