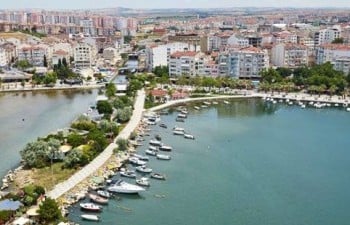 Real Estate in Silivri Istanbul
Properties for sale in Silivri attract great attention. Investors in Istanbul will be impressed by any Silivri property for sale in the Marmara Sea coastal area, and a summer tourism hotspot. Covering 290 square miles, its prominent seaside location, and the harbor has bought fame throughout history but now it's known for its domestic and international tourism trades.
Belonging in the European side of Istanbul and sitting next to Buyukcekmece, and the Tekirdağ province, Silivri breaks down into 35 neighborhoods including districts and smaller inland villages. These days a large amount of the population lives in the city center while the rest is scattered through 18 smaller communities on the outskirts.
Buy to let real estate investors who want to maximize on its seaside location, and 45 kilometers of coastline would do well to look atSilivri apartments for sale in the Selimpasa Merkez, Semizkumlar, Mimarsinan, and Alibey Neighborhoods. During summer the population triples because of holidaymakers and weekend trippers and many incomers look for rented accommodation close to the seafront among listings of property for sale in Silivri.


Real Estate in Silivri
A common theme running through the real estate market of Silivri is holiday homes and houses for permanent living after retirement. Many Turks from big cities own houses while others rent them out as a buy-to-let investment. Houses for sale in Silivri also attract retirees because even though it belongs to Istanbul, which is Turkey's most populated and largest district, it keeps a more relaxed pace of life.
If you want to buy a property in Silivri and are not familiar with the region, call us to arrange a viewing trip. As well as showing you a potential property in Silivri for sale suiting your requirements and budget, we'll also take you around the neighborhoods, so you get to know where transport links, shops, restaurants, banks, and other facilities are.
What is Silivri Famous For?
The most famous landmark of Silivri is the Mimar Sinan's Bridge, built by the architect of the same name who was favored by the Ottoman sultans. Called "Uzun Köprü" and dating from 1562, it's still in use today. The other notable bit of history is that under the Treaty of Sevres, Silivri belonged to Greece, until they withdraw in 1922 during the Turkish Independence War.
Little remains of Silivri Castle but the onsite café and restaurant are popular with visitors because of the stunning views. Otherwise, the Anastasia Wall, although only parts of it remain is its other claim to fame. Built-in the 6th century, it was a defense system for the capital ruling center of the Byzantine Empire.
Life in Silivri
Silivri sits on the D100 highway making it easy to get to other parts of Turkey, Istanbul city, and start on the route to Europe. It's only 42 miles from the main city center, should residents want more of a range on the shopping and nightlife scenes. Otherwise, Silivri's enormous variety of entertainment facilities including a golf club, horse riding, tennis, and spa centers are perfect for those looking to indulge in rest.
To find out more about buying a property in Silivri and other areas of Istanbul, call us today and speak to a local sales representative. Our property portfolio list of properties in Silivri also includes many commercial properties in Silivri andland for sale in Silivri, and by filling in the inquiry form on the same page, you can receive additional photos, details, and examples of payment plans.
Also, check our wide range of Istanbul apartments available to buy on interest-free credit for up to 5 years. They suit those looking to make a sound real estate investment in Istanbul.