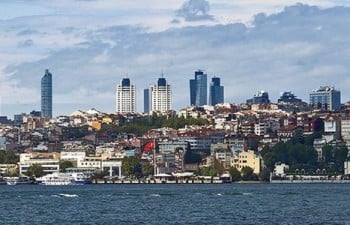 Real Estate in Şişli Istanbul
Properties for sale in Şişli, although often marketed as upmarket, an impressive, all-rounder district appeals to middle-class property buyers. Residents enjoy the city lifestyle in its prime with an enormous range of museums, old landmarks, shopping, and entertainment facilities.
Many urban legends question how Sisli got its name. The most common talks about a wealthy and influential family who owned a mansion in the area and their surname, Sisciler, meant skewers. History also tells us Sisli was just graveyards, and hunting grounds, up until the 17th century, when locals started to grow vineyards and farmed the land. In spite of that, Sisli villa for sale draws attention to its historical landscape.
Over time, diverse communities settled in properties in Sisli including Jews, Muslims, Christians, who built some of the mosques, synagogues, and churches we still see today. Many wealthy people also moved there after the great Beyoglu fire in 1870 and Sisli apartments for sale and houses for sale in Sisli are renowned for its Levantine history.
They were prominent families responsible for booming trade towards the latter end of the Ottoman empire and contributed towards rapid development during the beginning half of the 20th century with the addition of a tram, electric, and natural gas.
Real Estate for Sale in Sisli, Istanbul
Sitting in European Istanbul, Sisli is one of the more famous districts covering 30 square kilometers. Its reputation as a luxury destination for real estate in Sisli Istanbul was mainly cemented after the Turkish Republic was founded when wealthy and influential members of society settled there. Additionally, during the last 15 years, has expanded into a business and finance hub attracting working professionals, and middle-class families in the process.
Sisli separates into 25 smaller neighborhoods, of which some are more popular with Istanbul property buyers than others. Şişli is located on the European side of the city, it is bordered by Beşiktaş to the east, Sarıyer to the north, Eyüp and Kağıthane to the west, and Beyoğlu to the south. Families prefer to this area because of every available cost of Sisli apartments for sale, near the coastal location and general lifestyle. Nisantasi is an exclusive market, with higher prices per square meter and real estate that is hard to find unless you can flash the cash. The upmarket vibes extend into all lifestyle niches including shops, bars, and restaurants.
The lifestyle of Esentepe neighborhood focuses on apartment living, and the vast choice of children's parks attract families with young children. Along with Levant and Maslak neighborhoods, Esentepe is also a famously known home to part of the 12-kilometer Buyukdere Avenue, a prominent and busy street of Istanbul. In recent years, modern architecture has come to the avenue with new, tall skyscrapers housing shops, offices, banks, and five-star hotels, and this has, in turn, boosted real estate prices.
With a population of roughly 320.000, Şisli property buyers have many neighborhoods to choose from and also enjoy easy access to other prominent parts of Istanbul including Beyoglu, the heart of the new city. Property in Sisli for sale with modern developments, amazing leisure facilities, and transport links are attracting the notice of everyone.


Shopping in The Region
Owners who did buy a property in Sisli enjoy an unrivaled shopping scene. Having been open for 13 years, Istanbul Cevahir, one of the largest shopping malls in the world has proven itself as an esteemed place to spend your cash, enjoy excellent food, and indulge in family entertainment. More than 300 shops sell everything a person could want or need, while movie-goers flock to the 12 cinema screens.
Kanyon, the second most popular shopping mall is smaller but never the less delivers variety with a budget and upmarket shops, fast food and sit-down dining choices, and modern architecture with an emphasis on nature. Other shopping meccas include Metro City and Profilo so buying a property in Sisli would be the perfect investment especially if you enjoy shopping.
Şişli Attractions and Famous Landmarks
The three-story Ataturk Museum, initially used by the founder of Turkey, Mustafa Ataturk Kemal as a home, is a popular attraction for tourists but also a prime example of early architecture styles in Sisli. After his passing, the Sisli council turned it into a museum displaying personal items, significant historical documents, and photos.
The former imperial Ihlamur palace displays mixed western and Turkish architectural trends and is a delightful insight into Ottoman lifestyles during Sultan Abdulmecid's reign. Also built during his reign, Tesvikiye mosque displays European and neo-baroque architecture while the nearby Macka Modern Art Gallery nearby does a marvelous job of promoting Turkish artists specializing in modern and contemporary artwork.
Istanbul Military Museum in Harbiye, an extensive collection of antique weaponry and personal items portraying Ottoman and Turkish armies over the centuries is by far the most popular tourist attraction. Large crowds enjoy afternoon performances by the Military Ottoman band dressed in traditional clothing.
For more low key ambiance, the 160-year-old, Saint-Esprit Cathedral with beautiful baroque architecture holds masses at the weekend but also attracts tourists eager to visit Istanbul's second most significant Roman Catholic building.
Lastly, the aerial cable car giving way to a fantastic bird's eye view of green landscapes at Macka Park is a family-friendly environment and trendy on weekends and in summer. Other notable landmark buildings include Trump Towers, the Hilton Istanbul was built in 1955, Turk Telecom Arena, and the Diamond of Istanbul, the tallest skyscraper in Turkey.
More information about Sisli
For more information about a property for sale in Şişli, land for sale in Sisli or commercial properties in Sisli, contact a sales representative today. All staff offers intensely detailed knowledge and expert help to anyone planning to buy a Sisli property for sale.