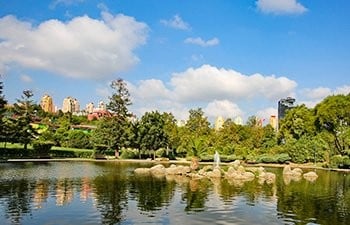 Başakşehir Apartments for Sale in Istanbul
Istanbul Homes offers apartments for sale in Istanbul Başakşehir. Besides apartments, we have all other types of properties for sale in Istanbul Başakşehir in our portfolio.

Living in Harmony with Nature in Başakşehir
While it was a town, a subpart of the municipality of Büyükçekmece until 2008, today Başakşehir is a district of Istanbul. The district is accessible by buses, train, and metro. It hosts thousands of residences in addition to business offices, manufacturing sites, schools, universities, and health institutions.
Başakşehir is home to the biggest artificial lake in Turkey and forest lands. Besides, there are many national parks in the district. These areas offer a break after a busy working day in the megacity of Istanbul.
Başakşehir has a very advantageous location. The district is 30 km from the new Istanbul airport. It is located in the middle of two important exhibition centers. All amenities and all locations of the megacity are easily accessible due to the developed transportation system. All these factors make Başakşehir a very suitable location for work and living.
Investors, families, and the people of the area buy an apartment in Istanbul Başakşehir for different purposes. On the one hand, investors prefer flats for sale in Başakşehir to gain profit by taking the advantage of the increasing value of the properties in the area. On the other hand, families considering to move to this area and the current residents of it buy flats here for its amenities and facilities. Regardless of the purchase purpose, apartments in Başakşehir for sale are favorite among buyers since they offer access to megacity facilities, a good life for families, and a good return on investment.
Built with modern construction techniques, Basaksehir apartments for sale in compounds offer many facilities for residents from swimming pools to saunas, fitness, indoor car parks, and many other facilities that make a family living more comfortable.
Istanbul Homes makes all the difference in property sales in Turkey. You can buy an apartment in Başakşehir through Istanbul Homes with "Zero Failure" and "Best Price Guarantee". Our team of local experts guides our clients all through the property purchasing process. Understanding your expectations and wishes, we offer you the best suitable options in the area. As a result, you save time and money.
Further Information
Istanbul Homes offers the best flats for sale in Basaksehir with our best price guarantee. In addition to apartments, we also have houses, commercial properties, and lands for sale in Başakşehir in our portfolio. Contact us today for further information and to arrange viewings.