For roughly 20 years, Turkey has captured the world's attention by rising to become a top visited tourist destination. Even recent events countrywide have not deterred nationalities like the Brits from holidaying on sandy beaches of the Mediterranean and Aegean coasts. Famous places to visit in Turkey still receive many visitors because travelers are tapping into a wealth of incentives and benefits, of which the superb exchange rate is possibly the biggest lure.
People who use currencies such as the American or Australian dollars, the euro and the British pound get more bang for their bucks than ever before. Someone who has £500 to spend will receive 500 Turkish liras more than this time last year. That is enough for five nights extra stay in a three-star bed and breakfast hotel. So for anyone who has booked to come to the country, what are the top rated attractions and places to visit in Turkey?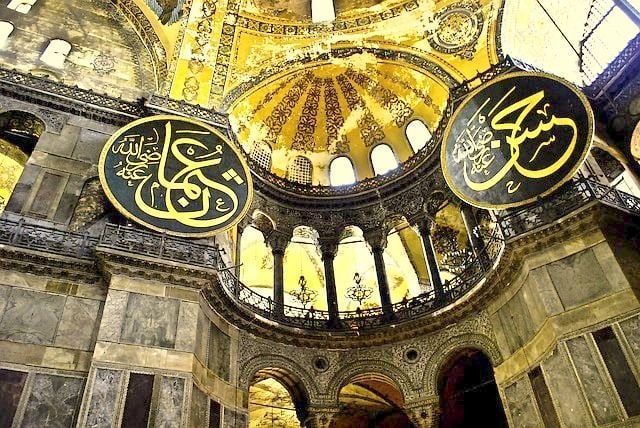 The Old City Part of Istanbul
Forever holding the crown as the most visited destination in Turkey, Istanbul lives up the famed hype, because of the old city part that was once the capital ruling center of both the Byzantine and Ottoman empires. Otherwise known as the Sultanahmet district, ancient buildings draw in crowds of tourists with their impressive architecture and tales of history.
From the outside, the Hagia Sophia, a large domed building, gives little indication of the grand interior appearance. Ancient Biblical frescoes and mosaics adorn the walls and ceilings along with Islamic calligraphy on large plaques hanging from the upper level. Teaming two of the world's biggest religions inside one building perfectly portrays the illustrious history of Istanbul.
Sitting in the square, an iconic mosque, open to all dominations of religion outside of prayer time, is a fascinating journey into Islam. Constructed in 1616, and holding the title of one of the most famous Ottoman buildings, the Blue Mosque is decorated with more than 20,000 ceramic tiles and 200 stained glass windows, as well as tablets engrained in the large interior walls that contain Quran verses.
Just a 10-minute walk from this mosque, the sprawling complex of Topkapi Palace, displays life for the Ottoman sultans during the beginning years of their reign of Constantinople. As well as holding the spoon makers diamond, various Islamic relics within a small room off a large courtyard, are its other notable collections of old items. While people cannot see the glistening rock, they can see the Islamic relics, old clothing, jewelry, and armor. Strolling through the former palace that acted like a mini city, lifestyles of famous Ottoman rulers become more evident.
Other landmarks to see in Sultanahmet include Istanbul Archaeology Museum, the Hippodrome, and Basilica Cistern. You can see everything in two days but if you have more time, go further afield to the Grand Bazaar, Istiklal Avenue, and Galata Tower for a magnificent view over the city. The Dolmabahce Palace is symbolically the last home of the Ottoman rulers before their empire disbanded in 1922.
The UNESCO White Pools of Pamukkale and Hierapolis Ancient City Ruins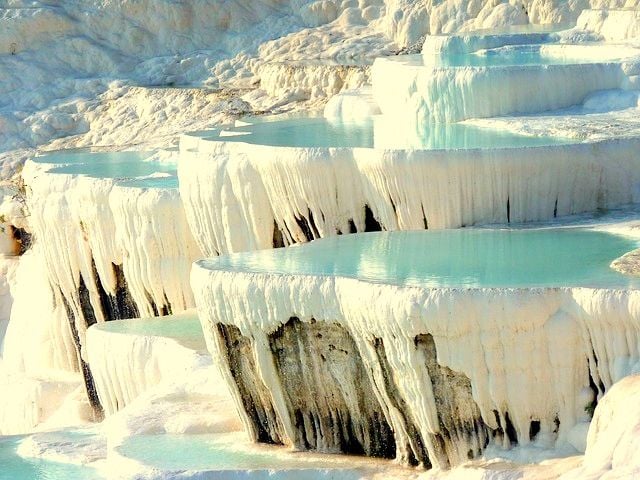 One of Turkey's most beautiful natural landmarks, the white calcium pools of Pamukkale, also known as the cotton castle, strike a dramatic appearance from a distance. Used by wounded soldiers throughout history because of their healing qualities, warm spring waters tumbling gently down the hillside have solidified to form structured pools.
Such is Mother Nature's power; these pools endure all weather conditions but faced destruction twenty years ago because of sewage from nearby hotels and excessive use and abuse by humankind. Organizations campaigned to save them and in 2014; it became Turkey's most visited attraction according to the Turkish tourism committee of TURSAB.
Founded in the 2ndCentury BC, Hierapolis ancient Greek city ruins are close by, theater and its historical importance are a center of healing, hence its old translation as "holy city."
Also, where the Christian apostle, Philip spent the last years of his life, the ruins are extensively spread out but anyone with limited time should head straight to the theater nestled in the hillside that has a fantastic view and marvelous intact front facade.
For an extra 10-lira entrance fee, a small but impressive museum contains large statues, intricately decorated sarcophagi, and other discovered artifacts once lost to time. A major attraction of visiting Pamukkale though is to swim over ancient fallen city columns in gentle, soothing waters of Cleopatra's pool.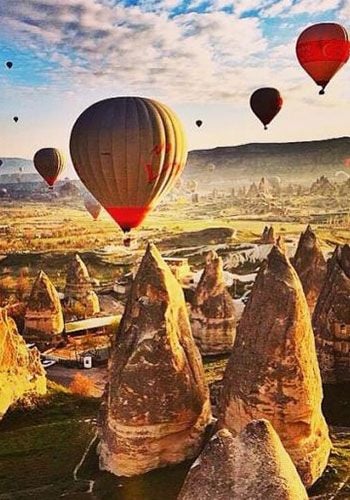 Cappadocia: Cave Churches, Underground Cities, and Hot Air Balloon Trips
Central Anatolian Cappadocia is one of the most famous places to visit in Turkey because of its unique geographical landscape. Over thousands of years, ancient volcano lava has solidified and been shaped by wind conditions to form oddly shaped rock formations also known as fairy chimneys. Most visitors also see the landscape at a memorizing viewpoint from an early morning hot air balloon ride.
Asapivotalcentre for early Christianity, the UNESCO Goreme Open Air Museum attracts crowds because of ancient cave churches and monasteries, chiseled out of the rock, of which some contain marvellouslyrestored14th-centuryBiblical frescoes.
Cappadocia has also recently made headlines news because of the discovery of a new underground city in the Nevsehir Province, yet hundreds already exist of which the most visited is Derinkuyu. Conspiracy theorists often credit aliens for the construction of the sprawling multi-level network of tunnels and rooms, estimated to have housed more than 20,000 people.
However, historians proved humans it to hide during invasions, particularly during the7th-century Arab attacks. With its use diminished over time, a local house owner rediscovered it in 1963, when he tore down a wall in his house to discover another room behind it. Other underground cities of Cappadocia were in full use right up until the 20th century.
Ephesus and the Virgin Mary's House on Bulbul Mountain
After a trip to Pamukkale, most travelers head to the ancient city ruins of Ephesus in the Aegean region near Kusadasi. As one of the most famous places to visit in Turkey, more than 2,500,000 people visited it in 2013 indicating its popularity. Historians and archaeologists have worked together over many years, to restore many landmarks buildings of the10th-century ancient Greek city that at one point in time, nearlyrivalledRome.
Thousands of scrolls making up the third largest library in the ancient world sat within the two storey walls of the Celsus library. Further along, the Artemis riots as mentioned in the Bible occurred in the 25,000-seater amphitheater, also used for gladiator shows. Last year, with considerable hype, the terrace houses with the intricate floor and wall mosaics opened to the public. Other landmarks include Hadrian's temple, the gymnasium baths, Agora Street, and the quirky toilets as used by Romans.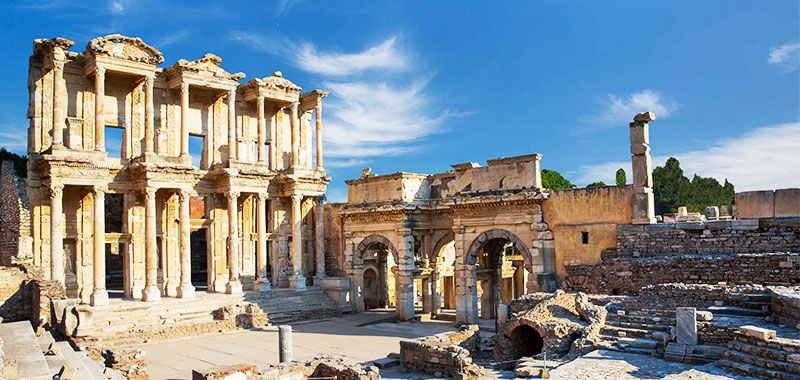 Ephesus has a strong Christian history as indicated by its status as one of the Seven Churches of Revelation mentioned in the New Testament of the Bible. So naturally other Christian landmarks, within a short drive away are worth visiting whether you are religious or not. Many believe Virgin Mary's house, high in the green hills of Selcuk, is the place of her assumption and because of this, the Catholic Church funds it.
As a place of pilgrimage for both Muslims and Christians, in addition to the simple, small, stone houses, visitors tour the wishing wall and three fountains of spring water that according to urban legends give good health, wealth, and fertility. Within Selcuk town is the Basilica of Saint John, which holds his tomb, and nearby is one of the seven wonders of the ancient world, the temple of Artemis.
Northeast of Turkey: Sumela Monastery, Uzungol Lake, and Ayder Plateau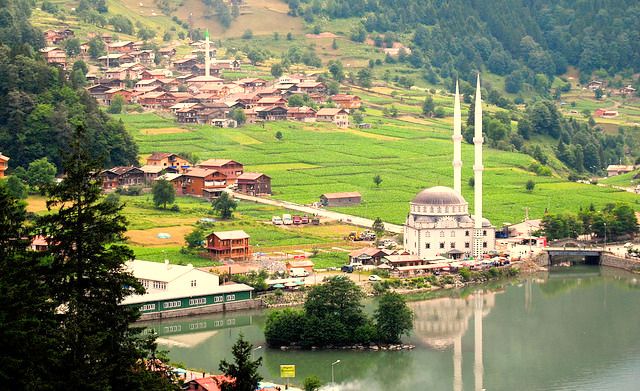 Northeast Turkey has risen in popularity in recent years as repeat visitors to the country, eager to explore somewhere different are lured by tales of green plateaus, large lakes and a 4th century Greek Orthodox place of worship. Using Trabzon city as a base or starting point for their journey, the first stop introduces them to Sumela Monastery, sitting precariously on the side of a cliff face.
A long winding path takes visitors to the narrow entrance and courtyard with a surprisingly simple appearance, keeping in line with ancient monk sacrifices of poverty. Of course, the view over the Macka National Park is a spectacular sight, but the small church chiseled into the cliff face ultimately captures everyone's attention.
Experts have painstakingly restored iconic Biblical frescoes adorning the interior walls and ceilings to their original appearance proving their historical value.
Heading further inland, a favorite day trip from Trabzon is Uzungol Lake, sitting in among a dense, forested area. The lake's scenic beauty is instantly evident, even in winter, when snow turns it into a white blanket landscape.Locals and hotel owners have traditionally for many years, built their homes using trees from the forest, and the same happens in Ayder Plateau, just a two-hour drive away.
Small communities of the Kackar Mountains are known for plateau living, a traditional concept in summer to migrate up the mountain range to escape the intense heat of coastal resorts and towns. With a background in alternative Turkish cultures of the Laz and Hemsin ethnic groups, adventurous travelers also head further up the mountain to Demirkapi plateau that is now making itself a name in tourism.
Antalya Region: Turkey's Second Most Visited Tourist Destination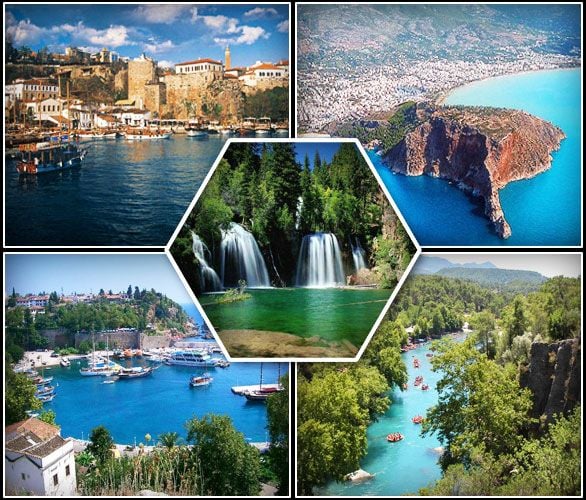 The Antalya region in Mediterranean Turkey consists of the bustling city center and smaller coastal resorts. This markets Antalya as an alternative to city breaks because travelers and tourists explore the delights of the city center but migrate over the coastline should the crowds get too much for them.
Famous landmarks in Alanya, on the outskirts of Antalya, include the majestic red tower and historic castle, but its main popularity is as one of Turkey's top beach holiday destinations, especially for Germans, Russian and British clientele. Side uniquely has the ancient temple of Apollo and old ruins of which the new town was built around. Belek is the golfing capital of Turkey, while the outskirt coastal towns of Kas and Kalkan are holiday and expat destinations.
Part of the attraction of Antalya though is the wealth of things to do and see including the stunning Duden waterfalls that tumble down into the Mediterranean Sea.
The large intact ancient theater of Aspendos holds many classical music concerts, while Manavgat waterfalls have turned into an idyllic place of relaxation for families and couples.
Sitting near Kemer, a short cable car ride transporting visitors to the viewing platform of Mount Tahtali introduces a stunning view of the coastline while in the main city center; the place to hang out and be seen is the old part of town, famously fronted by Hadrian's gate.
Bodrum Peninsula: Where Jet Setting Crowds Hang Out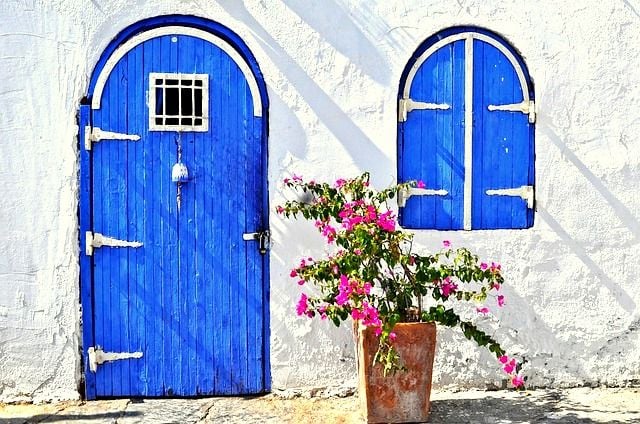 Last on our list of famous places to visit in Turkey is the Bodrum peninsula on the Aegean coast. Consisting of the main town center and smaller coastal resorts, it attracts budget holidaymakers but also international jet setters. Proving its diversity, places like Gumbet are cheap and cheerful while famous celebrities like Mariah Carey, have visited the town center and ritzy district of Yalikavak. Golturkbuku is also the favorite place for Kate Moss, who regularly signs up for detoxing programs offered by esteemed establishments.
The Bodrum peninsula has quite a few attributes to its name including being a pivotal center of the Turkish Riviera and home to Palmarina, in Yalikavak, a state of the art marina that is the only one in Turkey able to hold mega yachts.
Famous sites worth seeing are Bodrum Castle and the Underwater Archaeology Museum. Otherwise, Bodrum is about an alternative lifestyle that places rest, relaxation, fine food, and lots of sun on the list of how to have a glorious life in Turkey.