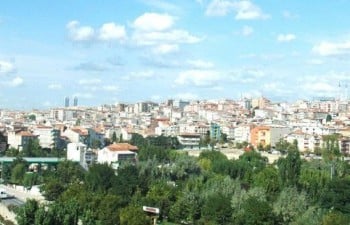 Real Estate in Bagcilar Istanbul
Istanbul has a vital proposition for Turkey as one of the brightest real estate markets in Europe's future. It has been a center of attraction for centuries with its strategic location, where two continents are united. Large investments, urban transformation studies, and mega-projects in Istanbul are leading to investments in the region.
Bağcılar, one of the most crowded cities of Istanbul, has developed social facilities in line with its population. Many social facilities have been built with the aim of meeting the increasing social needs. Due to the increasing need for Bagcilar property for sale, construction firms have built a large number of luxury real estate. The number of houses for sale in Bağcılar is increasing day by day. It will be profitable to buy a property in Bagcilar, which are among the most appreciated districts of Istanbul. According to real estate experts, one of the few districts where investment is recovered as soon as possible is Bağcılar. You can contact the professional team of Istanbul Homes for Bagcilar apartments for sale or houses for sale in Bagcilar and you can get detailed information from experts.


Buying a Property in Bagcilar
Bagcilar is the rapidly emerging district of Istanbul. It has become a favorite investment area for construction companies. According to that, there are many qualified commercial properties in Bagcilar and land for sale in Bagcilar.
Bagcilar is the preferred region for people who look for a property in Bağcılar for sale close to anywhere in the city. With many alternatives for transportation, you have all city in the palm of your hand. Buying a property in Bagcilar will be the right move.
Bagcilar is suitable not only for living but also an investment. The properties for sale in Bagcilar have high rental income. You can rent the property you bought and make a good profit.


Location of Bağcılar
Bagcilar is located on the European side of Istanbul. It's surrounded by Küçükçekmece and Başakşehir districts in the west, Bahçelievler district in the south, Güngören district in the east, Esenlerdistrict in the North.
Bagcilar has a 22 km² area and 752,250 population. The region is located close to TEM and E-5 highway which links the entire city together.
History of Bagcilar
Bagcilar was a district where Greeks lived in the Ottoman era. It was called 'Cifitburgaz' in the past. But then it turned out 'Yesil Bağ' (Green Vineyard) in 1925. According to the Treaty of Exchange in 1924, Turkish people who came from Greece and Thessaloniki were settled in Bagcilar. After that, the people who came from Varna, Bulgaria were settled here in 1929. It is possible to find these traces of history in old properties in Bagcilar.
The region was the area of agriculture and livestock breeding until 1970. From then on, urbanizing of the district has begun and it turned out to be the region of industry and commercial.
Economic and Social Features in the District
The economy depended on agriculture and livestock breeding in the past. But when the urbanizing started, the district began to be an important area for industry and commerce.
Textile is the leading sector in the region. Bagcilar has many famous commercial centers like Istoc, Oto Center, Tekstilkent, and Massit. Also, many prestigious press centers and banking units enrich the economic diversity in Bagcilar.
The district has many kinds of transportation like the subway, tramway, Metrobus, public buses, etc. You can reach everywhere in the city with ease. Also, there are many social facilities in Bagcilar like educational institutions, hospitals, and shopping malls.
If you are interested in a property for sale in Bagcilar, contact us today.