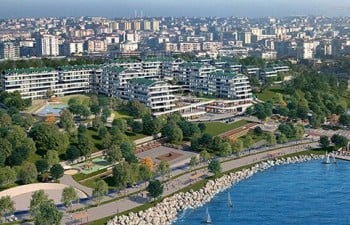 Real Estate in Buyukcekmece Istanbul
The Rising District of Istanbul; Büyükçekmece
The district of Buyukcekmece, covering 92 square miles, sits on the European side of Istanbul. It's surrounded by Silivri district in the west, the Marmara Sea in the south, Beylikdüzü and Esenyurt districts in the east, Çatalca and Arnavutköy districts in the North. In recent years, it rose to fame on the Turkish property market for more than one reason;
Firstly, anyone searching for property in the heart of Istanbul must pay the most expensive prices in the country. Buyukcekmece's location on the outskirts of the central city center means buyers can have the best of both worlds at a lower cost. Foreign people can buy a property for sale in Büyükçekmeceeasily too.
Secondly, the real estate market of Buyukcekmece is transforming with modern buildings coming to the forefront. Büyükçekmece apartments for sale are being built in a luxurious and modern way. The population of 240,000 people has risen over the years, and Buyukcekmece is adapting to it.


Architects are designing buildings that are not only pleasing to the eye but fit in perfectly with the lake and seaside location. At the same time, the community facilities of apartment complexes suit all types of buyers including families, couples, and single professionals. Properties for sale in Büyükçekmece appeal to everyone and fits every budget.
Anyone buying on an apartment complex can enjoy a wide range of onsite facilities, examples of which include swimming pools, Turkish baths, landscaped gardens, and 24-hour security. Many of the Buyukcekmece property for sale are also sold with 12, 24, and 36 months credit terms which is particularly ideal for first-time buyers.
The more luxurious properties in Büyükçekmece also incorporate the latest in smart home technology. Compared to other districts, Buyukcekmece is also at a distinct advantage because there is a wide range of houses for sale in Büyükçekmece as well as lands and commercial properties in Buyukcekmece. If you are looking to buy a property in Buyukcekmece for sale or land for sale in Buyukcekmece, you are in the right place. Istanbul Homes helps you professionally with its large portfolio.
Lastly, one aspect that has always been in Buyukcekmece's favor is the seaside and lakeside location. When people think of city living they imagine tall, high-rise buildings, commotion as well as smog and an unclean environment.
Yet Buyukcekmece's location is different. Residents enjoy a scenic landscape and fresh environment away from the manic vibes of the central city center within a short drive, making it ideal for commuters.
History of the Region
During the 15th century, the rural area was a green blanket of forest and farmland. By the 20th century, it was a weekend haven, when people traveled from the main city center and surrounding neighborhoods for a family day out.
They enjoyed the beach and walking on the coastline stretching for more than 20 kilometers. Sitting in tea gardens or swimming with friends, it became a family-friendly destination as well as a residential and business hub.
Prominent Landmarks in Buyukcekmece, Istanbul
With an inflow from the Karasudere River, Buyukcekmece Lake covers 29 square kilometers and at 7 kilometers long it is one of two freshwater reservoirs in Istanbul. Although some lakeside areas are industrial, many are residential and leisure facilities like cafeterias ensure people can make the most of their time there especially in summer. You can easily find a lake-view property in Büyükçekmece for sale on this page.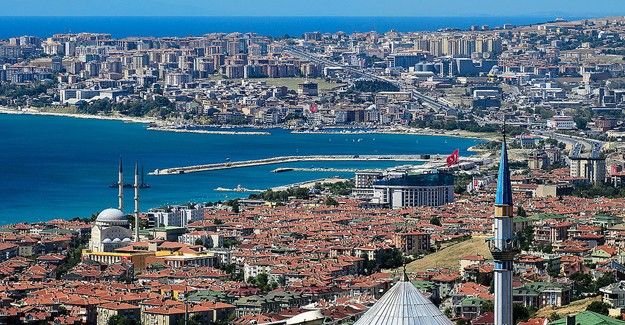 The 2083-foot-long and 23 feet wide Sultan Suleiman Bridge built by Mimar Sinan in the 16th century has massive historical value for Buyukcekmece. Sinan was the Ottoman Dynasty's favorite architect and his legacy for excellence as well as design and innovation are untouched. Creating this landmark at the opening of Buyukcekmece Lake to the sea he made this a highly respected feature of the community.
Family-Friendly Facilities
The bridge as well as other works of Mimar Sinan sit within the 200,000-square meter Buyukcekmece Culture Park. This favorite family-friendly community feature also has cafeterias, restaurants, and sports facilities.
Although there are many shopping facilities in Buyukcekmece, Atirus Shopping Mall that opened in 2005 makes a roaring trade with families because of its large variety of shops, fast food outlets, and entertainment choices including four-screen cinemas.
Aqua Marine Water Games Entertainment Center accommodates up to 3000 people making it a firm favorite of families. Including 3500 and 2500 square meters, Olympic pools and rides such as the Kamikaze, Python, Blackhole, Wave pool, 100 m long Cofferdam, and the 90-meter long rafting, the animated shows for children also go down well.
Are you interested in buying a property in Büyükçekmece close to all these opportunities? Call us. We will find the house that suits you best with our professional team.
Getting to Büyükçekmece
Such is the ideal location of Buyukcekmece, getting around is quick and easy. For people coming in by sea, the Güzelce Marina with car rental facilities is just 5 minutes away by car. Büyükçekmece is also just 5 kilometers from the E5 highway, running into the heart of Istanbul city.
For More Information
Contact us today and speak to a sales representative for more information about Istanbul and the neighborhoods within it. We can also send via email, an up-to-date list of houses for sale in Buyukcekmece, so you can see for yourself why buying Turkish property is an ideal long-term investment to make.