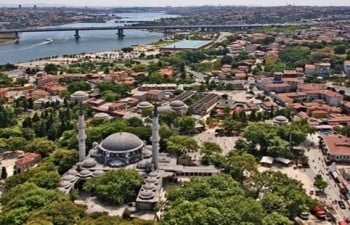 Real Estate in Eyup Istanbul
Buyers of property for sale in Eyüp are easily enticed because the region has a lot of attributes, making it a distinctly unique part of Istanbul. Holding a strategic location on the shores of the Golden Horn, it sits away from the commotion of Turkey's largest city yet holds much importance for residents and tourists alike.
Eyup is home to Eyup Sultan Mosque which is an important religious building, not only in Turkey but for whole the world.
Eyup also makes a roaring trade from tourists, eager to see what was once an important Ottoman city but they also come to drink tea in Pierre Loti Café that has stunning views across the landscape.
Named after the 19th-century French writer Pierre Loti, who admired the Ottoman culture, reaching it is easy via the gondola lift or people can walk up the hill through the large Eyup Cemetery.
Buying a Property in Eyup
Eyup has a family-friendly atmosphere, and this is reflected in off-plan and new build Eyup apartments for sale of which some feature facilities such as children's playgrounds, swimming pools, fitness centers, and landscaped gardens.
Potential Eyup property for sale buyers will also be extremely pleased with the affordable prices given per square meter considering Istanbul's status as Turkey's most expensive real estate market. Some houses for sale in Eyüp also feature structured payment plans ranging from 24 months to 36 months, making it a smart choice to buy a property in Eyup.


Shopping and Entertainment in Eyup
As well as small local outlets, shopping malls are in abundance throughout Eyup and the surrounding districts. One favorite destination for families though is Via-Land Istanbul Shopping Center. The concept of having entertainment, shopping, and daily amenities all in one place has won high favor with people who have property in Eyüp for sale. Kids naturally love the sizeable all-inclusive theme park and cinema but if you decide to do a little bit of shopping, more than 200 stores will cater to your every whim. Twenty-three fast food outlets from well-known brands to traditional Turkish snacks also make a roaring trade, especially at weekends.
Nightlife is low-key which suits the family-friendly environment quite well but green spaces are in abundance leading families with properties in Eyup to enjoy picnics, strolls, and being one with nature. Popular and widely used green areas include Gokturk Ponds and the Fatih Fountain. Otherwise, you can head further afield to Yildiz Park in the Besiktas district, which is one of Istanbul's largest green spaces.
Getting Around
Sitting in European Istanbul, the entire Eyup region covers 242 kilometers that encompass 30 neighborhoods. Bordered by eight other districts, Sarıyer in the east, Kağıthane, and Beyoğlu in the southeast, Gaziosmanpaşa in the south, Fatih and Sultangazi in the southwest, Başakşehir in and Arnavutköy in the west side, it stretches up towards the Black Sea coast and given this vast size, the local transport network is state-of-the-art.
Local buses run to Eyup from most other areas in İstanbul, and Metrobus, tram, and subway connections are also frequent. However, a favorite method of transport, especially for tourists is the cheap ferry from Karakoy or Eminonu which is family-friendly and offers a scenic view of the Golden Horn shorelines. Thanks to their location and transportation facilities, if you are thinking about buying a property in Eyup, it is a perfect choice for property buyers and investors.
For More Information
To buy commercial properties in Eyüp and land for sale in Eyup, contact us today via email, telephone, or by dropping into one of our regional offices. As well as arranging viewing trips, we offer expert advice on the Turkish real estate market and have an excellent portfolio of properties for sale.