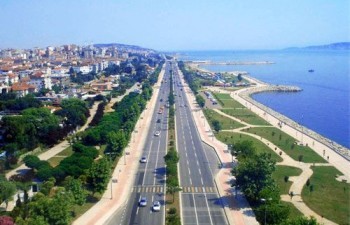 Real Estate in Maltepe Istanbul
Real estate investors and first-time buyers are instantly impressed by property for sale in Maltepe, Istanbul because it offers competitive prices per square meter, especially when compared to Kadiköy, its high-profile neighbor.
Its 6th-century history and its underground spring waters were what Maltepe was known for, but these days its reputation as a prominent educational hub and excellent summer coastal destination makes it perfect for all levels of society.
Sitting aside the Marmara Sea, on the Kocaeli Peninsula of the Asian side of Istanbul, and covering 50 square kilometers the surrounding districts are Kadiköy, Sancaktepe, Ataşehir, and Kartal.
With a current population count of just over 497.000 residents, community projects include new Maltepe apartments for sale that aim to improve the quality of life for residents. This includes a partnership with the European Union for budget allocations, grant programs, public awareness, and district-based projects in the areas of public health, education, scientific, social research, and development.


Neighborhoods and Real Estate in Maltepe
To buy a property in Maltepe for sale, buyers can choose from 18 communities, each with a distinct characteristic and lure. Seaside neighborhoods include Altıntepe, Küçükyalı, Çınar, İdealtepe, and Yalı. Out of all, residents favor Küçükyalı, a more upmarket neighborhood where prices of houses for sale in Maltepe per square meter are higher. All the rest are located inland, but the coastline is just a short walk away.
The most populated area is Zumreteveler, the heart and center of the district while the least populated is Büyükbakkalköy sitting inland. Other neighborhoods are Bağlarbaşı, Feyzullah, Fındıklı, Aydınevler, Gülsuyu, Gülensu, Altayçeşme, Esenkent, and Başıbüyük.
Occasionally, land for sale in Maltepe do come on the market, but one look at the real estate portfolio and shows most properties for sale are apartments. Whether sold off-plan or key ready, they sit on communal complexes that offer a wide range of shared facilities including swimming pools, landscaped gardens, on-site gyms, security, and more.
Bağdat Avenue: The Shopping Center of Asian Istanbul
Owners of properties in Maltepehave instant access to Bağdat Avenue, Asian Istanbul's equivalent of Istiklal Avenue on the European side. Running parallel to the coastline from Kadikoy to Maltepe, this long street with upmarket vibes and ambiance offers some of the best shopping choices in the city. It's an all-encompassing open-air leisure and shopping mall with abundant options of eateries, cafes, bars, restaurants, boutiques, and international and luxury brand names.
Life by the Sea and Maltepe Sahil Park
At the weekends and school holidays, coastal areas come alive as families and residents flock to enjoy cafes, walking paths, and a fantastic sea view of the Princess Islands. This is no surprise because wealthy Istanbul locals used it as a summer retreat destination until the 1970s too.
If green spaces, long strolls, and watching the world go by is your idea of relaxation, you'll love Maltepe Park which is the most famous coastal landmark. Amenities for residents include a 130.000 people concert and event space, football, basketball, and volleyball courts, skateboard platforms, walking, jogging and cycling trails, swimming and fitness clubs, children's playgrounds, a sailing center, 63 thousand square meters of picnic areas, a mini-golf course and 20 thousand trees that make you forget you are living in Istanbul. Buyers of property in Maltepe for sale with families get to enjoy it thoroughly.
Transport Options and Getting Around
Local shuttles take residents to other areas quickly and for going further afield people use the buses running along the E5 highway to reach other districts. Direct ferry services to the European side of Istanbul run from neighboring Kadikoy and Üsküdar districts, although to get there by car, the 15th of July and Fatih Sultan Bridges are within a 40-minute drive. One great aspect for foreign buyers of properties for sale in Maltepe is that Sabiha Gökçen International Airport with flights all year round from many global destinations is just a 30-minute drive away.
How to Buy Real Estate in Maltepe
Email or call us if you want to receive a full portfolio of the off-plan, and key ready Maltepe property for sale or commercial properties in Maltepe. Alternatively, if you are already in Istanbul, drop into our office in the Zeytinburnu district and speak one-to-one with a local sales advisor about buying a property in Maltepe.
If you are abroad and looking to invest in Turkish real estate, our viewing trips will be ideal. As a leading real estate agent in Istanbul, we cover all regions and districts and offer a complete before and after-sale service, so your Turkish real estate investment goes smoothly.