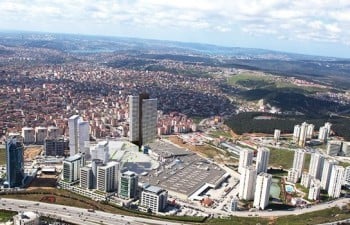 Real Estate in Umraniye Istanbul
Umraniye, on the Asian side of Istanbul, is growing and expanding at one of the fastest rates in Turkey. Buyers looking at properties for sale in Umraniye and houses for sale in Ümraniye are eager to sign on the dotted line to take advantage of a strategic location as well as the modern architecture befitting of an urban lifestyle.
It is hard to imagine the bustling Umraniye of today in the past, yet it started as a small village with a population of 1000. In the 1970s, the population grew bigger when it became an industrial town. However, today it is more of a white-collar community, with many residents working in business and service sectors, therefore boosting the population count to 650.000 people. The developing district offers a good place to invest by buying a property in Umraniye
In the last decade, infrastructure was upgraded to meet with the expected demand of Umraniye property owners so shopping malls, sports centers, children's parks, and culture centers have become core community features. Umraniye separates into 35 smaller neighborhoods and is surrounded by the famous Uskudar district to the west.
Property for sale in Ümraniye
The price per square meter of property for sale in Ümraniye is higher than other districts but it is understandable because it is a business and working hub. Umraniye, along with neighboring Ataşehir is also one of the locations covering the planned Istanbul Financial Centre, a mega project of Turkey to build an economic hub that will rival Wall Street in New York.
The demand by real estate investors, keen to cash in on the mega-project before it starts, is partly responsible for driving the prices up. However, working professionals and families can still find affordable real estate in Ümraniye Istanbul, starting at roughly 95.000 Euros and including 24 months and 36 months credit. Land for sale in Ümraniye or commercial properties in Umraniye rarely feature in the real estate portfolio, yet people looking to buy a property for sale in Umraniye are tapping into the latest, modern styles of Turkey's architectural trends. The developing district offers a good place to invest if you buy a property in Umraniye.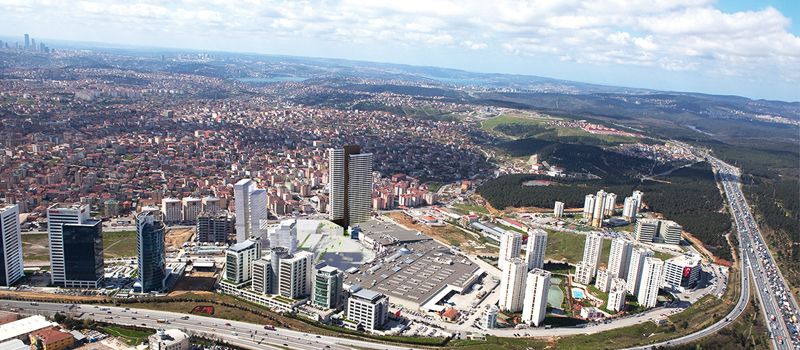 Transport and Getting Around
Umraniye is close to both Fatih Sultan and 15 July Martyrs Bridges of Istanbul and while traffic jams are a common sight at rush hours, getting out and about is easy because of an excellent bus network. Foreign owners of properties in Umraniye also use Sabiha Gökçen airport, just 30 minutes away, that in recent years has modernized itself and increased year-round flight schedules to several countries. Otherwise, another favorite method of transport is quick and cheap ferries from nearby Üsküdar and Kadiköy, leaving every day to the European side of Istanbul.
Shop Until You Drop
Ümraniye has many small, local shops that still contribute towards a healthy community feel but large shopping malls now attract many people to buy Ümraniye apartments for sale because of their abundance of places to eat, shop, and be entertained under one roof. Buyaka Shopping Mall on the outskirts of Umraniye features five floors with shops selling everything and anything from clothes to electronics to household goods.
Another favorite is Palladium Shopping Mall, sitting in nearby Ataşehir which has 190 shops as well as a 10-screen cinema. Of course, you can still take your pick because many more are within driving distance including the home shopping store Ikea, Brandium, Novada, Water Garden, and Real Meydan Shopping Malls.
Leisurely Pursuits and Pastimes
Given that Umraniye is part of Turkey's largest and busiest city, there is never a shortage of things to do, and every hobby enthusiast can indulge in their passion. However, at the weekends, locals of Umraniye especially love Camlica Hill sitting nearby, which has a fantastic view of the Golden Horn and Bosphorus.
Another favorite weekend pursuit is to catch the ferry from Kadikoy to Princess Island, a place devoid of all the telltales signs of city living. Famous for its car-free roads, old Ottoman mansion architecture, and seaside fish restaurants, it makes a roaring trade from Istanbul property owners.
Families also enjoy the many leisurely pursuits of Aydos Forest, which is a 30-minute drive away. Including options like picnics, paintball, and mountain biking, it's feeling of being at one with nature makes it easy to forget you are in Turkey's largest city.
Whether you indulge in the natural landscape or head to nearby Kadikoy for its vibrant nightlife scene, or whatever your passion is in life, Umraniye allows you to embrace it through easy accessibility.
For More Information on Istanbul Real Estate
Our sales representatives have expert local knowledge of Istanbul and are available to anyone looking for Ümraniye apartments for sale. Contact us today by telephone or email, or alternatively, visit us in our Zeytinburnu office.