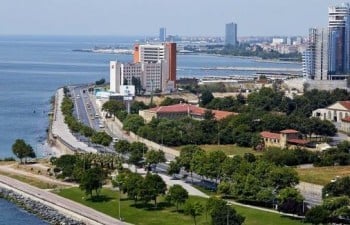 Real Estate in Zeytinburnu Istanbul
The name Zeytinburnu translates into the olive cap. Consisting of thirteen small neighborhoods, the district is a working-class area on the European side of Istanbul. It's surrounded by Güngören, Bakırköy districts and Küçükçekmece Lake in the west, Sea of Marmara in the south, Fatih in the east, Eyüp district in the North East, Bayrampaşa district in the North, Esenler district in the North West. Sitting on the outskirts of the old city, anyone buying a property in Zeytinburnu can enjoy all the benefits of city life but without the hustle and bustle.
History of Zeytinburnu
During the Byzantine era, Zeytinburnu was a fortress guarding the road to Constantinople. When Constantinople fell in 1453, locals fled, and it took some time before people came back, renaming it Kyklobion in the process. The ruins of the fortress stood the test of time until the 19th century, by which time, its name had changed again to Elaion Akra.
Around this time, locals also started specializing in the leather trade that still continues today. With over 600 suppliers, Zeytinburnu has earned itself a countrywide reputation for excellence in this industry. It is also most notably known for its cultural mix of residents that include Bulgarians, Jews, Armenians, and Greeks in history.
Getting Out and About
Properties for sale in Zeytinburnu are attracted by all local and foreign investors because of the easy access to all points of the city. The T1 Kabatas to Bagcilar tram running through Zeytinburnu connects with the main touristic center of Sultanahmet. Operating from 06.00 to midnight, it is a cheap and effective way to get about and it leaves every two minutes during peak time just by your
Also running through Zeytinburnu is the M11 Gayrettepe–Istanbul New Airport–Halkalı LRT Line which again runs from 06.00 to midnight and is easy transport to the Istanbul Airport. Zeytinburnu is just a 60-minute drive from the main Istanbul Airport that connects locals to the world quickly and easily through frequent flights to and from many countries.
You can easily get to Zeytinburnu via Marmaray. The Marmaray line is from Halkalı to Gebze and to be able to reach Zeytinburnu, you have to get out at the Zeytinburnu station.
For drivers, the E5 highway is close to making it easy to get around all the districts of Istanbul.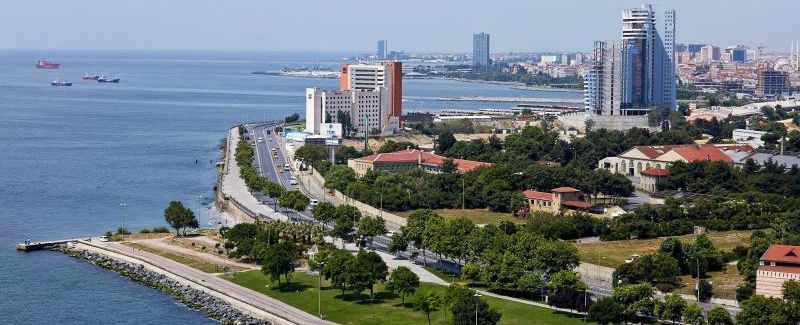 Community Projects
Zeytinburnu gives much importance to community spirit and so has embarked on many projects to preserve, modernize, or rejuvenate the district. The local council built a low-fee community swimming pool with a family-friendly environment that includes a cafeteria, large terrace, showers, and dressing rooms.
In 2005, the local council also started the Culture Valley Project to preserve its cultural heritage. The long-term venture is still ongoing but has seen massive advances with the perseveration of historical ruins related to the Ottoman and Byzantine history.
Old mosques like Kirazlıçeşme Fatih Mosque and churches like Balikli Church are under protected status, and restoration work has been carried out on the Haci Mahmud Aga, Merkez Efendi, Persian Baba, and Seyyid Nizam Dervish Lodges.
Zeytinburnu has also implemented a Cultural Harmony Project, that aims to reduce the human influence on the natural environment and stop the rapid depletion of resources through recycling plastic, glass, metal, paper, and cardboard.
Investments are gaining more value thanks to the presence of these projects. There is plenty of Zeytinburnu property for sale whichwill be the first step of a great investment for the future.
Shopping and Entertainment for Families
Although there are many shopping areas in Zeytinburnu, the Olivium Mall that opened in 2000 changed the face of the district with family-friendly shops, food, and entertainment all under one roof. On weekends, adults and youngsters enjoy the six cinemas, theatre, and a bowling alley in their spare time. There are many Zeytinburnu apartments for sale within a walking distance to Olivium Mall. Check the "Property for sale in Zeytinburnu" page for it.
They are also able to explore the three floors holding 132 stores, park in the 100-car parking lot, or enjoy fast food in one of the many establishments offering a variety of choices. Open every day from 10 am to 10 pm, Olivium Shopping Mall is a focal point of the community. Should locals ever want a change, the Capacity Shopping Mall in nearby Bakırköy also is a good option.
Real Estate in Zeytinburnu
The price per square meter of houses for sale in Zeytinburnu is slightly higher than other districts of Istanbul, but for this, buyers get a prime location that is close to all transport links, cultural attractions as well as shopping and entertainment establishments.
Also, the property portfolio of Zeytinburnu consists mainly of apartments located on all-inclusive complexes featuring numerous facilities such as swimming pools, Turkish baths, caretakers, security, and landscaped gardens. Some properties in Zeytinburnu are also extremely close to the beach and have beautiful sea views. If you buy a property in Zeytinburnu or an apartment, you can have all these privileges.
So, property owners have everything close by, and whether you are buying for permanent residence, holiday home, or as a buy-to-let investment, the property in Uskudar for sale is a worthy contender.
For more information about the area, land for sale in Zeytinburnu,commercial properties in Zeytinburnu, or any Zeytinburnu property for sale contact us today.