Istanbul is one of the few cities in the world that sits on two continents and divided by the Bosphorus Strait. A city that is a bridge between two continents – and quite literally – with three suspension bridges spanning across the Bosphorus and connecting Europe and Asia.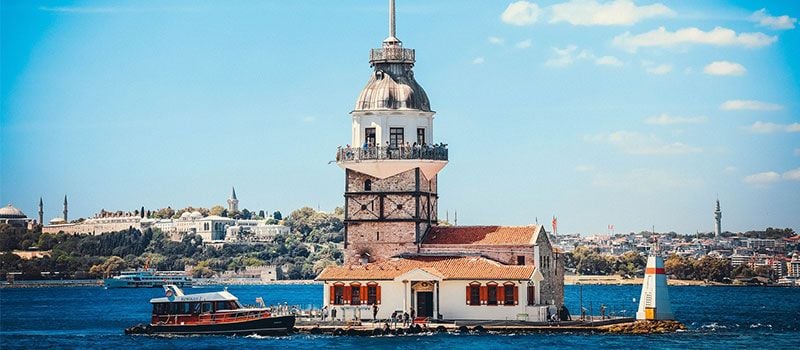 International Airports
Istanbul is undoubtedly Turkey's most famous city and center of commercial activity and tourism. Turkey's strategic location provides the convenience of Europe in a few hours of flight time with the UK and most of the Middle East a mere four hours away. And now with the construction of the newest and world's largest airport - Istanbul International Airport (IST) – there's no easier time to reach Istanbul!
If you arrive via the new airport located on the European side of Istanbul, you'll immediately notice the enormity of the project, complete with its dazzling glitz and glamour. Everything is new and high-tech. There's no more visa stickers or stamps. All visas are electronic, and citizens from ninety-nine countries can apply online. Citizens from certain countries are granted visas upon arrival.
Social Life in Istanbul
Whatever time you're in Istanbul, you'll fast discover why it's called "the city that never sleeps". Many expats prefer to Istanbul as the "nocturnal city" where if you're hungry at 3 am, "problem-yok" (no problem), as restaurants are alive and buzzing, with many open 24-hours. Istiklal Street is one of Istanbul's most famous streets extending all the way from Taksim Square to the landmark Galata Tower. With over three million daily visitors in one street, there's never a dull or quiet moment. The street night-lights combined with the energy and spirit make it one of Istanbul's most happening-hangouts.
Where to Start?
If you're on Istiklal Street, be sure to try Turkish ice cream, but be prepared for the theatre that accompanies every order. Like trained magicians, ice cream vendors perform sleight of hand tricks and well-rehearsed moves that make it entertaining to watch as customers try and grab their ice cream cones. It's harmless fun that's included in the price at no extra cost.
The lure of Istanbul is a city where old meets new in an eclectic mix of majestic ancient landmarks and museums. There's an unsaid must-see list of attractions that brings visitors from around the world.
Hagia Sophia is one of the most visited museums in the world, showcasing prominent venue art and Byzantine architectural history. Dubbed the "8th Wonder of the World" by Historians, the Hagia Sophia was formerly a church for nearly 916 years. In 1453 it was converted into a mosque by Ottoman conqueror, Fatih Sultan Mehmet.
The list is long for must-see sights in Istanbul: The Blue Mosque, Süleymaniye Mosque, Topkapi Palace, Basilica Cistern, Hippodrome, Grand Bazaar, and the Spice Bazaar to name but a few of the most popular attractions.
Tourist-Friendly and English Speaking City
And while English is freely spoken at Istanbul's top tourist sites, you'll need to learn basic Turkish or have the internet on your smartphone with the Google translate app handy to help in everyday life situations.
The lack of English outside of tourist attractions offers opportunities for employment where most native English speakers can find work teaching English as a second language (ESL). Many expats in Istanbul find work in the public and private school system where native English teachers are always in demand.
How to Get Around Istanbul?
Getting around Istanbul is surprisingly easy due to the fantastic public transport infrastructure, which is cheap and efficient. If you look closely you'll see signs with blue squares and a large letter "D". This is the equivalent of a bus stop in Turkey. The letter "D" represents the public bus transportation system called "Dolmuş".
Dolmuş can be found nearly everywhere, and they are cheap, modern, clean, and well connected. For a few Turkish Liras, you can ride on the intricate network for Dolmuş destinations that cover most of Istanbul. For places Dolmuş won't go, there are trains, the metro system, trams, and taxis. For reaching Europe from Asia, or Asia to Europe across the Bosphorus, Istanbul's ferry system is efficient and cost-effective. There are very few places you can't reach in Istanbul given the extensive public transportation links and network that connects the city.
Cost of Living in Istanbul
One of the biggest benefits ex-pats enjoy in Istanbul is the cost of living. Istanbul offers more value for less compared to many cities. According to the costs of living website Numbeo, Istanbul's rent prices are 84% lower than London, 90% less than New York, 78% cheaper than Paris and 68% more cost-effective than Berlin. As rent usually consumes the majority of one's costs of living, Istanbul offers great value. The next usual highest expense for most is grocery costs where Istanbul is 39% most cost-effective than London, 66% less than New York, 57% lower than Paris and 34% cheaper than Berlin.
Get Used to Turkish Cuisine: Meat, Yoghurt, Butter, Tea
No mention of Istanbul would be complete without mention of Turkish cuisine. Rich, healthy, fresh, diverse, and cheap are common words expats use to describe the delights of eating out in Istanbul. Attention to detail with intricate and elaborate dishes that historically hail from the kitchens of Ottoman palaces in a competition amongst resident chefs to rise in the ranks of the Sultan's kitchen. A mixture and refinement of Central Asian, Middle Eastern, and Balkan cuisines due to the expansion of the Ottoman Empire, which took inspiration from each land and people it conquered. It's therefore nearly impossible to fit Turkish cuisine into a shortlist.


Turkish cuisine is synonymous with freshness and has very few green-miles given it originates from local provenance. Expats delight at the simplest of dishes and often warn of the temptation of Turkish bread. There's something magical in how Turks prepare bread to accompany their elaborate dishes. Meat, yogurt, butter, and of course tea ("Çay" pronounced "chaay'). Tea in Turkey is like an institution and a sign of hospitality. Always served in social circles and definitely at the end of a meal. Usually black (without milk) and in a small glass. Expats new to Istanbul soon to realise every minute of the day is a great reason for tea time.
Now's the time to visit Istanbul and discover for yourself!
More Information About Istanbul
•Istanbul is the 8th Most Popular City in the World: Istanbul city, Turkey is No. 8 on the top 10 most popular cities for international travel in the world in 2018, as published by CNN Travel. According to CNN Travel, 13.40 million international overnight visitors are recorded in Istanbul or the year 2018.
• Neighborhoods in Istanbul That You Should Visit:Neighborhoods in Istanbul, the country's largest and busiest city, are an alternative travel experience that gives great insight into daily life.
• The Best Places to Visit in Sultanahmet:The Sultanahmet district of Istanbul is the heart of the old city, where rulers of the Ottoman and Byzantine empires made momentous decisions. Discover the old city part of Istanbul.
• Visit The Best Ottoman Palaces in Istanbul: Although Turkey has many attractions and landmarks scattered across the country, some of the most iconic is the elaborate Ottoman palaces in Istanbul. Explore the Ottoman Palaces.