Istanbul takes again first place in Turkey in the number of property sales to foreigners in 2021. The city that has consecutively taken first place in the number of property sales to foreigners ever since 2015, continues to be the most preferred city by foreigners in Turkey. In Istanbul, a vast number of properties as 20.247 were sold to foreigners in the first ten months of 2021. This number equals 46,68 % of the total number of property sales to foreigners in Turkey. Istanbul is followed by Antalya as the second most preferred place with 8.640 property sales and Ankara as the third most preferred place with 2.755 property sales.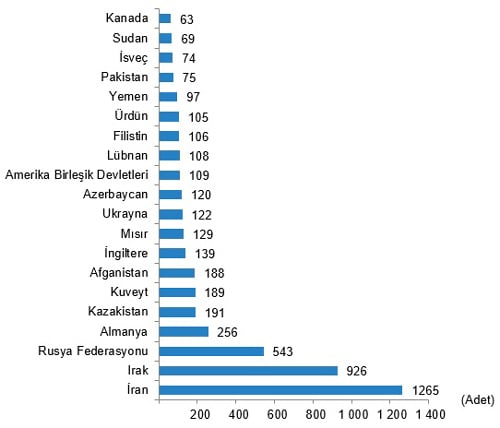 Although the outbreak of coronavirus in November 2019 and turning into a global pandemic in 5 months has negatively affected the global economy, the real estate market has been one of the least affected sectors. In the meantime, the hospitality sector has taken the biggest damage because of the restriction on the movement of people due to the pandemic. This situation has led to an increase in the demand for properties where people can enjoy their holidays without worrying about the pandemic.
As Turkey, and especially Istanbul, has been one of the most popular tourist destinations in the whole world for many years, real estate in Istanbul naturally became the most preferred. Even though the number of foreign visitors who come to Istanbul has declined due to pandemic, the number of people who want to spend their holidays in their own apartments in Istanbul or houses in Istanbul have increased. The 5,59 % increase in the number of property sales in Istanbul to foreigners in the first ten months of 2021 compared to the total number of sales in 2020 also proves this case.
Why Do Foreigners Choose Istanbul?
Istanbul is the most renowned city of Turkey by foreigners. Here is why;
• Rich Historical and Cultural Background: Istanbul is located on the crossroads of Europe and Asia continents. The city that is surrounded by the Black Sea from the north and the Marmara Sea that connects the Black Sea to the Mediterranean Sea from the south had been an important port city for centuries. As a result of this, Istanbul has been subjected to many raids and has served as a capital for many great civilizations. These civilizations have made a great impact on the scenery of Istanbul. Nowadays, Istanbul welcomes its visitors with its many cultural heritages.

• Picturesque Beauties: Istanbul is not only a renowned city because of its strategic location, but because of its picturesque beauties as well. For centuries, many worldwide known painters have been amazed by the stunning nature of Istanbul and have tried to express these beauties in their paintings. The picturesque beauties of Istanbul continue to charm its visitors and make them want to stay here forever.
• Wide Range of Amenities: Istanbul, having been a capital for centuries and a center of commerce and production currently, offers its visitors and inhabitants a comfortable and colorful lifestyle with its wide range of amenities. The people who come to visit Istanbul only struggle to choose what to do next in their leisure time because there are so many things to do in this lively city.
• Affordable Prices: In this era of globalization, currency exchange rates affect the prices of products and services greatly. With the depreciation of the Turkish Lira in recent years, luxury properties in Istanbul have become much more affordable for foreigners. Hence many foreigners choose Istanbul to lead a luxurious and colorful life without spending too much money.
• Advantageous Investment Opportunities: In recent years, Istanbul has become one of the most preferred places for making a profitable investment as well. Affordable property prices, buoyant economy, and dense population of Turkey make it quite easy for businesses to flourish. While establishing a new business here is a great choice of investment, renting out commercial properties in Istanbul becomes the best option for making a profitable investment for the people who don't have time to establish another business in their already hectic life. On the other hand, lands in Istanbul offer profitable investment options on a larger scale as they can be utilized for agricultural production and residential and commercial property construction.

Another reason for the increase of property sales in Istanbul to foreigners would be the facilitation of legal procedures for property purchases by foreigners. As Tekce Overseas ®, the leading real estate agency of Turkey, we make it a lot easier for foreigners to buy properties remotely with our TeleProperty ® and TeleMortgage ® services. If you have any questions about the properties in Istanbul or buying process in general, you can check out our Guide for Property Purchasing, call us, or drop by one of our offices without hesitation!